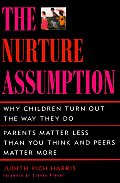 Túto knihu som začala čítať, lebo ma zaujali jej dva podnadpisy: Prečo sa deti vyvinú tak, ako sa vyvinú? a Rodičia za to môžu menej, než si myslíte a rovesníci viac.
Vo svojej namyslenosti neskromne dúfam, že mám vplyv na to, akí dospelí vyrastú z mojich detí, a preto som už asi na druhej strane úvodu bola pripravená sa v mysli s autorkou poriadne pohádať. Ona sama píše, že nie je veľmi diplomatická v tom, ako predkladá svoje názory (nie je), ale že nech čitateľ skúsi s otvorenou mysľou sledovať jej argumenty. A tak som čítala. Nie so všetkým som súhlasila, ale jej hlavný odkaz začal dávať zmysel.
Väčšina ľudí bude súhlasiť, že za to, ako sa deti vyvinú, je čiastočne zodpovedné prostredie, v ktorom vyrastú a čiastočne gény (nurture vs nature). Proti tomuto ani autorka nenamieta. Ale rozoberá, prečo sa akosi automaticky za najdôležitejšiu súčasť prostredia považujú rodičia a domov a nie rovesníci a ich skupina a ukazuje, že vplyv rovesníkov je výrazne väčší. Hovorí o tom, ako sa kultúra prenáša v spoločnosti z generácie na generáciu. O tom, ako deti vyrastali kedysi a čo to znamená pre tie dnešné. A o štúdiách, ktoré boli na túto tému spravené, ich zisteniach, silných stránkach a nedostatkoch (kniha obsahuje aj podrobné referencie). Ale nie je to len suchá odborná analýza – naopak, číta sa veľmi dobre a autorke sa nedá uprieť zmysel pre humor.
Istým spôsobom je jej hlavná myšlienka veľmi potešujúca – výchova detí sa doma nedá veľmi pokaziť. Ale na druhej strane aj strašidelná – pokaziť ju môžu ľudia a veci, na ktorých/ktoré rodičia nemajú až taký dosah.
Keby sa dalo, tak sem tú knihu asi skopírujem celú. Nie, že by sa mi tak páčila – ako som už spomínala, bola som skôr nahnevaná, keď som ju čítala, hlavne preto, že som postupne zisťovala, že ako rodič môžem ovplyvniť menej, než som si myslela a veľa vecí, ktoré mi vadia na súčasnej spoločnosti (napríklad "škatuľkovanie" detí už od útleho veku), neovplyvním takmer vôbec. Ale bolo v nej toho veľa na zamyslenie:
s. 122 "Život detí v niekdajších spoločnostiach lovcov a zberačov závisel viac na tom, či prežije ich tlupa, ako na tom, či prežijú ich rodičia, lebo aj keď rodičia zomreli, tak deti mali šancu prežiť, pokiaľ prežila celá ich skupina. Ich najlepšou nádejou bolo stať sa hodnotnými členmi skupiny tak rýchlo a presvedčivo, ako sa len dalo. Akonáhle boli odstavené od materského mlieka nepatrili iba rodičom ale skupine. Ich budúcnosť závisela nie na tom, či ich budú rodičia milovať, ale na tom ako budú vychádzať s ostatnými členmi skupiny – obzvlášť s členmi svojej generácie, ľuďmi s ktorými strávia zvyšok života."
s. 153 "Aby sa správne vyvinul zrak, vizuálny systém vyžaduje, aby obidve oči boli stimulované rôznymi vzormi počas prvých mesiacov po narodení; pokiaľ nie sú, tak dieťa (alebo opica alebo mačiatko) neskôr nebude mať trojdimenzionálne videnie. Problém nie je v očiach; je v mozgu. Dá sa povedať, že vyvíjajúci sa mozog očakáva určité podnety vo svete mimo maternice a spolieha sa na ne, aby mohol vytvoriť konečný produkt. Keďže toto očakávanie je zvyčajne splnené, zrakový systém sa zvyčajne vyvinie normálne.
Ja si myslím, že podobne vyvíjajúci sa mozog očakáva, že o bábätko sa bude starať jedna alebo zopár blízkych osôb, ktoré zabezpečia jedlo, komfort a budú často poblíž. Pokiaľ sa toto očakávanie nenaplní, oddelenie v mozgu, ktoré má na starosti budovanie modelov, ako fungujú vzťahy, sa nemusí vyvinúť správne. Primatológovia Harry a Margaret Harlowovci vychovávali malé opice po jednej v klietkach iba s látkovou bábikou a fľašou mlieka. V dospelosti nemali tieto opice normálne sociálne správanie – boli veľmi bojazlivé a buď im nezáležalo na alebo boli agresívne voči ostatným jedincom svojho druhu."
s. 192 Časti, kde rozoberá jazyky detí imigrantov, ma obzvlášť zaujali: "Deti, ktoré hovoria doma jedným jazykom a mimo domu iným, sa zlepšujú vo vonkajšom jazyku, zatiaľčo ich domáci jazyk ostane na úrovni, ktorá ledva postačuje na konverzáciu s rodičmi."
s. 199 "Aj keď je detstvo čas učenia, je chybou myslieť si, že deti sú prázdne nádoby pasívne akceptujúce, čím ich dospelí v ich živote napĺňajú. Nie sú to ani učni snažiaci sa stať sa plnohodnotnými členmi spoločnosti dospelých. Deti nie sú nespôsobilí dospelí; deti sú plne spôsobilí členovia ich vlastnej spoločnosti, ktorá má vlastné štandardy a kultúru."
s. 208 Z tohto mi je smutno: "Kojenie je v súčasnosti najrozšírenejšie medzi vzdelanými, bielymi, finančne zabezpečenými ženami. V niektorých Afro-amerických komunitách to už bolo tak dávno, čo naposledy niekto kojil, že členovia mladej gnerácie ani nevedia, že je možné takýmto spôsobom nakŕmiť bábätko. Riaditeľka programu zameraného na podporu kojenia ekonomicky znevýchodnených matiek v New Jersey povedala Áno, stretla som sa so ženami, ktoré sa ma pýtali 'A naozaj je možné odtiaľ dostať mlieko?' "
s. 212 "Pokiaľ deti z jednej štvrte sú v zásade rozumné a neporušujú zákon a deti z inej štvrte nie sú, nie je to len o tom, že dobre správajúce sa deti majú bohatých rodičov a tie druhé nemajú . Alebo, že jedni majú vzdelaných rodičov a druhé nie. Finančný status a úroveň vzdelania ich susedov majú na deti tiež vplyv. Fakt, že deti sa podobajú na rodičov, nie je veľmi informatívny – môže to byť dedičnosť, môže to byť prostredie, kto vie? Ale fakt, že deti sú ako rodičia ich kamarátov, je veľmi informatívny: to môže byť iba prostredie."
s. 225 "Počas prvých rokov života, malé dievčatá a chlapci zbierajú štatistické údaje o rôznych skupinách ľudí: dospelí a deti, ženy a muži, dievčatá a chlapci. Nemám žiadne formálne dáta, ktorými by som podoprela toto tvrdenie, ale myslím si, že deti nemajú mentálne kategórie osoby mužského pohlavia a osoby ženského pohlavia… v ponímaní detí, dospelí a deti sú rôzne živočíšne druhy…"
s. 251 O hrozbách stereotypov: "Ukazuje sa, že ak mladej žene, ktorá je dobrá v matematike, najprv pripomeniete, že je žena, bude sa jej horšie dariť v matematických testoch a ak pripomeniete mladej Afro-američanke, ktorá je dobrá študentka, že je čierna, bude sa jej horšie dariť v testoch akademických schopností… na to, aby ste znížili skóre šikovného čierneho dieťaťa v testoch akademických schopností, mu stačí dať pred testom krátky dotazník, ktorý obsahuje otázku: rasa?"
s. 260 Na zamyslenie (najmä zvažujúc domácnosti a školy, kde som vyrastala ja a moji rovesníci): "Dieťa, ktoré sa narodí vysokoškolsky vzdelaným rodičom bude mať iný názor na dôležitosť vzdelania – na normálnosť toho, že človek strávi prvú štvrtinu života drinou v škole – ako dieťa, ktoré sa narodí rodičom, čo nedokončili strednú školu. Deti si tieto názory donesú so sebou do svojej skupiny rovesníkov a pokiaľ tí majú rovnaký názor, tak si ich aj ponechajú. Atmosféra v triede bude pravdepodobne naklonená čítaniu v škole, ktorej žiaci sú zo štvrte, v ktorej sú domy plné kníh a časopisov. A bude pravdepodobne A čo? Komu na tom záleží? v škole, ktorej žiaci pochádzajú z domácností, kde sa číta iba z nutnosti a nikdy nie pre potešenie."
s. 340 Toto ma zaujalo hlavne v súvislosti s Kikou: "Rodičia nemajú ako zabrániť, aby ich dieťa bolo rovesníkmi vnímané negatívne. Ale môžu znížiť pravdepodobnosť, že sa tak stane. Do určitej miery majú kotrolu nad tým, ako ich deti vyzerajú a ich cieľom by malo byť, aby vyzerali tak normálne a atraktívne, ako je možné. Normálne znamená obliekať dieťa tak, ako sa obliekajú ostatné deti. Atraktívne znamená návštevy kožného lekára s dieťaťom, ktoré má problémy s pleťou a zubára s dieťaťom, ktoré má krivé zuby. A pokiaľ si to môžete dovoliť, alebo to pokryje vaše zdravotné poistenie, plastickú chirurgiu pre dieťa s akoukoľvek vážnou tvárovou anomáliou."
s. 343-344 O spoločnom spaní: "… pozorovanie tradičných spoločností nám dáva nápovedy o tom, ako evolúcia vyformovala výchovu ľudských mláďat. Bábätko ide všade s matkou… v noci s ňou spí. Vo väčšine spoločností na svete aj dnes bábätká spia s matkami.
Problém, na ktorý sa Američania s malými bábätkami najčastejšie sťažujú, je spánok. Bábätko im v noci nedá spať. Zvyčajné odporúčanie je, aby rodičia navykli dieťa spať osamote. Ale dieťa v lovecko-zberačskej spoločnosti za normálnych okolností nikdy nebolo samo. Pokiaľ sa ocitlo samo a jeho prvé kňučanie neprivolalo matku, tak malo vážny problém. S najväčšou pravdepodobnosťou bola jeho matka mŕtva alebo sa rozhodla, že sa oň nepostará… A preto kričalo, lebo sa bálo a hnevalo – a oprávnene.
Bábätká sú pozoruhodne adaptívne. Väčšina Amerických bábätiek si celkom dobre zvykne na spánok osamote. Ale niektoré nie… Veľa rodičov si vydýchne, keď im poviete, že je v poriadku, ak dieťa spí s nimi, že tak to mala príroda naplánované."
s. 345 Potešujúce, ale dosť zjednodušené: "…ale výchova detí nemá byť namáhavá práca o nič viac ako sex… príroda nás navedie na robenie toho, čo treba tým, že to urobí pre nás príjemným. Pokiaľ by výchova mláďat bola namáhavá práca, myslíte, že by sa šimpanzom chcelo? Pokiaľ si výchovu detí neužívate, možno na nej pracujete príliš tvrdo."
s. 349 A na záver: "Myšlienka, že môžete zariadiť, aby vaše deti vyrástli tak, ako chcete, je ilúzia. Vzdajte sa jej… A nemajte starosti ohľadom toho, čo vám hovoria, príručky o výchove detí. Milujte deti, pretože sú milovania hodné a nie preto, že to potrebujú. Užívajte si ich. Naučte ich, čo môžete. Uvoľnite sa. To, aké nakoniec budú nie je zrkadlom vašej výchovy. Nemôžete ich ani zdokonaliť ani zničiť. Pretože nie sú vaše na zdokonaľovanie a ničenie: patria zajtrajšku."
* Hej, viem, ten preklad znie dosť divne. Lepší nemám.