V kubánskej reštaurácii som bola iba raz, pred takmer štyrmi rokmi, ale dojem zanechala veľmi dobrý a tak som si povedala, že prečo niečo jednoduché neskúsiť? Okrem toho, že toto jedlo dobre chutí, dá sa ho spraviť veľa naraz v jednom hrnci. (No dobre, treba ešte jednu misu a zopár nástrojov, ale na samotné varenie stačí ten jeden hrniec.)
Recept je upravený odtiaľto.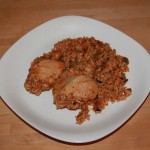 na kura:
3 strúčky cesnaku
2 čajové lyžičky soli
2 polievkové lyžice bieleho octu
2 polievkové lyžice oregana
10 (horných) kuracích stehien (alebo jedno naporcované kura) bez kože
na ryžu:
2 polievkové lyžice (olivového) oleja
2 stredne veľké cibule
1 veľká paprika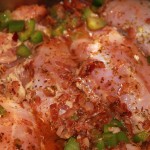 3 strúčky cesnaku
2 čajové lyžičky mletej rasce/kmínu*
2 čajové lyžičky oregana
2 čajové lyžičky mletej červenej papriky**
1 čajová lyžička soli
2 bobkové listy
3-4 paradajky
5 polievkových lyžíc paradajkovej omáčky (nemusí byť; mne ostala spred pár dní, tak som ju tam strelila)
3 šálky kuracieho vývaru
2 šálky ryže
Rozotrieme cesnak so soľou a dáme do misy. Rozmiešame s octom a oreganom. Vložíme kuracie kúsky a premiešame, aby boli všetky obalené. Necháme zakryté marinovať v chladničke 1-2 hodiny.
Potom vo veľkom hrnci na oleji do zlatista opečieme nakrájanú cibuľu a cesnak. Pridáme očistenú, nakrájanú papriku. Po chvíli aj oregano, rascu, červenú papriku, soľ a bobkové listy, premiešame a vložíme mäso aj s marinádou. Miešame a varíme asi 10 minút.
Pridáme nakrájané paradajky, pradajkovú omáčku, kurací vývar a privedieme do varu. Je dôležité, aby bola všetka ryža v tekutine. Stíšime, tak aby to stále mierne bublalo a za občasného miešania zakryté varíme 20-30 minút (bude to hotové, keď sa takmer všetka tekutina vstrebe, ryža bude mäkká a mäso sa bude oddeľovať od kostí).
* Otázka: Ja som si odjakživa myslela, že kmín a rasca je jedno a to isté. A potom som zistila, že tu predávajú cumin a caraway seed. Ukázalo sa, že caraway seed je rasca a používam ju, keď varím zemiaky alebo pečiem chleba… Cumin (mletý) dávam do polievky… a do kubánskeho kuraťa s ryžou. Ale čo to je?
** Časť papriky by mohla (mala!) byť štipľavá, ale u nás sa momentálne varí tak, aby sa najedli aj tí dva-a-pol roční, takže len so sladkou paprikou.