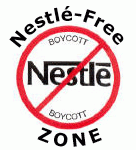 Áno, čestne priznávam, myslím si, že bábätká by mali piť materské mlieko. A schválne to nepíšem tak, že "materské mlieko je lepšie ako umelé", lebo to jednoducho nie sú dve alternatívy, ktoré by sme mali porovnávať. Materské mlieko by mala byť norma a umelé náhrada, keď mame v kojení bránia zdravotné alebo iné veľmi vážne problémy. Aj keď s tým nesúhlasím, keď sa matka vo "vyspelej" krajine rozhodne dávať bábätku umelé mlieko, to je jedna vec. Ale keď sa tak na základe reklamnej kampane rozhodne matka v "rozvojovej" krajine, rozdiel medzi materským a umelým mliekom je rozdiel medzi životom a smrťou.
Podľa Svetovej Zdravotníckej Organizácie: "Ochrana a podpora kojenia patria medzi najefektívnejšie intervencie na ochranu života detí. Odhadom 13% z 10.6 milióna detí do 5 rokov, ktoré zomrú každý rok, by sa dalo zabrániť, keby sa masívne poporovalo kojenie.Výlučné kojenie v prvých šiestich mesiacoch života je obzvlášť prínosné a novorodenci, ktorí nie sú kojení v prvom mesiaci života majú 25krát väčšie riziko úmrtia ako novorodenci, ktorí sú výlučne kojení." Rovnaké stanovisko zastáva aj UNICEF.
V rozvojových krajinách matky, ktoré nemajú dosť peňazí, ale sú na základe reklamy presvedčené, že umelé mlieko je pre ich dieťa lepšie, riedia prášok viac ako je v návode a dávajú deťom menej ako potrebujú, čo vedie k podvýžive. Pokiaľ nemajú prístup k čistej vode, znečistená voda vedie k infekciám, chorobám a smrti. Bavíme sa tu o 1.4 milióne detí ročne.
Na to, aby sa agresívnym reklamným kampaniam spoločností zabránilo, Svetová Zdravotnícka Organizácia publikovala (skoro pred 30timi rokmi) Medzinárodné pravidlá marketingu náhrad materského mlieka. Okrem iného, tieto pravidlá hovoria, že  výrobcovia umelého mlieka by nemali matkám a rodinám dávať vzorky (my sme dostali) alebo nemali na obale svojich výrobkov idealizovať náhrady materského mlieka… Prijali ich vlády vyše 60tich krajín a niektoré išli dokonca ešte o krok ďalej a umožňujú predaj umelého mlieka len na lekársky predpis alebo vyžadujú varovania na obale.
Otázka samozrejme znie, čo s tým môžem ja alebo vy urobiť? Môžeme o tom vedieť, šíriť informácie ďalej a bojkotovať výrobky Nestlé. Prečo práve Nestlé? Je aj kopa iných spoločností, ktoré tieto pravidlá porušujú, ale Nestlé je "najväčším vinníkom" aj čo sa týka dosahu, aj porušovania pravidiel. Podľa INFACT Canada, Nestlé kontroluje 40% svetového trhu umlelej výživy pre deti a ignoruje hlavné body medzinárodných pravidiel (konkrétne príklady sú tu).
Ešte krátky dokumentárny film z Filipín na túto tému (rozdelený do piatich častí):





PS Na záver niečo na odľahčenie témy. Čo sa stane, keď poprehadzujeme písmenká?
breast feeding = insert feedbag (kojenie = vlož vrecko so stravou)
baby formula = buy from a lab (umelé mlieko = kúp z laboratória)