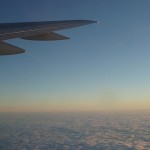 1. Keď sa konečne rozhodneme, kedy chceme letieť, zistíme, že v požadovaný deň sú najlacnejšie letenky cez Air Berlin (okolo $500/osobu).
2. Air Berlinom nechceme letieť, lebo často strácajú batožinu (okrem toho je to z JFK a nie EWR, čo znamená vyše $100 na taxík a nepredvídateľnú zápchu, a okrem toho je tam dlhý prestup v Berlíne), pozeráme druhé najlacnejšie.
3. Aeroflot cez Moskvu, uh-huh, trochu zachádzka.
4. Zistíme, že do Moskvy treba víza, pozeráme znovu na Air Berlin. (Kde sú naši starí známi – Lufthansa a Austrian?)
5. Rozhodneme sa s tým nepárať a kúpiť letenky cez Continental za nazbierané míle.
6. Ja mám dosť, on má málo, za poplatok ($150) mu darujem zo svojich.
7. Každý na svojom počítači kupuje svoju Lufthansa letenku za 30000 míľ + $20.
8. Tešíme sa, ako nám to dobre ide, dve letenky už sú hotové. Teraz už len dokúpiť jednu pre Kiku a pridať Kuba ako lap child.
9. Nájdeme ten istý len cez vayama.com za $900. ok.
10. Čumíme blbo do obrazovky, na ktorej svieti červený obdĺžnik. Hovorí, že sa nedá kúpiť lístok pre také malé dieťa bez doprovodu dospelého.
11. On volá do vayamy a vysvetľuje, že v lietadle bude, nech mu letenku predajú. Nepredajú.
12. Volá do Continental, že cez nich spravil rezerváciu a potrebuje pridať ešte dieťa. Nedá sa.
13. Air Berlin možno nie je až taký hrozný.
14. Volá do Lufthansy. Dá sa. Letenka stojí $2600. Čooo?
15. Dohodnú sa, že je asi lacnejšie kúpiť jej spatočnú. $1100. Zjavne dve letenky stoja menej ako jedna.
16. Pane, máme malý problém. Na tom spiatočnom lete ona nemôže byť bez doprovodu.
17. Nakoniec sa to nejako formálne v rezervácii uhrá a keďže na let nenastúpi, problém zažehnaný.
18. Už len potrebné údaje o cestujúcej. Priezvisko rovnaké ako vy? Nie. Stredné meno? Aj to musí byť? Ak má, musí. Má, Laura. Ja prekvapene zdvihnem oči od Vojny o tróny. (Zhodou okolností som práve dnes zistila, že aj Kika už vie, aké má stredné meno. Zajtra jej poviem, nech to naučí aj tata.)
19. Dohodnú sa na správnom mene. Kuba už na svoju rezerváciu nepridáva, nech si chlapík nemyslí, že sa chystá uniesť dve deti, o ktorých ani nevie, ako sa poriadne volajú.
20. Vyčerpane zloží telefón. Ak má letieť aj Kubo, o to nech sa postarám ja.
21. Volám naspäť. Čakám na prepojenie k rezervačnému agentovi. Kým nahrávka dookola recituje to isté, píšem článok o kupovaní leteniek. Dostávam sa k bodu 21., stále nič. Skladám telefón, pokračovanie zajtra.