Warning
: Illegal string offset 'src' in
/data/3/a/3a7e1bc0-13d6-4f23-9dab-d8a2a009ce43/jancigovci.com/web/public_html/wp-content/plugins/vipers-video-quicktags-migrator/vipers-video-quicktags-migrator.php
on line
322
Hneď na úvod veľká vďaka Kike a Feldovi, od ktorých sme dostali lístky. Sme vďační aj za to, že sme sedeli síce nízko, ale nie úplne pri hracej ploche, lebo tam diváci skončili mokrí. Bola to viac show ako basket a treba uznať, že show naozaj spravili.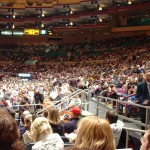 Mišo mi vysvetlil, prečo americké športy – futbal, basketbal, baseball – majú toľko prestávok. Aby trvali dlho. Aby sa Američania stihli dostaviť a najesť. Keď totiž Globetrotteri o siedmej začínali, Madison Square Garden bola poloprázdna (má skoro 20,000 miest). Trvalo polovicu "zápasu", kým sa zaplnila. To však bol polčas, tak sa samozrejme všetci vybrali do bufetov a zase sa vracali späť. Binec, ktorý tam ostal, keď sme odchádzali, spomínať radšej ani nejdem.
Nezaobišlo sa to bez americkej hymny, speváckej súťaže, rôznych súťaží pre deti (najlepší bolii dvaja malí chlapci, ktorí súťažili, kto si skôr oblečie basketbalový dres a topánky rozhádzané po palubovke a dá kôš – tie kraťasy im boli až po päty a v teniskách (lode asi číslo 15) vyzerali komicky).
Globetrotteri, samozrejme, vyhrali, ich súpermi boli New York Nationals a spolu predviedli zopár parádnych kúskov. Mňa prekvapilo, keď som sa dozvedela, že tento tím začal už v roku 1926 v Chicagu. Volali sa Harlem Globetrotters aj napriek tomu, že prvý zápas v Harleme hrali až v roku 1968. Z tohto tímu pochádzli aj prví čierni basketbalisti, ktorých najali do profesionálnych tímov. A boli to práve Globetrotteri, ktorých pozývali robiť show pred profesionálnymi zápasmi, keď NBA strácala popularitu v 60tych a 70tych rokoch.
Ako to vlastne začalo? V jednom zápase v roku 1939, keď Globetrotteri viedli 112 ku 5, začali sa hráči jednoducho baviť a priamo počas zápasu predvádzať, čo všetko s loptou dokážu. Odvtedy sa z toho stala tradícia. Keď sa mi podarilo dosiahnuť bezpečný 10 až 15 bodový náskok, pustili sa do svojich kúskov: nezvyčajné strely, prihrávky od svojich alebo súperových tiel a všeličo iné.
Bolo to rýchle, vtipné a divácky vďačné, len to skončilo tak akosi do stratena. Po nabitej show, keď sa odpočítali posledné sekundy, bez nejakého bombastického kúsku na záver jednoducho oznámili, že bude nasledovať polhodinová autogramiáda. Toto ma inak zaujalo už v divadle, kde to bolo ešte vypuklejšie ako tu. Američania jednoducho, keď sa blíži koniec, začnú sa obliekať a s poslednou sekundou odchádzajú. Možno preto sú tie konce také stratené.
Ale ak niekedy budete mať príležitosť, choďte sa pozrieť. Dovtedy ponúkam niečo na ukážku tu:
… "Everybody get somebody, I got mine," kričí Showtime na svoj tím a bráni rozhodcu…
… "Now, why did you pass me the ball?" pýta sa rozhodca Globetrottera a ten odpovedá: " 'Cause you were wide open." …
Veľký maskot:
Malý maskot:
Dvaja:
Super G:
Salto:
Traja, Super G a trampolína:
A ešte niečo o nich: