Musím vyvrátiť klebety. Keď Jojka v správach povie, že v Amerike dosť sneží, Markíza to upresní, že v New Yorku miestami napadli tri metre a niekto zo Slovenska sa ma potom spýta, že či už sme zasypaní, tak sa mu zdá trochu divné, keď poviem, že nie. Ale…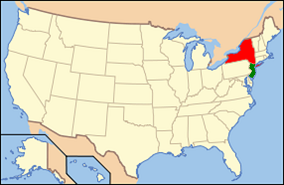 Pozrite sa na to takto. Štát New York je rozlohou veľký ako tri Slovenská. Z toho mesto New York je pri mori (na ľavom konci toho červeného ostrovčeka. Zvyšok štátu sa sťažuje, že práve kvôli tomuto mestu má veľké dane). A my bývame síce na hranici s New Yorkom, ale v New Jersey (to som vyfarbila zelenou, menšie dane). Takže, keď sa povie, že niekde v New Yorku sneží, tak to s veľkou pravdepodobnosťou nie je u nás.
Je pravda, že tá snehová metelica, o ktorej sa hovorilo, bola poriadna. Zomrelo 29 ľudí (spolu USA a Kanada), väčšinou pri autonehodách. Tie tri metre, to asi Markíza skomolila tri stopy, lebo pokiaľ viem, tak najviac snehu spadlo vo Vermonte – približne meter. My sme síce nejaký sneh dostali (kliknite si na obrázok – vidno tam našu ulicu), ale štrajchlo nás to len okrajovo. Zato sme však dostali viac než zaslúženú dávku vetra. Zaujímavé je však to, že začalo snežiť na hodinu presne podľa predpovede počasia.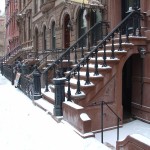 New York City si z tejto Valentínskej búrky pamätá hlavne dve veci. Prvá sú parkovacie pokuty. Ide totiž o to, že parkovanie v noci sa riadi inými pravidlami ako parkovanie cez deň. A dobrým zvykom je, že po nočnom snežení mesto prižmúri oči, dá ľuďom čas si vyhrabať autá a nepokutuje hneď od rána. Ale vo štvrtok – ráno po metelici – sa žiadne prižmúrenie očí nekonalo, najprv prešli snežné pluhy, ktoré autá poriadne zahrabali, a hneď po nich policajti. Pokuty padali jedna radosť (vraj okolo 4,000). Po množstve sťažností sa Mayor ("primátor") rozhodol, že tie pokuty predsalen zruší.
Druhá, ešte menej príjemná spomienka ostane pasažierom nízko-nákladovej leteckej spoločnosti Jet Blue, ktorá má základňu na JFK. Táto od stredy zrušila vyše 860 letov (z toho 260 tento víkend, keď je už počasie celkom príjemné) a v stredu nechala 9 lietadiel aj s 600 pasažiermi sedieť na odletových dráhach Kennedyho letiska, niektoré vyše 10 hodín. Časť z nich nemohla odletieť kvôli zlému počasiu a ostatné po pristátí nemohli dôjsť k terminálu, údajne kvôli tomu, že všetky brány boli obsadené. Pasažierov nechali bez jedla a vysvetlenia na dohľad letiska. Jet Blue nie je len taká nejaká maličká spoločnosť – na JFK je to najväčší prepravca – a takáto reklama im môže dosť poškodiť. Uvidíme.
Toľko k nášmu snehu.