Warning
: Illegal string offset 'src' in
/data/3/a/3a7e1bc0-13d6-4f23-9dab-d8a2a009ce43/jancigovci.com/web/public_html/wp-content/plugins/vipers-video-quicktags-migrator/vipers-video-quicktags-migrator.php
on line
322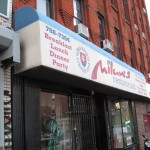 Mysleli sme si, že po Borke k nám už tohto roku žiadni slováci nezavítajú, ale prišli. Nie však z Európy. Marek a Palino z Minneapolis nám jeden pondelok napísali, že či môžu dôjsť na víkend. A my, že jasné. Boli sme síce dosť busy a veľa sme toho s nimi nepobehali, ale zase chlapci sú jazykovo a orientačne zdatní, takže New York zvládli aj bez nás.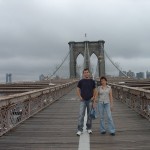 Išli sme sa s nimi však pozrieť na vrch Rockefellerovho centra. Kým nedokončia Freedom Tower na mieste, kde stáli dvojičky, sú Rockefellerove centrum a Empire State Building dve najvyššie budovy, kam sa turisti môžu dostať. ESB je trochu vyššia, ale zase z Top of the Rock je lepšie vidieť Central Park.
Chceli sme mať odtiaľ spoločnú fotku (dôkazový materiál), ale asi sme príliš nároční, lebo sme poprosili niekoľkých ľudí a s ani jednou sme neboli spokojní (alebo sa tam jednoducho zišli samí takí turisti, čo nevedia fotiť). Chceli sme totiž, aby okrem nás bolo na obrázku vidno aspoň kúsok výhľadu na park, ale všetci, ktorí nás fotili boli so sebou náramne spokojní, lebo sa im podarilo trafiť nás presne do stredu obrázku, čím sme park úplne zakryli. Čo už…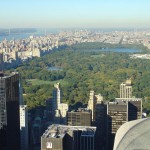 Čo tam bolo zaujímavé, boli výťahy. Mali presklený strop, projektory, ktoré naň premietali, a nasvietenú šachtu (video nižšie). Vyzeralo to trochu ako z vedecko-fantastického filmu a všetci sme s vyvrátenými hlavami čumeli hore cestou na 67 poschodie. Ešte dobre, že nebola presklená aj podlaha.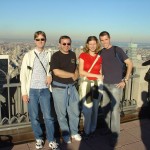 Nuž a odtiaľ sme sa vybrali so slovenskej reštaurácie U Milana v Brooklyne. Marek závistlivo zahlásil, že keby on býval v New Yorku, tak k Milanovi chodí každý týždeň na nedeľný obed. Slovenka čašníčka, bryndzová nátierka ako predjedlo (kúpili sme si potom aj do kelímku so sebou) a na výber halušky, rezne, zabíjačka, guláš, pirohy či sviečková. Jediné, čo chýbalo, bola kofola, ale aj tú vraj občas mávajú. Nie je to práve štvrť, v ktorej by som chcela bývať, ale na večeru (a bryndzovú nátierku) sa tam asi ešte vyberieme.