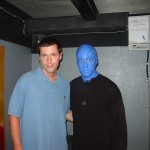 Môj drahý už dávnejšie párkrát básnil o tom ako by sa išiel pozrieť na Blue Man Group Show. Nuž a na narodeniny dostal lístky, tak sme včera boli. (Áno, obidvaja ľudia na obrázku sú živí.)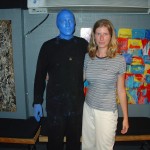 Kto sú to modrí muži? Showmani, ktorým idú veľmi dobre dve veci: bubnovanie a pantomíma. A show je preto pol na pol rockový koncert a vtipné scénky. Lenže to je pomerne zjednodušený popis.
Bluemani sú "outsideri" (= nie zo Zeme) a po príchode "skúmajú" tunajších obyvateľov, takže show je pomerne interaktívna a časť z nej sa deje v spolupráci s obecenstvom (Mišovi sa dívali do úst). Ušetrení neboli ani tí, čo sedeli na poschodí, lebo Bluemani sa vyšplhali aj tam. My sme sedeli pomerne vpredu, a preto sme dostali pri príchode aj pršiplášť (do hľadiska totiž počas predstavenia aj všeličo lieta).
Táto show je jednoducho iná ako čokoľvek, čo sme doteraz videli. V tomto prípade ja asi naozaj lepšie vidieť, ako čitať:
Toto je jedno z čísel, ktoré predviedli aj nám:
O outsideroch:
http://www.youtube.com/watch?v=HoYrPPLm2rA
Občas sa nechajú ukecať aj na nejakú reklamu (Zem posiela odkaz Amerike):
…a zopár ďalších videí tu.