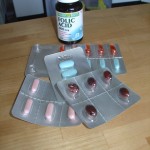 Také zmiešané pocity z nich mám. Nie teda, že by som bábätku nechcela dopriať nejaký ten vitamín C, ale zase napchávať sa nepotrebnou chémiou (nepotrebnou v zmysle, že sa rovnaký obsah dá prijať v normálnej strave) sa mi veľmi nechce.
Sa mi zdá, že sa stravujeme celkom zdravo, ale pri prvej tehotnej návšteve mi sestrička okrem kopy letákov nabalila aj vzorky piatich vitamínov. Vraj mám vyskúšať, po ktorých mi nebude zle (!) a že tie mi potom doktor predpíše. Po zhliadnutí kapsúl a príbalových letákov som zistila, že dávky sú to ako pre koňa – alebo ako pre americkú žienku, ktorá celé dni zapíja pizzu coca-colou a tie vitamíny nemá veru odkiaľ dostať.
A tak som usúdila, že asi ostanem pri kyseline listovej a železe, ktoré som kúpila ešte predtým, než sme nejaké bábo zamiešané mali. Kyselina listová preto, že hlavne v prvých mesiacoch zabraňuje vzniku niektorých poškodení mozgu a chrbtice a železo jednak kvôli tvorbe krvi a jednak preto, že užívanie kyseliny listovej v krvných testoch nedostatok železa maskuje.
Doktora tento názor veľmi nenadchol (a vitamíny mi predpísal), takže to vidím tak, že z času na čas nejaký asi zhltnem, ale užívať ich denne sa nechystám. Vtipná bola potom reakcia spoločnosti, od ktorej kupujeme lieky (je to lacnejšie ako v lekárni), ktorá sa mi snažila týždeň dovolať. Samozrejme zavolali vždy v tom najnevhodnejšom čase, keď som nemohla telefonovať alebo nepočula zvonenie, nechávali odkazy, ale spätné telefonáty nebrali. Keď sme sa nakoniec porozprávali, tak vysvitlo, že sa len chcú presvedčiť o správnosti receptu, lebo posledný, ktorý odo mňa dostali (čo už je pekných pár mesiacov dozadu), bol na antikoncepčné tabletky a teraz si pýtam tehotenské vitamíny. Tak som ich uistila, že tabletky už neberiem…
Komunikácia so zdravotnou poisťovňou je úplne iná story (o tom možno niekedy nabudúce), ale začínam mať miestami taký pocit, akoby tehotná znamenalo automaticky nesvojprávna… tak ale nenecháme sa len tak ľahko rozhádzať, zatiaľ ide všetko v pohode a tak si to užívame.
PS Obtiahnuté rifle už nezapnem.