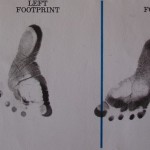 S blížiacim sa koncom tehotenstva som pomerne často rozmýšľal, kedy to na Ivku príde, ako zistíme, či to už je ono a čo keď nebudem práve vtedy doma. Teoreticky som všetko ovládal, ale vzhľadom na fakt, že chýbali praktické skúsenosti, som mal pred pôrodom aj jeho príznakmi patričný rešpekt.
Hovorí sa, že najlepšia cesta, ako sa zbaviť strachu z nepoznaného, je si to vyskúšať na vlastnej koži. A tak som raz ráno o pol šiestej vstal a myslel som si, že ako obyčajne budem za pol hodinku sedieť v autobuse. Ivku som našiel v obývačke a tvárila sa, že tam je už od druhej ráno. Snažila sa ma presvedčiť, že dnes porodíme, ale ja som tomu veľmi neveril. Podobné kontrakcie sme mali už pár dni a bábo bolo stále vnútri.
Na internete sme našli merač kontrakcií a začali sme stopovať. Podľa tej aplikácie sme mali kontrakcie priemerne 40s zhruba každých 5 minút. Vari dnes predsa rodíme? Nasledoval e-mail do práce, že si beriem deň voľna. Následne som zavolal taxík, aby sme sa do tej pôrodnice vôbec dostali. Taxikárovi asi muselo byť jasné, že ideme rodiť, lebo na Ivke to bolo celkom vidieť, ale žiadna rýchla jazda a flekovanie pred nemocnicou sa nekonali.
Keď sme prišli do nemocnice, tak Ivka sa síce snažila presvedčiť personál, že vyjsť na piate poschodie vo výťahu zvládneme aj po vlastných, ale aj tak dostala vozík. Nuž, nemocnica si chce byť istá, že ich nikto nebude za nič žalovať. Niekto musel ísť na príjem vybaviť všetky papierovačky a vyšlo to na mňa. Keď som im tam povedal, pre čo som prišiel, tak ma po krátkom čakaní poslali do miestnosti, ktorú som pracovne nazval VIP kabínka, lebo tam brali rôzne súrne prípady. Za chviľu bolo všetko vybavené, tak som sa spokojne pobral za Ivkou na izbu.
Tam mi ešte stále usmiata Iva a sestrička oznámili, že to čo som vybavil, boli všeobecné papiere, keď príde budúca mamička do nemocnice, že či ozaj rodí. A keďže mi vraj naozaj dnes rodíme (boli sme už na 4 centimetroch), mám ísť naspäť a vybaviť papiere na príjem na hospitalizáciu. Nie veľmi nadšený som sa vrátil späť na príjem. Tajne som dúfal, že to pôjde zase relatívne rýchlo. Po dvadsiatich minútach čakania som recepčnej nenápadne naznačil, že by som rád dnes ešte stihol pôrod svojho dieťaťa. Dala mi podpísať jeden papier a poslala ma preč. Toto sa asi dalo spraviť aj nejako efektívnejšie, ale zrejme je to súčasť miestnych zvyklostí.
Konečne som sa vrátil späť na izbu a čakal, čo sa bude diať. Dialo sa toho celkom dosť. V prvom rade sme odmietli akúkoľvek chémiu. Merali sme si kontrakcie a tep bábätka a prechádzali sme sa po chodbách. Tu a tam nás prišla pozrieť "naša" sestrička, ktorá bola podľa mňa skvelá. Bola milá, evidentne mala všetko pod kontrolou. a ochotne odpovedala na všetky otázky. Pri každej návšteve nezabudla spomenúť, že nám to ide skvele a že napredujeme skutočne rýchlo.
Zatiľ čo sa Ivka pomaly blížila ku 10 cm, dýchali sme spolu či už na chodbe alebo na izbe. Kontrakcie sa stávali zjavne silnejšie a bolestivejšie a ja som pri pohľade na ňu začal byť rád, že chlapi nemôžu otehotnieť. Pri 10 cm jej praskli plodovú vodu, ktorá by asi praskla skôr či neskôr aj tak, ale robiť to nemuseli. Lekár (ktorý nás prvý raz prišiel pozrieť okolo 8 cm) vyzeral pohodovo, ale nakoniec nás rodil aj tak niekto iný. Keď sme už boli na 10 cm a pri silnejších kontrakciách bolo vidiet vrch hlavičky, zobrali nás na pôrodnú sálu. Pred tým ešte nasledovala obligátna otázka, či nemám problém s krvou, na čo som odpovedal, že iba pokiaľ ide o moju krv.
Na pôrodnej sále bolo trochu zima a konečne sa zjavil aj lekár, ktorý nás nakoniec odrodil. Neviem, ako sa volal, ale bol to taký dosť ukecaný Kubánec, ktorý sa navyše šialene podobal na Dzurindu. Tu sme tlačli asi pol hodinu a bábo bolo na svete. Kiku hneď po narodení priložili Ivke na hruď a mňa nechali prestrihnúť pupočnú šnúru. Musím povedať, že lekár na konci vyzeral ako po priemernej zabíjačke a jeho prácu si fakt vážim, ale v žiadnom  prípade nezávidím.
Celý pôrod bol pre mňa dosť silný zážitok. Sestričky sa tvárili, že som bol užitočný celý čas, ja som bol rád, že som nikomu nezavadzal a snáď trochu pomohol Kike na svet.