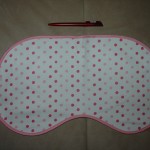 Už minule som písala, že som si kúpila pár tričiek na kojenie. Onedlho potom mi prišla od nich anketa, že by ich zaujímalo, ako som s tričkami spokojná a či by som na nich niečo vylepšila.
A tak som anketu vyplnila a poslala naspäť. Napísala som, že som spokojná, ale dve veci by som vylepšila: tričká by mali mať hrubšie ramienka, lebo predsalen zavesiť prsia plné mlieka na takéto špagetové nie je úplne optimálne a okrem toho by mali ponúkať aj vzorované a nielen jednofarebné, lebo na tých veľmi vidno, keď mliečko tečie (to je jedna z radostí kojenia – keď bábo cucá z jednej strany, tak druhá iniciatívne tiež spustí a niekedy tomu ani "breastpads" nepomôžu). Ja som si kúpila čierne a modré a na tom modrom to veru vidno.
Tým som považovala vec za uzavretú, ale včera mi prišla obálka a v nej čudo a kartička, že nech ho prijmem ako poďakovanie za vyplnenie ankety. A ja na to kukám a kukám a rozmýšľam, že čo to asi je. Neprišla som na to, ale dočítala som sa na visačke a celkom ma to pobavilo. A tak otázka na vás: čo si myslíte, že to je?