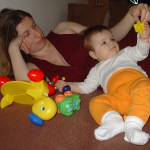 Boli sme dnes s Kikou u doktora Texidora na trošku oneskorenú 9-mesačnú prehliadku. Navážili nám 11.5 kg a namerali 79 cm (to je o pol kila a 5 cm viac ako pred Vianocami).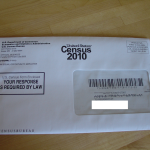 Trochu ma vyhrešil, že jej nedávám fluór, sestrička sa spýtala, či chceme tú chrípku, ktorú sme nezobrali pred Vianocami (teraz v marci?), ale keď som povedala, že nie, tak sa to dnes obišlo bez injekcií (ďalšie sú na programe až v júni). Prvýkrát sa ma dnes doktor vypytoval, že ako sa Kika hýbe a čo bľaboce – predviesť sme sa veľmi nemohli, lebo sa bála, mrnčala a hlavu schovávala mame pod krídlo. Keď k tomu pripočítam, že sa to dnes obišlo bez akéhokoľvek čakania, tak mi vychádza, že ten náš doktor sa nejako polepšil.
A sčítanie… prišiel nám predvčerom formulár, tak sme sa sčítali (v USA je sčítanie ľudu každých 10 rokov). Pýtali sa, kto u nás býva, akí sme mladí a akú máme farbu, tak sme im povedali aj to. Výsledky by mali byť niekedy koncom roka alebo začiatkom toho budúceho.