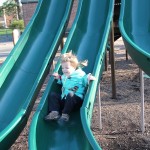 tú omáčkovú polievku – keď si pýtala paradajkovú
ja som Tvoja práca – mi s úsmevom povedala
dáme mu poriadne na zadok – nejakému plyšákovi, keď mu dávala látkovú plienku. Na vysvetlenie: v našej verzii rozprávky o červenej čiapočke vlk nakoniec dostal poriadne na zadok, aby to už nikdy viac neurobil. Zjavne sme sa celkom nepochopili. Ktovie, či si myslí, že plienky sú za trest?
tato zase pije to binko, čo sa volá jum – no comment
ona: Kde je to ťukadlo?
ja: Aké ťukadlo?
ona: To biele, čo mal tato pri počítači.
ja (jááj klávesnica): No, to sme zbalili do krabice a poslali do toho nového domu, kam pôjdeme bývať.
on sa prišiel poježkať – prilíškať (Kubo si o mňa veľmi rád chodí obtierať hlavu.)
Ty si mu to tumášovala – od slova tu máš