Ako rýchlo (a hlasno) dýchajú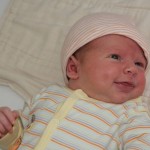 Keď sa narodila Kika, tak sme si spočiatku mysleli, že niečo nie je v poriadku, lebo sa nám zdalo, že dýcha príliš rýchlo. Potom sme zistili, že na novorodenca má úplne normálnych 30-40 nádychov za minútu (na porovnanie, dospelý človek má 12-18). Teraz u Kuba nás to už neprekvapilo, ale sme si pripomenuli aj to, ako "nahlas" dýchajú a funia. Mišo to okomentoval, že by malý mohol dabovať nejaké čerstvo vyliahnuté mláďa z nejakej disneyovky.
Ako voňajú
A tým nemyslím, keď majú naložené v plienke… Ale "čerstvé" bábätká voňajú po mlieku a spánku (tak ako keď sa človek mierne spotený zobudí potom, čo si cez deň schuti zdriemol). Nosenie v šatke je ideálne na ovoniavanie, lebo vtedy majú hlavu presne v tej správnej výške, že sa stačí len zhlboka nadýchnuť. Nanešťastie, s príchodom tuhej stravy sa táto vôňa nenávratne stratí, takže si to budem musieť poriadne vychutnať najbližších pár mesiacov.
Moja reakcia na plač
Presnejšie povedané, dve reakcie. Jedna je fyzická a nedá sa vôbec ovládať – keď začne drobec plakať po tom, čo už chvíľu nejedol, spustí sa mi mlieko. Tá druhá je skôr psychologická a Kika ju má tiež – keď plače a momentálne nemôžem za ním ísť (napríklad som v sprche, šoférujem a podobne), tak mám z toho zlý pocit. Zlý do tej miery, že je to tiež takmer fyzická reakcia sa hneď pobrať a utíšiť ho. U Kiky sa to prejavuje tak, že keď malý plače, tak ma upozorňuje a očakáva, že s tým niečo urobím. Ľudia sú asi naprogramovaní, aby im bol plač bábätka nepríjemný.
Opuchnuté pery od pitia mlieka
Toto tiež… Kika mala dva dni a aj horná aj dolná pera boli jeden veľký pľuzgier. Ustarostená sa pýtam sestričky, že čo sa deje (vystrašená, že moja malá hneď v nemocnici niečo chytila) a tá mi pokojne odpovedá, že to je len od toho, ako intenzívne sa snaží piť. Do týždňa pľuzgiere spľasli a po čase sa stratili úplne (pery si asi zvykli na "namáhavú prácu"). Teraz nás to už neprekvapilo, pery malému opuchli tiež zhruba po dvoch dňoch a ešte stále si celkom nezvykli.
Moro reflex
Bábätká si ho vraj pamätajú ešte z čias opíc, keď padajúce mláďa rozhodilo ruky, roztiahlo naširoko prsty, čo zvýšilo šance, že sa mu podarí zachytiť maminho kožucha. Bol to dôležitý reflex, lebo neúspech s veľkou pravdepodobnosťou znamenal, že mláďa neprežije. Ľudské mláďatá sa s týmto reflexom narodia a strácajú ho okolo 4. až 5. mesiaca. Prejavuje sa, keď majú pocit, že padajú (napríklad ich príliš rýchlo niekam položíte, keď ich podopierate iba pod krkom a pod zadkom) alebo keď ich niečo naľaká (hlasný zvuk). Vyzerá to trochu strašidelne.
Vedia jesť aj keď spia
Jedna vec je že začnú cucať a popri tom zaspia. Ale funguje to aj naopak. Keď sa chystáme spať a viem, že malý už zo dve hodiny nejedol, čo znamená, že sa (a mňa) zobudí o nejakú pol hodinu až hodinu, tak ho zoberiem a dám mu napiť. Väčšinou ani neotvorí oči – zato ústa dokorán – naje sa a spí ďalej dve až tri hodiny. Voláme to dream feed.
Grganie a prdenie
Bábätká sa neokúňajú. Keď to na nich príde, tak si uľavia a ostatní prítomní sa len s pobavením čudujú, aké zvuky môžu vychádzať z takého malého človeka.
Boli aj pre vás toto novinky? Alebo niečo iné?