Jeden z najdôležitejších dôvodov, prečo mať deti, je, že vám to umožní spoznávať čaro a tajomstvá diaľničných odpočívadiel.
Najprv cestou do Senca prišlo Kike zle a tak sme si dali umývaciu a prezliekaciu prestávku pri Beluši.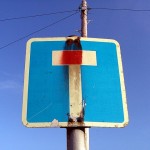 A potom cestou naspäť mal Kubko problém zaspať, vrieskal a všetky pokusy o rozptýlenie zlyhávali. Až kým som si uvedomila, že sme boli od rána pomerne zaneprázdnení, že doobeda spal iba chvíľku a že od jednej v noci ani raz necucal mlieko. Z toho mi vyšlo, že zastaneme na najbližšom odpočívadle a tým bol zhodou okolností Červeník.
Skoro hneď potom, ako sme odbočili, nám bolo jasné, že niečo tu nehrá. Na obzore dedina, ale odpočívadlo nikde. GPS sa tváril, že žiadna panika, vráti nás na diaľnicu (a na mape bolo vidieť aj benzínku s parkoviskom). Ale kázal nám zabočiť na cestu označenú ako slepá. A my, optimistickí od korienkov po končeky, sme odbočili. Asfalt skončil, potom už len cestička v lese plná výmoľov. Na konci benzínka. Ale pred ňou betónová zátarasa.
Tak sme sa otočili, ja som vybrala Kuba a pustila sa do kŕmenia, lebo toto bolo také dobré miesto ako hocijaké iné. A Mišo zúrivo blúdil po mape hľadajúc spätnú prípojku na diaľnicu. Ale žiadnu tam nevidel.
A potom prišlo auto s bratislavskou značkou, obrátilo sa, chlapík za volantom krútil hlavou, spolujazdkyňa neisto ťukala do GPS a vrátili sa odkiaľ sme aj my prišli.
Za iných okolností by som to bola ja, kto by sa vybral na benzínku. Ale sediac s prísavkou, ktorá sa zase raz tvárila, že dva týždne nejedla, táto milá povinnosť pripadla naňho, aj keď to znamenalo, že sa bude musieť vyrovnať s priznaním si, že sme sa stratili na diaľnici medzi Sencom a Žilinou.
On: Ako sa napojím naspäť na diaľnicu?
Kočka, úplne bez prekvapenia, namiesto vtipnej odpovede, že veď predsa sme na diaľnici: Ste tu vedľa v lese?
On: Áno?
Ona, podáva informáciu, ktorú zrejme opakuje pomerne často: Tak tu sa nenapojíte. Až v Hlohovci alebo v Piešťanoch. Hlohovec máte bližšie.
On: Hmm.
Na križovatke s tou slepou značkou nás míňajú dve talianky, ktoré sa nevedia dohodnúť, či odbočiť, či nie. Lámano vysvetľujeme, že tadiaľto sa na diaľnicu nedostanú, ale že môžu ísť za nami.
Napojili sme sa pri Hlohovci a o chvíľu už Kubko spokojne odfukoval vzadu a my sme znovu fičali okolo Červeníka. Prvá odbočka, bez privádzača, do dediny, druhá na odpočívadlo, bez značiek, ktoré by to neznalým dali na známosť. O tom, že by sa zrejme zišli, svedčí fakt, že za tých asi desať minút, čo sa malý namliečkoval, tu zazmätkovali tri autá.