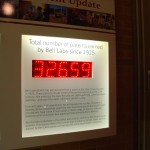 Tento týždeň bol pomerne rušný. Od pondelka do stredy konferencia – moja prvá, ak nerátam ŠVK v Bratislave. Je pravda, že boli prezentácie, kde som nerozumela, na čo autori prišli, boli aj prezentácie, kde som nepochopila ani otázku (na čo sa snažili prísť), ale zase na druhej strane boli aj také, kde som aj chápala, aj sa mi páčili – takže celkový dojem dobrý, čo je fajn aj preto, že mám povinnú účasť aj v najbližších rokoch.
Ešte zaujímavejší ako konferencia bol výlet do Bellových Laboratórií v Murray Hill. Čím sú zaujímavé? Napríklad tým, že dostali 6 Nobelových cien za fyziku (tranzistor, kozmické žiarenie, …). Alebo tým, že odtiaľ pochádza UNIX, C, C++, S (Dennis Ritchie tam pracoval až do roku 2007). Alebo tým, že tam vymysleli laser a optické vlákna a kopu iného. Alebo tým, že napriek tomu, že sa venujú hlavne telekomunikáčným záležitostiam, sieťam a nanotechnológiám, držia si svoje oddelenie matematikov. To bol vlastne dôvod, prečo sa tento výlet organizoval – aby sme sa mohli pozrieť, že matematici sú užitoční aj v nie-akademickom prostredí.
Hneď na začiatku si nás onálepkovali a museli sme podpísať papier, že nebudeme fotiť (nie, že by v tých konferenčných miestnostiach, kde sme boli, bolo čo). Rozprávali sme sa so štyrmi ľudmi, s každým približne hodinu, a dozvedeli sme sa, ako sa im tam pracuje a čím sa zaoberajú a "vtipné historky zo starých čias". Niečo mali s akademickým prostredím spoločné – publikujú, majú pravidelné semináre na rôzne témy (jedného sme sa zúčastnili, organizuje ich Henry Landau – matematik, ktorý tam dlho pracoval a už desať rokov je na dôchodku) a niečo zase nie – výbornú jedáleň, problémy, ktorých riešenia niekto naozaj potrebuje…
Z tých tém, o ktorých sme sa bavili, spomeniem len jednu – telekonferencie. Zaujalo ma to najmä kvôli tomu, že to vyzerá tak, že to, čo sme videli v Star Treku, sa rýchlo mení zo science fiction na science. Pozrite si nasledujúce videá.

http://www.youtube.com/watch?v=rcfNC_x0VvE
Čo na to poviete?