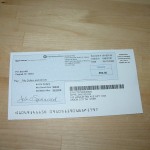 Koľko chýb sa dá spraviť v jednej adrese? Pri pohľade na šek, ktorý mi prišiel včera, to vyzerá, že dosť. Som zvedavá, či mi ho v banke preplatia.
Zaujímavý šek nám prišiel už minule, ale s tým nebolo treba ísť do banky.
Update 20. mája: Teta v banke ani okom nemihla a peniaze vyplatila. Neviem, či si nevšimla, alebo to nevadilo, lebo som sa neodvážila spýtať, aby si to náhodou nerozmyslela.