So školou sme komunikovali dopredu, ja cez e-maily, Mišo ich bol s dokladmi dvakrát pozrieť aj osobne, takže keď sme prišli, deti mohli rovno nastúpiť.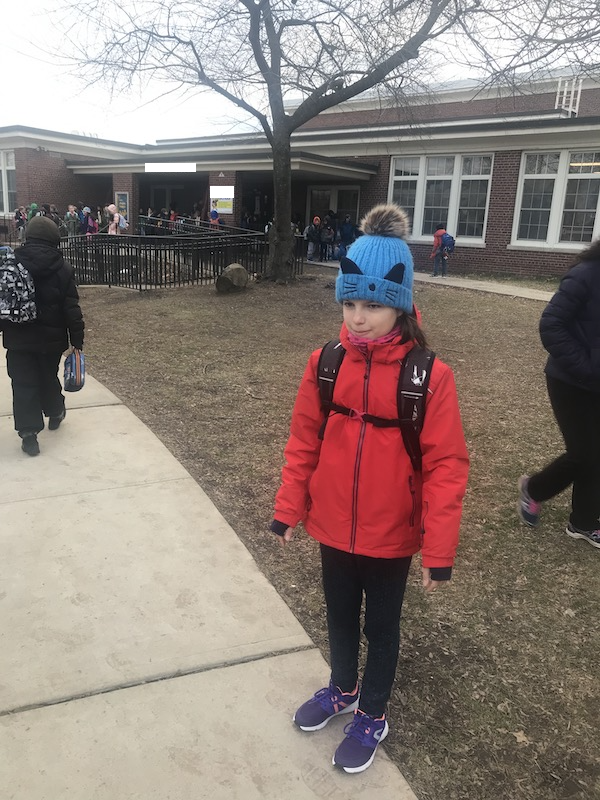 Spolužiakov a spolužiačok v triedach majú viac, ako boli zvyknutí (Kubo 22 oproti 10 a Kika 19 oproti 15) a privítali ich veľmi milo. Kika dostala od pani učiteľky v prvý deň aj takýto list a celkom ju to pobavilo:
Škola má aj ESL (angličtina ako druhý jazyk) program. Tam deti trochu otestovali, prebrali to s ich triednymi učiteľkami a povedali, že Kika rozumie a hovorí dostatočne na to, aby bola celé vyučovanie vo svojej triede. Kubo bude mávať jednu ESL hodinu denne. Oboje nás potešilo – to že Kika sa prakticky od začiatku vedela zapájať a aj to, že Kubo nebol beznádejne stratený. (Vyzerá, že jazykovka Gabby v Žiline bola dobrá voľba.)
Veľa vecí je iných, niektoré sú zvláštne, ale zatiaľ obaja vyzerajú spokojne. Ja sa mám budúci týždeň znovu stretnúť s oboma učiteľkami (videli sme sa krátko v prvý deň ráno) a porozprávať sa, že aké sú ich dojmy.