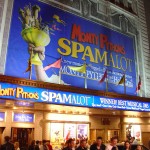 Tento článok chce byť reklama a antireklama. Reklama (+ vrelé odporúčanie) na muzikál Spamalot a antireklama na jeden film.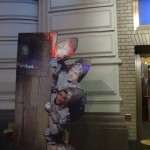 Minulý týždeň Mišo spravil skúšku na certifikát a ja som mala meniny, tak sme zhodnotili, že to je dobrá príležitosť ísť trošku oslavovať a vybrali sme sa na muzikál. Spamalot si robí srandu zo všetkého – z kráľa Artuša a Kamelotu, z iných muzikálov, z angličanov, z francúzov, z gayov, z moru, z kresťanov, zo židov, zo seba a zo všetkého ostatného. Bavili sme sa.
A film? … pointa bola, že chlapík vraždil ľudí pomocou internetu. Ako sa to dá? Metódy nejdem popisovať, ale založené boli na web stránke a jej návševnosti – čím viac návštevníkov, tým rýchlejšie človek zomieral. A všetko sa streamovalo live. FBI to síce vyšetrovali, ale veľmi im to nešlo a stránku nevedeli zrušiť. Nedá sa povedať, že by to skončilo happyendom, poviem len, že chlapíka dostali. Ale…
Čo mi na tom vadí, sú dve veci (a okrem nich ešte brutálne vraždy, na ktoré som sa nemohla dívať). Prvá je to, že (v tom filme) ľudia stránku pozerali aj keď vedeli, že je to naozaj a že tým, že pozerajú, urýchľujú niekoho smrť. Netrúfam si ani odhadnúť, koľko ľudí by pozeralo, keby to bolo naozaj, ale bojím sa, že veľa, čiste zo zvedavosti. A druhá veľmi znepokojujúca myšlienka je tá, že tento film nebol sci-fi. Ja osobne by som nevystopovateľnú stránku urobiť nevedela, ale to, čo robil chlapík vo filme (nepíšem vrah, lebo vrahov tam okrem neho bolo ďalších pár miliónov ľudí) nepotrebovalo žiadne technológie budúcnosti. Šikovný počítačový guru by to mohol spraviť dnes. Prečo potom niekto urobí film, kde dá návod ako?
Na záver radšej na veselšiu nôtu – vráťme sa ešte k Spamalotu: