Tak už som zase raz americký vodič. Zase raz znamená, že po vodičáku z Colorada (mojom prvom vôbec) som tentokrát dostala vodičák v New Jersey. Čo som naň potrebovala? Vedieť šoférovať teda nie.
Vodičák v Amerike je akási obdoba nášho občianskeho preukazu. Je to vodičák, čo si od vás v obchode vypýtajú, aby si overili, že naozaj máte 21 a tú fľašu vína si môžete kúpiť. Vodičák ako doklad totožnosti stačí na vnútroštátne lety (vyskúšame) a okrem toho, samozrejme, aj na šoférovanie.
Pozitívne je, že Mišovi na jeho vybavenie stačila jedna návšteva DMV (Department of Motor Vehicles). Prišiel, ukázal 6-point ID (pas + social security card + bankovú kartu, to aby si overili, že je to naozaj on), účet za internet mu poslúžil ako doklad o trvalom bydlisku (!), spravil vedomostný test (stačí správne odpovedať na 40 otázok z 50tich), videl (nechal si preskúšať zrak), ukázal slovenský vodičák, zaplatil poplatok a zvíťazil. Vodičák dostal na počkanie.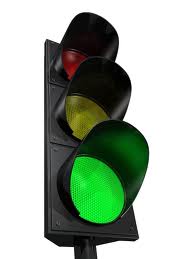 Ja som ich navštívila trikrát. Nie, že by sa mi tam tak páčilo, ale predchádzajúce pokusy skončili neúspešne. Až pri treťom raze už nemali výhrady k mojim dokladom, takže som sa cez skúšku zraku prepracovala aj k vedomostnému testu. Čo sa v takom teste pýtajú? Napríklad to, v akom poradí zhora sú svetlá na zvislom semafóre (jedna z možností bola aj žltá-červená-žltá). Alebo čo pila väčšina šoférov zodpovedných za nehody, ktorým namerali nepovolenú hladinu alkoholu v krvi (a: víno, b: pivo, c: whiskey, d: nič)? Nebolo treba riešiť žiadne križovatky (škoda), ale ani vedieť žiadne technické detaily typu, koľko cm môže prečnievať anténa (ako dobre).
Ako si tak veselo odpovedám na otázky o značkách, zrazu ma zaujal krik. Pani, ktorá testuje zrak a následne usádza vidiacich k vedomostným testom, je útla a veľmi tichá. Ale čierny mladý muž stojaci pri jej pultíku má výšku basketbalistu, váhu zápasníka sumo a hlasno sa dožaduje, aby mu zrak preskúšala ešte raz.
– No dobre, tak mi prečítaj prvý riadok.
– K, O, D, E …
– Čítaš ten riadok?
– Samozrejme.
– Čítaš ho zľava?
Mladému mužovi asi prebleske tvárou neistota (z môjho miesta nebolo vidno), lebo pani Očná začína vysvetľovať, ktorá je ľavá strana.
– Aha, jasné. M, Z, T …
– Čítaš prvý riadok? A čítaš ho zľava?
– Yeah, sure. Už to mám. H, P, K …
Tu niekde pani Očná pochopila, že problém nebude v zraku mladého muža.
– Vieš čo, teraz sa nepozeraj do prístroja, ale prečítaj, čo je napísané na tomto papieri.
Mladý muž nahnevaný odchádza a my, čo robíme vedomostný test, rozmýšľame nad tým istým ako pani Očná. To, že chlapec sa dostal až sem znamená, že má aspoň 16 rokov. Ako vyplnil formulár? OK, ten mohol vyplniť niekto zaňho. Ako si myslel, že spraví vedomostný test? Amerika je slobodná krajina, človek môže požiadať o ústne preskúšanie. Ako sa tento človek bude orientovať podľa informačných tabúľ, keď sa bude chcieť niekam dostať? Dobre, môže sa naspamäť naučiť svoje dve trasy a iné nebude používať. Ale ako môže žiť v Amerike v 21. storočí a nevedieť čítať (a mať k tomu odvahu si prísť pýtať vodičský preukaz)?
Test som nespravila do konca, lebo po 40tich správnych odpovediach mi počítač oznámil, že mu stačí a ďalej sa so mnou nebavil. O dve miesta ďalej končí kučeravá mulatka a všetkým nám radostne oznamuje, že je to síce LTT (len tak tak), ale na tretí pokus prešla (bola tu minulý týždeň a aj týždeň predtým). Len dúfa, že na jazdu nebude musieť ísť toľkokrát.
Najťažšia otázka prišla až pri vystavovaní samotného preukazu, kde bolo treba uviesť farbu očí. V záujme predchádzania vyhnuteľným problémom som dala zelené a nie studničkové, ako mi radil jeden romantik. A po pár minútach som už aj ja odchádzala s plnohodnotným vodičákom. Som zvedavá, kedy ho použijem aj na to, na čo je primárne určený.
Pre úplnosť ešte dodávam, že sa dá vybaviť aj ID card, ktorá vyzerá skoro ako vodičák a plní všetky vyššie spomenuté úlohy okrem oprávnenia na šoférovanie. Avšak v porovnaní s počtom vodičských preukazov o ne veľmi záujem nie je a 6-point ID, doklad o trvalom bydlisku a poplatok treba doniesť aj tak.
Záverom sa ešte vrátim k tomu preukazovaniu trvalého bydliska.  Podobné ma postretlo aj v banke pri otváraní účtu.
– No veď nám doneste nejaký účet – výpis z inej banky napríklad (ako sa nám to pekne zacyklilo) alebo účet za elektrinu/plyn/telefón… Vaše meno na nájomnej zmluve daného bytu na danej adrese nestačí, lebo to nie je doklad, že tam aj bývate.
Moje obavy, že ako sa k takémuto účtu dopracujem, sa ukázali ako neopodstatnené. Bolo síce treba počkať do nasledujúceho mesiaca na nový výpis, ale stačila jedna návšteva u internetového providera bez ukazovania akýchkoľvek (!) dokladov:
– No problem, we'll put your name on your husband's service account. You need it as a proof of address, don't you?
Mohla som byť sesternica z Panamy. Alebo ani nie sesternica.