Každý piaty človek na svete je Číňan. Nás je v rodine päť: mamina, ocino, Miro, Didi a ja. Jeden z nás je teda Číňan, ale doteraz mi nebolo  jasné, že kto. Nedávno mi to však prezradil fortune cookie z čínskej reštaurácie.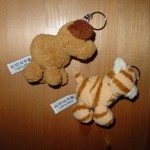 Malá vsuvka pre tých, ktorí sa ešte s takýmto koláčikom nestretli: Dávajú ho v čínskej reštaurácii po jedle. Vyzerá takto a na papieriku vo vnútri je na jednej strane napísaná nejaká múdrosť (dostatočne všeobecná, aby sa hodila skoro na každého) a na druhej nejaké čínske slovíčko. A slovíčko na mojom papieriku vidíte na obrázku. Takže, Didi, ja to vidím tak, že ten Číňan si Ty.
A ešte jedna vec sa mi nedávno (cez Vianoce) vyjasnila. Konkrétne to, že medzi mačkou a psom nie je až taký veľký rozdiel, ako sa na prvý pohľad zdá. Vyzerajú síce inak, ale aj mačky sú psy. Kliknite si na obrázok a uvidíte.