Kde si môžete kúpiť $25 za $35.95? Alebo v akcii $250 za $319.95? No predsa v americkej mincovni.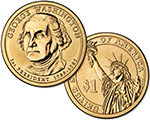 Aj keď sa Američania už dvakrát pokúšali zaviesť jednodolárové mince, neujali sa. Pred štvrťstoročím vydali mincu s podobizňou Susan B. Anthony – bojovníčky za práva žien. Bola to malá strieborná minca, ktorá vyzerala podobne ako dnešný štvrťdolár a mincovni ich ostali milióny nepoužitých. V roku 2000 urobili druhý pokus – vydali zlatý dolár s podobizňou Scarawagey – šošonskej Indiánky, ktorá pomohla expedícii Lewisa a Clarka (prvá americká expedícia od pobrežia k pobrežiu a späť). Tiež sa veľmi neujala a doteraz skladujú milióny vo Federal Reserve Bank. Pre Američanov je jednodolárová bankovka asi príliš veľký symbol na to, aby sa ho len tak vzdali. Uvidíme, či obstojí aj do tretice.
Po veľkom úspechu štvrťdolárov, ktoré sa v posledných rokoch postupne vydávali so symbolmi jednotlivých štátov únie, kongres rozhodol, že skúsia niečo podobné aj s jednodolárovými mincami. Každý štvrťrok vydajú novú, ktorá bude mať na jednej strane prezidenta a na druhej Sochu Slobody. Prezidenti pôjdu postupne, v poradí v akom úradovali a zatiaľ to vychádza tak, že 38. bude Gerald Ford v roku 2016. Pravidlá totiž hovoria, že sa na minci nemôže objaviť prezident alebo bývalý prezident, ktorý ešte žije. Ako prvý bol vydaný 15. februára George Washington.
Napriek tomu, že zatiaľ prejavujú najväčší záujem zberatelia, minca je legálnym platidlom, bude sa dať použiť aj v automatoch a parkovacích hodinách a mincovňa dúfa, že jej prostredníctvom sa opäť navráti trochu zašlá sláva mincovníctva (a časom ušetria na nákladoch na tlač jednodolárových bankoviek). Oproti predošlým dvom pokusom má tento tretí asi najväčšiu šancu postupne zlomiť konzervatívnych odporcov dolárových mincí. Len či potom nebudeme mať príliš ťažké peňaženky?