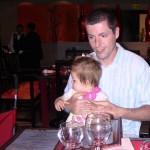 Toto je zase jedna z tých tém, kde má každý svoj názor, ja sama ich mám aspoň dva (hej, viem… vysvetlím) a veľmi by som uvítala, keby ste sa o tie svoje podelili, lebo by mi to možno pomohlo upratať trochu tie moje.
Boli sme už párkrát v situácii, že sedíme v reštaurácii a Kika sa zrazu začne "nahlas prejavovať". Niekedy je to len z radosti a nadšenia, ale decibely sú také, že všetci vedia, kde sedíme (čašníci v hoteli v Mexiku by vedeli rozprávať), niekedy je to plač, lebo jej niečo vadí, a niekedy je to výbuch "len tak". Pokiaľ vieme, čo to je a problém sa dá na mieste vyriešiť, tak je všetko ok, ale pokiaľ nie, tak nastáva otázka, čo ďalej. Neraz sme z takejto situácie odišli, lebo stále mám akési výčitky typu, že niekto si príde užiť romantickú večeru vo dvojici a namiesto toho musí počúvať koncerty môjho dieťaťa.
Ale sú situácie, kedy sa odísť nedá (napríklad lietadlo) a ľudia naokolo hádžu pohľady – akože robte už s tým deckom niečo. A sú chvíle, keď síce neviem zariadiť, aby sa Kika správala "vhodne", ale nechcem odísť a každému, kto by mi také niečo navrhol, mám chuť povedať, že sme na verejnom priestranstve a moje dieťa má rovnaké právo sa tam zdržovať, ako všetci ostatní – preto je to priestranstvo verejné, všakže?
Ako vidno, moje pohľady na danú vec, sú pomerne protichodné…
Jedno riešenie by bola prevencia – vyhýbať sa takýmto situáciám. Ale s tým nie som spokojná. Ako sa majú deti naučiť správať sa "vhodne" na verejnosti, ak na to nedostanú príležitosť? Ak ich nebudeme do tých reštaurácií, parkov, lietadiel, múzeí a všade inde brať, ukazovať, ako sa tam správa a pomáhať im sa to naučiť? (Aj za tú cenu, že to možno bude obnášať nejaké to kvílenie). Že to zatiaľ nevedia, ich nerobí menejcennými. Iba to hovorí, že musíme nájsť spôsob, ako ich aj tak do "verejnosti" začleniť. A to, či a aký spôsob nájdeme, vypovedá o tom, aké máme ako spoločnosť hodnoty…
Vytáča ma argument, keď niekto (bezdetný) povie – ja nemám rád deti, prečo by som mal byť v ich spoločnosti, keď mi to nie je príjemné… Keby namiesto toho povedal – ja nemám rád tridsiatnikov, ja nemám rád slepých, ja nemám rád ženy/mužov, tak by nám to pripadalo prinajmenšom divné a pritom "nemať rád deti" je spoločensky prijateľné.
A potom je tu otázka disciplíny (len tak mimochodom, toto slovo je odvodené z latinského učiť a nie trestať). Nie je ok, ak sa dieťa nespráva "vhodne" na verejnosti. Ale nie je ani ok (obzvlášť nie tu, v US), ak ho za to vyhrešíte…
A napriek tomu, že to niekedy robíme, implicitné očakávanie, že rodičia majú jednoducho zobrať dieťa, ktoré sa nepodrobí očakávaniam ostatných dospelých, a odísť je istým spôsobom "utláčanie" niekoho, kto sa nemá ako brániť. A ultáčateľom je rodič (častejšie matka).
Tak ako teda? Čo robiť, keď TO na dieťa príde na verejnom priestranstve?
PS Jeden z dôvodov, ktoré ma viedli k napísaniu tohto tu, je
tento článok
(a komentáre k nemu – aj keď som ich ani zďaleka nečítala všetky). Dojmy?