Ťažko. A nie je to tým, že by mali zavreté.
Štýlový obchod na piatej avenue
je otvorený 24/7 a práve tam sme sa na začiatku septembra vybrali. Že prečo o polnoci? Lebo s mojím drahým je niekedy veľmi ťažko sa zosynchronizovať vzhľadom na jeho besné ordinačné hodiny. Ani zďaleka sme tam však neboli sami. (Nátresk aj o polnoci je ten dôvod, prečo sa v Apple ťažko nakupuje.)
Obchod je známy aj tým, že si každý môže všetko vyskúšať, a tak prakticky (okrem iného) funguje ako bezplatná internetová kaviareň. Takže aj keď sme prišli o polnoci, všetky počítače boli obsadené a shop assistanti zaneprázdnení. Nám však veľa rozhodovania nebolo treba, lebo sme vedeli, pre čo sme prišli. Do polovice septembra platila študentská akcia na macbooky, ku ktorým dávali "zadarmo" aj ipod a tlačiareň (s kopírkou a skenerom v jednom). No, nekúp to.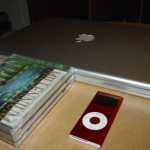 A že načo ďalší počítač? Lebo som chcela niečo, na čom pobeží Matlab a čo budem môcť v prípade potreby nosiť do školy (lebo stôl v kanclíku som síce dostala ale prázdny). A že prečo MacBook? V jednej diskusii na Sme ktosi vymyslel krásne slovo. Povedal, že niektorí ľudia sú frikulíni – chcú mať to, čo je free, cool a in. S Mišom sme sa zhodli, že asi sme tak trochu kulíni (lebo free to rozhodne nebolo).
Ale musím povedať, že som so svojím mackom veľmi spokojná a ľahko sa naňho zvyká. Je tenučký (tenší ako tri klasické obaly na cdčka), má podsvietenú klávesnicu, vydrží pomerne dlho bez šťavy, má zabudovanú kameru, takže na skypovanie už nepotrebujem žiadne prádavné zariadenia.
Dal sa používať hneď po vytiahnutí z krabice a takmer všetky dodatočne potrebné inštalácie prebehli bez problémov (to takmer je tam preto, že som mala chvíľu problémy s nainštalovaním c-čkového kompilátora a nakoniec – na radu môjho osobného admina – som nainštalovala takmer celý Xcode, čo je v mojom prípade ako bazuka namiesto vreckového nožíka.)
Dashboard, iTunes alebo Finder sa ukázali veľmi intuitívne, aj keď sa musím priznať, že som si trochu pomohla jedným popoludním stráveným s knižkou určenou ľuďom konvertujúcim na Mac. Ale celkový dojem je taký, že Apple sa naozaj snaží, aby ich produkty boli, čo najľahšie používateľné. A tak keď mi prišiel e-mail, že phd študenti majú mať do troch dní funkčnú webstránku, vyskúšala som iweb. Výsledok (zatiaľ pomerne skromný) je tu.
No, čo vám budem rozprávať. Treba vyskúšať.