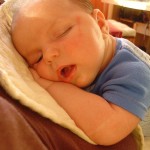 … to nám povedal doktor T (tak ho volajú deti, ktoré nevedia povedať Texidor) dnes v "poradni" (po Americky well baby visit). Lebo okrem merania, váženia, očkovania, obzerania zo všetkých strán a nakúkania do všetkých otvorov je takáto návšteva jedinečná príležitosť vystrieľať všetky tie otázky, ktoré nás napadli za posledný mesiac (a áno, mala som ich napísané na papieriku, lebo keď bábo vreští po očkovaní, tak sa mi ťažko spomína, na čo som sa to chcela opýtať).
V prvom rade ma zaujímalo, čo si myslí o pupku. Kika má už takmer 6 týždňov, ale kúsok pupočnej šnúry si stále opatruje. Doktor si ho obzrel, povedal, že vyzerá ok a drží už iba v strede, že ak chcem, tak s tým môže niečo urobiť, ale že si myslí, že netreba, že nech to len ďalej pri každej výmene plienky natieram alkoholom a že podľa neho to už nebude dlho trvať. Tak som povedala, aby nič nerobil (koniec koncov, aj keby to "odstrihol", ranka by tam ostala a bolo by treba opatrovať tú), že keď sme vydržali doteraz, tak ešte pár dní počkáme.
Pýtala som sa na biely fliačik na ľavom oku – s tým si nemám robiť starosti, že to je "fat deposit" a že sa to vstrebe (internet o samovstrebávaní nič nepíše, ale tak počkáme aj na toto a uvidíme). Pýtala som sa aj na červenú škvrnu vo vlasoch – s tým si tiež nemám robiť starosti, že to je "birthmark" a že buď časom zmizne, alebo ju aj tak nebude vidno, keď Kike narastú poriadne vlasy.
Na otázku o "strachu", o ktorom som písala minule, mi povedal, že s tým si nemám robiť starosti, vraj je to bežné a z toho vyrastie a presne tú istú odpoveď som dostala aj na otázku o tlačení do plienky, ktoré niekedy Kike ide úplne mimochodom, ale niekedy sa pri tom tvári, akoby sa snažila vytlačiť ježka alebo čo…
Podobných otázok som mala ešte zopár a doktor s anjelskou trpezlivosťou, ktorú má asi vyhradenú pre ustarostené mamičky prvých detí vpodstate na všetky odpovedal – áno, uhádli ste – že si nemám robiť starosti,  že to je ok a že dobre robíme, to čo robíme, lebo bejby nám rastie ako z vody. Nevšimla som si koľko namerali na dĺžku, lebo som bola užasnutá z váhy 15.5 lb, čo po našom 7kg!