Warning
: Illegal string offset 'src' in
/data/3/a/3a7e1bc0-13d6-4f23-9dab-d8a2a009ce43/jancigovci.com/web/public_html/wp-content/plugins/vipers-video-quicktags-migrator/vipers-video-quicktags-migrator.php
on line
322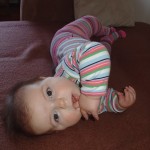 Tak sme dnes boli zase v poradni, pozrieť doktora. Nemôžem si pomôcť, ale čím ďalej tým menej sa mi páči. Prvá vec bola, že sme došli 12:55, objednané sme boli na jednu a nikde nikoho. Čakali sme pred dverami do čakárne, kým sa všetci vrátili z obedňajšej prestávky. Potom nás šupli do vyšetrovne, ktorú ešte neupratali po poslednom pacientovi a doniesli zdravotnú kartu nejakej Sarah. Prišla sestrička, že malú Sarah pomeria a keď som jej vysvetlila, že Sarah dnes neprišla, tak sa vybrala na výpravu za našou kartou.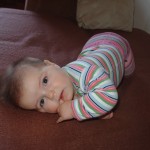 Takže až niekedy o pol druhej bola už pripravená aj vyšetrovňa, aj karta, aj sestrička. Tá pomerala, čo bolo treba, a vyšlo jej 10.9kg a 74cm. Potom prišiel doktor, popozeral, popočúval, nalial Kike očkovanie proti obrne do pusy a strelil tri injekcie. Štvrtú – chrípku – som odmietla. Na to ma informoval, že si myslí, že si pre ňu ešte prídeme, lebo že nás bez nej nepustia do jaslí.
S tou chrípkou je to tak, že zloženie vakcíny sa vyberá takmer rok dopredu. Idú do nej tri typy chrípky, ktoré začiatkom roka Global Influenza Surveillance Network odhadne, že budú najrozšírenejšie nasledujúcu sezónu. Tento rok boli odhady úplne mimo, lebo nezahrnuli prasaciu chrípku (ani nemohli, lebo tá sa poriadne ukázala až potom, čo už bolo rozhodnuté a urýchlene sa dodatočne začala výroba vakcíny aj proti nej). Napriek tomu, odporúčania ostali nezmenené – treba sa vraj zaočkovať aj tou sezónnou a keď bude dostupná, tak aj prasacou.
Pritom prvá otázka, ktorá ma napadne je, že keď sa toľko ľudí očkuje, nemala by už chrípka byť vpodstate vyničená? Tak je tomu s vä荹inou detských ochorení, proti ktorým sa očkuje. Ale na chrípku napriek očkovaniam každý rok ochorie približne rovnaký počet ľudí a mnoho z nich sú deti, ktoré boli zaočkované. Problém je práve v tom, ako chrípka mutuje a vracia sa stále v nových a nových verziách (k čomu možno práve očkovaniami a imunitou voči tým starým sami prispievame).
Uvidíme, čo nám povedia v jasliach (nerada by som sa totiž uchyľovala k nejakým vyhláseniam, že mi moje náboženské presvedčenie nedovoľuje očkovať proti chrípke), ale zdá sa mi, že vitamín D a časté umývanie rúk sú v tomto prípade lepšou prevenciou ako očkovanie.
Nuž a čím ma doktor potom dorazil, bol fluór. Napísal nám recept na nejaké vitamíny s prídavkom fluóru, ktoré vraj máme Kike dávať. Nejako veľmi nevysvetľoval a ja som nevedela, ako reagovať, lebo jediné, čo ma v danej chvíli napadlo bolo to, že na každej zubnej paste s fluórom je napísané, že keď dieťa prehltne viac ako "hrášok" pasty, tak mám volať Poison Control (tam treba volať aj keď vypije záchodový čistič alebo poje lieky na srdce starého otca…).
Keď som prišla domov, tak som sa spýtala googla a ten v zásade povedal, že celkový prísun fluóru je ťažko odhadnúť, lebo sa nachádza aj vo všetkej strave a pitnej vode (áno, Kika toho zatiaľ veľa nepoje ale časom bude aj to) a nadmerné množstvá vedú k nevratnej fluoróze. Okrem toho, nové zistenia ukazujú, že pozitívne účinky fluóru sú akurát z natierania zubov a nie vnútorného užívania a ani Americká Zubná Asociácia neodporúča paušálne fluórové doplnky pre všetkých, ale iba pre deti, ktoré žijú v oblastiach, kde nie je voda fluorovaná. Takže aj tieto nové vitamíny zatiaľ preskočíme.
Podobne ako minule, ani teraz sa ma nespýtal, či sa Kika prevracia, smeje alebo sedí a na moju otázku, ako sa najlepšie vysporiadať s jetlagom – časovým posunom – odpovedal, že nesnažiť sa ju prerobiť na miestny európsky čas, ale nechať ju fungovať na tunajšom, keďže sa jedná len o pártýždňový výlet. Tak neviem, či to malo znamenať, že ju budeme nechávať spať do 12 na obed a kúpať začneme niekedy o polnoci… Náš plán je zatiaľ práve naopak – nesnažiť sa nejako drasticky, ale smerovať k tomu, aby spala, keď je tma a bola hore, keď je svetlo. Uvidíme.
Ešte dve videá. Snaha bola zachytiť, ako Kika začína bľabotať, ale to sa veľmi nepodarilo – iba na tom prvom na konci je kúsok: