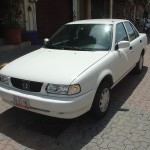 It's not fun to write this. But I've done it once before and it helped, so I'm hoping for similar outcome now. That time a Slovak bank was involved that mistakingly charged more than $100 fee and upon our objection refused to return the money. We made several unsuccessful attempts to resolve the issue and then I vented my frustration here. The post went viral, the bank promptly reacted and we got our money back.
Now we're in a similar situation but this time it's the Alamo Car Rental who's stealing our money. After almost 2 months of unsuccessful discussions, I'm just tired of it and turning to this "weapon" that worked for me the last time.
First, some background. We went for a vacation to Mexico and on June 7 we rented a car from Alamo office in Playa del Carmen. It wasn't the best car we've ever driven, the brakes seemed really overused and the alignment was slightly to the left, but we made it safely to Tulum ruins and back. We were charged $74.75. So far so good.
Then on June 22, a $76.42 charge by Alamo appeared on our credit card. It was the same amount in mexican pesos as the previous one, but since the exchange rate has changed a bit between those two days, after conversion the dollar amount was slightly different. I called the Alamo customer service, asked them about it and was told they were going to investigate. I received a follow-up e-mail saying that their office in Spain does not see the double charge, could I please send a copy of my credit card statement?
I repeated that the rental took place in Mexico and sent them the credit card statement (on 06/28). After a week (on 07/07) I contacted them again to check on the status of this and was told that the office in Mexico agreed (on 06/30) they double charged our account and were going to send a refund. Since then I inquired about it two more times: on 07/15 (response came on 07/20 asking me to "Please monitor your account. The refund should be coming soon.")
and on 07/28 to get this:
Since we did not get confirmation of the refund until 30 June, 2010, this may show up on the next billing. Some refunds take up to two billing cycles to refund. You might contact Amex and ask them about the charge and refund. They may already have received the authorization.
At this point, my husband (who is not as patient as I am) decided to take the matters into his own hands and called Alamo only to learn that they closed the whole case without sending us the refund. He asked to talk to a manager and had the case re-opened. I couldn't help myself and sent (on 08/02) this e-mail to the customer service representative with whom I've been dealing the whole time and who closed the case:
This is the last e-mail I am going to write you about this issue. I just want to let you know the following:
– per your statement that our refund might appear in the next billing cycle, this would only be the case if Alamo posted it in the next billing cycle! If it was posted anytime since June 30 when you got the confirmation, I would see it by now because I can (and do!) check my Amex account online.
– per your statement that I might want to contact Amex to ask whether they have received the authorization – even though I didn't see the need for it, since as I explained above, if the refund was sent, I would have seen it, my husband in fact did contact Amex. And no, the refund has not been posted. Therefore he also disputed the second charge with Amex directly.
– today my husband also called Alamo customer service to learn that not only our refund hasn't been issued, but this case was closed! I object to this outcome, consider this as stealing and I will not do any more business with Alamo and urge my family, friends and colleagues likewise.
I also sent a complaint to Alamo, explaining the whole thing (again!) and received the following reply:
We apologize for the delay in resolving this issue for you but I see according to the notes that we are in the process of contacting Mexico again regarding the refund and we allow them, as informed, up to ten business days to respond to our requests. Since you are disputing the charge with your credit card, this will put a hold on our investigation.
We apologize you feel that we have not handled your case in a timely manner but we do have a protocol that we have to follow when dealing with our countries overseas. We will forward the response from Mexico as soon as we hear back from them.
Not only Mexico isn't overseas, but for some reason Amex investigation puts a hold on anything Alamo does. And they are going to contact Mexico again???
OK, I know, $76.42 is not the end of the world. But for me it's still money that I'm not willing to throw out of the window. Plus I have a very low tolerance for nonsensical answers to my questions. Therefore, even though I'm not enjoying this tug-of-war, I am going to get this money back one way or the other (probably the other).