(Keby náhodou niekomu ušiel môj pokus o humorný nadpis, tak nápoveda je Hriešny tanec… nutkanie vysvetľovať asi znamená, že nebol veľmi vydarený, ale lepší momentálne nemám, takže bude musieť poslúžiť).
Najprv pozadie. Keď sme kúpili Kike novú postieľku, tak sme sa trochu zabávali na tom, ako v nej čaká, keď sa zobudí, kým ju prídeme zobrať (pozostatok zo zamrežovanej postieľky, z ktorej sama vyliezť nemohla). Netrvalo dlho, kým si uvedomila, že jej vlastne nič nebráni v tom, aby z nej zliezla a tak nám ráno zhruba o siedmej chodí povedať, že už je vybúvana.
Večer (okolo 7:30) to prebiehalo tak, že jeden z nás ju uložil, chvíľu ostal buď niečo rozprávať alebo spievať, potom povedal dobrú noc a odišiel. Kika si tam ešte pre seba (pre bábiky? pre Elma zaveseného na stene?) pár minút rozprávala sama a potom zaspala. Malá odbočka – tie jej monológy boli perfektné. Akási dekompresia z celého dňa, typu… "v teocični, catch bubbles, obahok dali, pondelok pojdeme, tutut nie na zem, do nočnika, poutierať tueba, big tuee pobuchali, bejby ozpauať, tento nevie, duhy vie, keď sa zobudiš…".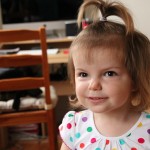 Len potom jej akosi došlo, že vlastne ani večer jej nič nebráni v tom, aby z postieľky vyliezla von. Zo začiatku bolo to jej ťapi, ťapi, ťap celkom vtipné, ale vrchol bol včera, keď sme ju tam na striedačku vracali asi 10krát a potom som to vzdala a ostala tam s ňou, až kým nezaspala.
(Ešte jedna malá odbočka – začínam rozvíjať teóriu, že deti sú také zlaté preto, aby sme ich vo chvíľach ako je táto neprizabili.)
Dnes sme to skúsili len asi trikrát a potom rovno pristúpili k včerajšiemu riešeniu. Ono to v zásade netrvá dlho a nevyžaduje nejakú extra snahu – len si tam s ňou posedieť, spievať uspávanky na želanie a počkať, kým zaspí. Len mi zdá škoda, že sme prišli o to "samozaspávanie".
National Sleep Foundation hovorí, že jedným z dôvodov, prečo sa deťom Kikinho veku môže zhoršiť spánok, je rozvoj pohybových, kognitívnych a sociálnych schopností a túžba po nezávislosti. To by vcelku sedelo. Ale tipy, ktoré ponúkajú na lepší spánok, nie sú veľmi nápomocné.
Tak som zvedavá, ako to bude pokračovať. A všetky skúsenosti s danou problematikou sú vrelo vítané v komentároch.