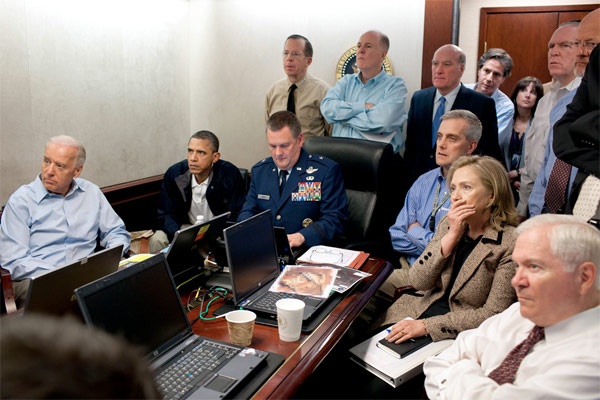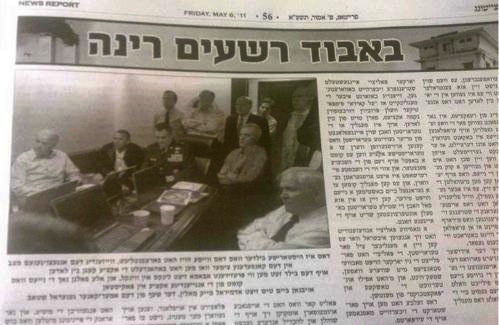 Na tej prvej fotke je Situation Room v Bielom dome, kde v priamom prenose beží zásah Američanov v Pakistane, keď dostali Bin Ladina. Ten obrázok je pozoruhodný hneď niekoľkými vecami. Situation Room je zjavne pomerne malá miestnosť (na rozdiel od podobných miestností vo filmoch), keďže veľa ľudí tam musí namačkane stáť. Zaujímavé je aj to, kde sedí prezident Obama. Nie je v najväčšom kresle za vrchstolom – tam sedí Air Force Brigadier General Marshall Webb (pravdepodobne mu Obama uvoľnil miesto, keď potreboval komunikovať so svojimi podriadenými v akcii, a obsadil stoličku niekoho, kto teraz stojí). A zaujímavé je aj to, že toto určite nie je jediná fotka, ktorú v tom čase spravili, ale napriek tomu sa Biely dom rozhodol uverejniť práve túto, kde si Clintonová zakrýva ústa.
Ale dosť úvah o prvej fotke. Čo tá druhá? Na tej Clintonová chýba. Chýba aj Audrey Tomason (Director for Counterterrorism) stojaca v pozadí. Tento obrázok zverejnili v Židovských Hasidských novinách Di Tzeitung. Ženy z neho boli Photoshopom odstránené, lebo podľa ich viery "zobrazovanie žien môže vyvolať nemorálne myšlienky".
Odhliadnuc od faktu, že Biely dom zverejnil fotku s tým, že nemôže byť nijako menená ("This official White House photograph is being made available only for publication by news organizations and/or for personal use printing by the subject(s) of the photograph. The photograph may not be manipulated in any way and may not be used in commercial or political materials, advertisements, emails, products, promotions that in any way suggests approval or endorsement of the President, the First Family, or the White House."), toto je jednak prepisovanie histórie* a druhak čistý sexizmus.
Istým spôsobom je to horšie ako schovávanie žien pod burky, lebo tu ženy jednoducho neexistujú. Tým nehovorím, že by bolo v poriadku, keby cez ňe dali čierne obdĺžniky a napísali na ne mená, ale aspoň by tým pripustili, že áno, existujú ženy vo vysokých funkciách a podieľajú sa na svetových udalostiach.
Je fakt, že toto nie je názor celej Židovskej komunity, ale iba jednej veľmi ortodoxnej vetvy. Je fakt, že noviny sa dodatočne ospravedlnili (aj keď spôsobom, ktorý podľa mňa nie celkom obstojí – v zmysle, že ak to bolo urobené "zo slušnosti" voči daným ženám, tak prečo sa ich na to nikto neopýtal? A nie je to problém mužov, keď v nich pohľad na obrázky žien vyvoláva nevhodné myšlienky, ktorý by sa radšej mali snažiť odstrániť – ak im to vadí – namiesto žien z tých obrázkov?). Ale to nič nemení na tom, že kým sa dejú takéto veci, ženy stále nie sú rovnocenné s mužmi.
* Irónia je aj samotné slovo history (his story = jeho príbeh). Kedy sa bude písať herstory?