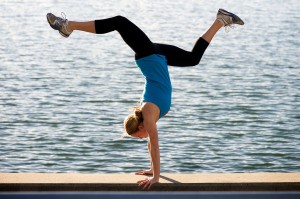 Je to zaujímavé:
muž + zamestnanie + rodina = úplne normálne
žena + zamestnanie + rodina = chce mať všetko (a je pravdepodobne sebecká)
The Economist koncom novembra vydal špeciálnu správu o ženách a práci. Tu je zopár úryvkov, ktoré ma zaujali:
——————————–
Zamestnávatelia mali väčší výber zamestnancov, ktorí napriek zákonom o rovnosti platov, boli často lacnejší a flexibilnejší ako muži.
a
Ak si to želajú (a nájdu manžela, ktorý ich bude podporovať), stále sa môžu plne oddať starostlivosti o deti a domácim povinnostiam – na rozdiel od mužov, ktorí takúto možnosť majú len zriedka. Ale v dnešnej dobe väčšina z nich – od finančných až po sebarealizačné dôvody – chce pracovať mimo domu.
Tento odstavec je vlastne jeden z mála, s ktorým mám problém. Po prvé, tá ženina možnosť výberu. Nie je to slobodné rozhodnutie, pokiaľ tam nie je aspoň zopár zmysluplných alternatív. (A to ani nespomínajúc čistú náhodu, že toto "rozhodnutie" krásne zodpovedá tomu, čo sa od žien viac či menej očakáva). Vyjednávacia pozícia ženy (obzvlášť, ak sú tam aj deti) je už dopredu oslabená – napríklad tým, že štatisticky zarába menej, alebo tým, čo je spoločensky prijateľnejšie.
Po druhé, možno sa mýlim, ale povedala by som, že nie je veľa ľudí, ktorí by si "želali plne sa oddať domácim povinnostiam". Áno, aj ja celkom rada varím, ale keby sa našiel dobrovoľník, ktorý by sa za mňa postaral o domácnosť, vôbec by som sa nebránila. Domáce povinnosti sú nutný servis, ktorý treba robiť, ale zatiaľ nepoznám nikoho komu by (možno okrem pocitu dobre vykonanej práce) prinášali natoľko extra potešenia, že by sa im venoval radšej ako nejakej inej činnosti.
A za tretie – chcieť pracovať mimo domu z finančných dôvodov? Nehovorí sa tomu musieť pracovať mimo domu z finančných dôvodov?
——————————–
V článku Čo prinesie ďalšie polstoročie dospeli k podobnému záveru ako ja tu.
Dôvody  sú komplexné, ale zopár ich je jasných. Po prvé, práca vo väčšine spoločností je štrukturovaná tak, ako to bolo zaužívané pred desiatkami rokov, keď ženatí muži zarábali peniaze a vydaté ženy boli doma. Napriek tomu, že veľká väčšina rodín dnes už tomuto modelu nezodpovedá, väčšina pracovísk sa tejto zmene neprispôsobila. Myslia si, že podporujú rovnosť, lebo sa stavajú k ženám presne rovnako ako k mužom, ale podmienky žien sú často iné. "Nemali by sme sa snažiť naprávať ženy ale systém," hovorí Alison Maitland…
Okrem toho v ňom píšu:
… diskriminácia pokračuje menej očividným spôsobom. Business schools, ktoré sledujú kariéry svojich absolventov zisťujú, že muži sú povyšovaní na základe svojho potenciálu ale ženy sú povyšované na základe dosiahnutých výsledkov, takže postupujú pomalšie. Ženy sa tomuto prispôsobili, čo ich postup spomaľuje ešte viac, takže diskriminácia pokračuje bez toho, aby si ju jedna či druhá strana nutne uvedomila.
A ponúkajú aj riešenia:
Pomôcť môžu aj vlády: zabezpečením, aby daňové pravidlá neboli nevýhodné pre rodiny s dvoma zarábajúcimi; zabezpečením rozumnej (nie príliš dlhej) materskej a otcovskej dovolenky; a z dlhodobého hľadiska takými školskými hodinami, ktoré dovolia obidvom rodičom mať platené zamestnanie. Keďže vzdelávanie starších detí je aj v záujme verejnosti, je tu aj argument za prispievanie na starostlivosť o tie malé, alebo aspoň na ňu poskytnúť daňové úľavy.
Akurát si nie som istá, čo mysleli tou úpravou školských hodín, lebo ak to má znamenať, že dieťa strávi 10 alebo viac hodín v škole (aj keby to bola škola + "družina"), tak to mi neznie práve lákavo.
———————————
Z článku o ženskom pracovnom trhu:
Aj v bohatých krajinách ženy strávia aspoň dvakrát toľko neplatenou prácou ako muži: v priemere 33 hodín do týždňa, oproti 16 pre mužov.

V pravidelnom prieskume, ktorý vykonáva Európska nadácia pre zlepšenie životných a pracovných podmienok, iba 16-18% žien (podľa toho, či majú alebo nemajú malé deti) v Európe hovorí, že sú nespokojné so svojou work-life balance, oproti 20-27% pre mužov.
Toto sa mi zdá veľmi zaujímavé. Čakala by som viac. Zjavne kope ľudí sa rovnováha hľadá ľahšie ako mne.
A tu je opäť niečo, nad čím som už kedysi dumala. Len škoda, že to nechali ako otvorenú otázku:
Jedno z vysvetlení pretrvávajúcich rozdielov je, že muži a ženy, okrem tých najvzdelanejších, sú často na odlišných pracovných trhoch. Ženy sú koncentrované v školstve, zdravotníctve, na úradoch, v sociálnej práci a predaji; nie sú dostatočne zastúpené v manuálnej práci a výrobe, matematike, fyzike, vedách, inžinierstve a manažmente, obvlášť v tom vysokom. Okrem toho sú – oproti mužom – koncentrované iba v niekoľkých kategóriách zamestnaní. Polovica zamestnaných žien v bohatých krajinách pracuje iba v 12 zo 110 hlavných povolaní, ktoré eviduje Medzinárodný úrad práce (ILO). Zamestnania, v ktorých pracujú muži, sú omnoho rôznorodejšie… Je dokonca pravdepodobnejšie, že mladé ženy dnes budú pracovať v segregovaných povolaniach ako tie staršie. Toto je znepokojujúce, pretože existuje silné spojenie medzi koncentráciou žien v povolaní a výškou platu. Zamestnania dominované ženami, ako učiteľky alebo zdravotné sestry, sú menej platené. Ak bude viac lekárok, spôsobí to relatívne zníženie platu?
————————————–
Nuž a nakoniec o deťoch:
Štúdia ukázala, že vo väčšine krajín je vážny nedostatok kvalitných zariadení pre deti do troch rokov. Trh ich neposkytuje dosť, pretože pokiaľ sú naozaj kvalitné, tak sú pre väčšinu rodičov príliš drahé, preto ich štáty dotujú. Pre staršie deti predškolského veku je to lepšie, ale stále nie samozrejmé a hodiny sú obyčajne príliš krátke na to, aby mohli obidvaja rodičia robiť na plný úväzok.
To je podľa mňa kameň úrazu. Rodina potrebuje niekoho, kto sa postará o "support" – ostane doma, keď sú deti choré, robí šoféra, keď treba, … a je pravidelne dostupný mimo školských hodín. Toto je ťažké skombinovať s prácou na plný úväzok, obzvlášť, ak nie sú k dispozícii na výpomoc starí rodičia (alebo prastarí – môj prípad, keď som bola veľmi malá), susedia (svokra mala takúto výpomoc) alebo iní známi.
V niektorých krajinách, vrátane Švajčiarska, Írska a Británie, celkový súčet ceny starostlivosti o dieťa a chýbajúcich daňových úľav, má za následok, že sa matkám malých detí neoplatí pracovať pokiaľ nezarábajú veľmi dobre. Ak takéto štáty chcú dostať viac žien na pracovný trh, budú musieť zabezpečiť, aby bola kvalitná starostlivosť o deti široko prístupná a cenovo dostupnejšia…
Nedá mi… prečo je to vlastne celé nadizajnované tak, že svet "ignoruje" rodiny? Prečo nemôžu byť deti vítané na pracovisku a naopak práca vykonávaná aj v "detských priestoroch"? Nie, neviem, ako to spraviť v praxi, ale v ideálnom svete by som si chcela robiť svoju robotu s deťmi obďaleč, bez potreby sa niekomu ospravedlňovať alebo niečo vysvetľovať.
Dobre, naspäť do reality:
Štúdie prestávok v kariére ukazujú, že stačí len zopár rokov mimo práce a výsledkom je devastujúci efekt na zárobok a dôchodok, nielen kvôli strateným výplatám, ale kvôli strate seniority a povýšenia. Toto je dôvod, prečo sú ženy pripravené pracovať aj za malú čistú sumu, kým sú ich deti malé.

V budúcnosti ženy budú musieť ísť do dôchodku o kus neskôr ako dnes, pretože žijú stále dlhšie a súčasné veky odchodu do dôchodku sú neudržateľné. Ak nemajú deti, ich kariéry budú rovnako dlhé ako kariéry mužov. A aj ak ich majú, a väčšina má, čas, ktorý strávia ich výchovou, bude tvoriť iba malú časť ich produktívneho veku. Úloha žien v zachovávaní druhu nie je ani zďaleka postačujúcim vysvetlením veľkej diery v príležitostiach na vrchole.
———————————-
A čo to má všetko spoločné s tými rovnicami na začiatku?
Celé sa to točí okolo tej ženskej rovnice, ale berie sa takmer ako samozrejmosť, že muži "to všetko majú". (Píšem takmer, lebo áno spomenuli mužov, ktorí sú nespokojní so svojou work/life balance). A samostatná kapitola je všetka tá neplatená práca, ktorá (pokiaľ je urobená) ostáva neviditeľná.
PS Obrázok je odtiaľto.