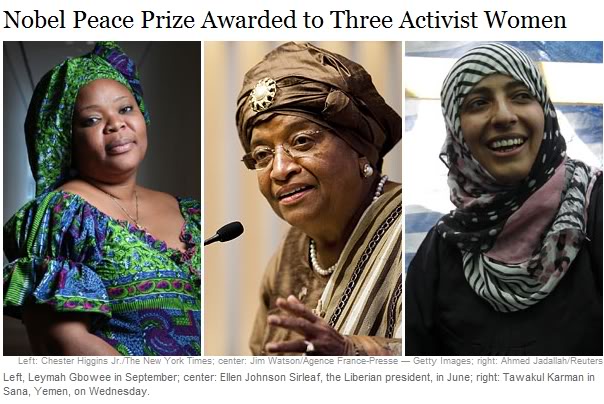 (zdroj)
Nobelovu cenu mieru za rok 2011 v piatok dostali tri aktivistky z Afriky a Arabského sveta ako uznanie za ich nenásilný boj za mier, demokraciu a rovnosť pohlaví. Laureátkami sú prezidentka Libérie Ellen Johnson Sirleaf – prvá zvolená prezidentka v Afrike – jej krajanka, mierová aktivistka, Leymah Gbowee a Tawakul Karman z Yemenu, bojovníčka za demokraciu.

Sú to prvé ženy, ktoré dostali toto ocenenie, odkedy ho v roku 2004 získala Wangari Maathai z Kene, ktorá zomrela minulý mesiac.

Väčšina držiteľov ceny v jej 110-ročnej histórii boli muži a piatkové rozhodnutie sa zdá byť poporou boja za ženské práva po celom svete.

"Nemôžme dosiahnuť demokraciu a dlhodobý mier pokiaľ ženy nezískajú rovnaké príležitosti ovplyvňovať dianie vo všetkých vrstvách spoločnosti ako muži," zaznelo v prejave čítanom Thorbjornom Jaglandom, bývalým nórskym premiérom, ktorý stojí na čele komisie vyberajúcej nositeľa $1.5 miliónovej ceny.

V nasledujúcom rozhovore opísal cenu ako "veľmi dôležitý je signál pre ženy na celom svete."
Zopár komentárov:
– Fajn, že cenu dostali po siedmych rokoch zase ženy. Škoda, že práva žien nie sú takou samozrejmosťou, aby sa za boj za ne nemuseli udeľovať Nobelove ceny.
– Ak ešte po udelení ceny v roku 2009 boli nejaké pochybnosti, či pri výbere laureátov zohráva úlohu politika, teraz už je odpoveď na túto otázku jasná. V Libérii sú dnes prezidentské voľby a hádajte, kto je jedným z kandidátov?
– Pre Tawakul Karman táto cena a zviditeľnenie s ňou spojené môže byť podobne ako pre Iránčanku Shirin Ebadi v roku 2003 aj rozdielom medzi životom a tým, či sa "záhadne nestratí".
– "veľmi dôležitý je signál pre ženy na celom svete." Pre ženy? Naozaj? Keď už to nie je signál pre ľudí na celom svete, tak nemal by to byť skôr signál pre mužov?