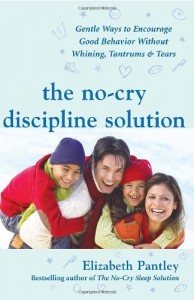 Toto je už tretia kniha od Elizabeth Pantley (amazon), ktorú som čítala. Prvá bola pred dvoma rokmi The no-cry sleep solution, druhá toto leto The no-cry potty training solution (amazon). Istým spôsobom mi poslúžila rovnako ako predchádzajúce dve a istým spôsobom úplne inak.
Čo majú všetky tri tieto knihy spoločné je to, že ponúkajú veľa "malých" tipov, ako dosiahnuť želaný výsledok "prirodzeným" spôsobom bez uchyľovania sa k nejakým radikálnym dvojdňovým riešeniam. To je tá časť "no-cry" – tým, že spánkové návyky, učenie sa používať nočník/záchod a disciplína sú veci, ktoré chcú čas, je pravdepodobné, že rýchle metódy sa stretnú s odporom. Vo všetkých troch som našla tipy na veci, ktoré sme už robili, tipy na veci, ktoré nechceme robiť (v tejto konkrétnej napríklad time-out), ale aj kopu tipov, ktoré nás predtým nenapadli.
Ďalšia užitočná vec, ktorú majú všetky tri spoločné, je to, že autorka hneď na úvod rozoberá, čo je "normálne". Je normálne, že pártýždňové bábo nebude spať celú noc, nech robíte čokoľvek. Je normálne, že dvojročné (aj trojročné, aj štvorročné) dieťa sa niekedy pociká, nech robíte čokoľvek. Je normálne, že malé deti vám budú liezť na nervy opakovaním tej istej žiadosti, lebo sú stredobodom svojho vlastného sveta a ešte sa poriadne nenaučili vcítíť sa do druhých a byť trpezlivý. Keď je niečo naliehavé, tak to chcú pred piatimi minútami. Toto je veľmi dobrý úvod, lebo dá rodičom perspektívu, na čom sa dá "pracovať" a z čoho musia deti jednoducho vyrásť.
To v čom je táto tretia kniha iná, je tretia kapitola, ktorá v podstate ani nie je o deťoch. Je o hneve. Kde sa berie a prečo a čo s ním robiť. Toto som nečakala, ale spätne to dáva zmysel. Ak máte deti, zrejme ten hnev poznáte (výborný článok na danú tému). Ja som v zásade mierumilovný človek, ale veru neviem, či ma niekto dokáže vytočiť tak ako Kika (pravdepodobne Kubo o pár rokov). Takže prečítať si, že aj toto je normálne a že sa s tým dá niečo robiť bolo povzbudivé. Opäť sú to pomalé kroky, ale už to, že sa mi dostalo do povedomia, samo o sebe trochu pomáha, keď cítim ten hnev prichádzať. Nie je to o tom, že by autorka obhajovala deti, že nech robia čokoľvek, problém nie je v nich ale v hneve rodičov. Práve naopak, celá kniha sa zaoberá tým, ako ich naučiť správať sa "želaným" spôsobom. Ale to sa robí veľmi ťažko, keď sa pozerám na matadora s červenou plachtou.
Určite stálo za prečítanie.