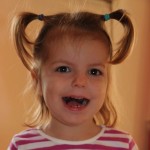 Nemala som vtedy síce deti, ale vidiac iných rodičov ako zjavne nezvládajú svoje ratolesti – naživo, z rozprávania alebo na nejakej obrazovke – mi bolo jasné, že toto teda určite nebude môj prípad. Našťastie som nikoho neobdarovávala svojimi perlami múdrosti:
– Nebudem hovoriť šušľavou "bábätkovčinou" a samými zdrobneninami; na deti treba rozprávať normálne, oni sa tým pádom tiež naučia rozprávať normálne… Môžem ja za to, že predtým Kika a teraz Kubo sa tak nádherne škeria na všetky ťuťuli-muťuli a baran-buc?
– Nebudú sa hádzať o zem; prvýkrát to skúsia, odpor bude potlačný, druhýkrát ich to ani nenapadne… Naposledy včera pri odchode z ER (pohotovosť), kde sme strávili (v miestnosti 2x2m) vyše 3 hodín vrátane tej, kedy zvyčajne obedujeme (a nie, nemali sme so sebou nič) a tej, kedy sa Kika ukladá na poobedňajší spánok. Kým som už na odchode vybavovala parkovací lístok a Kika najprv besná pobehovala okolo a potom sa tresla na zem, tak som ju len po očku pozorovala a tvárila sa akože nič.
– Budú spať; ak nie úplne od začiatku celú noc, tak ich to postupne naučím, viac ako pár týždňov to nemôže trvať… Kubo sa budí zhruba každé tri hodiny (teda aspoň dvakrát počas môjho spánku) a občas sa stane, že sa v noci zobudí aj Kika (niekedy len niečo zamrmle a spí ďalej, niekedy jej treba pripomenúť, že je ešte tma a spíme). Vadí mi to menej, ako keď bola Kika v jeho veku a o kus menej, ako by som bezdetná očakávala.
– Nebudú chodiť s usopleným nosom; to už je čo za rodiča, ktorý si nevšimne (alebo nenájde čas na utretie?), že dieťaťu visí z nosa sviečka… Raz v parku, Kika išla obhliadnuť niečieho psa, majiteľ ju nepustil a smerom ku mne zakričal, že musím naučiť deti, aby nechodili len tak k cudzím psom. Neviem, či mu vadilo to, že Kika prišla pohladkať jeho miláčika, alebo ten zelený ufónec, ktorý jej vykúkal z nosa (ona je schopná ich ignorovať, až kým jej nesiahajú po ústa).
– Budem mať na ne vždy čas; nebudem im hovoriť, že nech mi dajú chvíľku pokoj/že musím teraz spraviť niečo iné, keď sa budú dožadovať pozornosti… Vinná. Častejšie, než mi je milé.
– Nebudem ich podplácať; veku primerane im vždy vysvetlím súvislosti a oni sa budú príslušne správať, lebo ich tak navedie ich zdravo vyvinutý vnútorný hodnotový systém… A keď doješ túto polievočku, tak bude ešte piškótka.
– Nebudú vysedávať pred telkou; nebudú vedieť, čo je to telka!… Je pravda, že sme beztelková domácnosť, takže sme aspoň ušetrení reklám, ale Kika niekoľkokrát za týždeň pozerá Doru a/alebo Elma a každý deň dostane aspoň pár minút s iPad-om.
– Nebudem do zblbnutia rozprávať o deťoch; existuje predsa toľko iných zaujímavých tém... A pozrime sa, nielenže o nich s nadšením rozprávam, píšem o nich aj blog.
Ešte niekto iný je bývalý expert? Podeľte sa o svoje teoretické vedomosti a praktické skúsenosti.