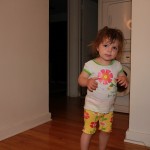 Milá Kika,
Ja Ti asi začnem písať listy, lebo tieto každodenné maličkosti rýchlo zabúdam a to sa mi nepáči.
Ako napríklad pred pár dňami, keď si unavená, rozjašená v kuse brala z poličiek v obývačke veci, ktoré nie sú pre Teba. Napomínania nepomáhali, Ty si dobre vedela, že robíš neplechu a nasledovalo ťapnutie na zadok. Nič vážne (a plus plienka je dobrý izolant), ale Ty si sa potom chytila za zadok, kukla na nás tými svojimi veľkými okáľmi a spýtala sa: "To sa obí?" Na nezaplatenie…
Potom sme odviezli starých rodičov na letisko a na druhý deň ráno si po troch týždňoch zase prišla ku nám do postele. To by bolo fajn, keby nebolo 5 hodín ráno. Asi hodinu sa nám ešte darilo udržať Ťa vo vodorovnej polohe, aj keď si nás neúnavne presviedčala, že už sme vybúvaní, ale potom sme museli vstávať. My dve sme spolu vybehli von vyniesť smeti a Tebe sa podarilo spadnúť. Oškrela si si koleno, ale až na malé zamrnčanie, ktoré vyliečili pusinky od mamy, si tomu nevenovala pozornosť – kým sme neprišli domov.
Tak som Ti ho umyla a tato chcel naň dať náplasť – predsalen tam bolo trošku krvi a tú by sme neradi videli poutieranú na sedačke alebo u Teba v postieľke. Ale to vyvolalo veľký krik, zjavne náplasť je pre Teba väčšia trauma ako samotný pád. Nepomohlo ani, že som si ja zalepila koleno…
A potom zhruba o deviatej ráno (v ten istý deň), keď som kŕmila Kuba, zrazu zavládlo podozrivé ticho. Keď som nakukla k Tebe do izby, tak si ležala v postieľke (tato povedal, že si do nej zaliezla sama od seba), pozrela si sa na mňa spod privretých viečok a oznámila, že ideš búvať (to sa nám ešte predtým nestalo). A spala si dve a pol hodiny…
A dnes večer? Vybiehala si z postieľky asi milión – no dobre, asi dvadsať – krát. A my sme sa na seba dívali pohľadom "Nevieš, kde to má vypínač?" Keby sme neboli takí unavení, tak by to bolo už smiešne, takto sme sa nevládali už ani len smiať. A predpokladám, že zajtra zase vstávame o piatej. To sa obí?
mama