Hneď na úvod musím povedať, že som mala šťastie, lebo ani s Kikou ani s Kubom (zatiaľ, klop, klop, klop) som nemala s kojením problémy.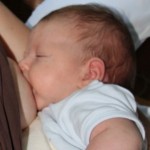 S Kikou chvíľu trvalo, kým sme sa obidve naučili, ako na to, ale potom to už išlo v pohode. Kubo sa správne pricucol hneď, ako sa dostavil na tento svet a odvtedy nepustil. Jeho výhoda (a myslím si, že to naozaj je výhoda) je v tom, že už mám v tomto obore takmer dvojročné skúsenosti.
Aj predtým som vedela, že je to časovo náročná záležitosť, ale podcenila som ako veľmi. Teraz ma už neprekvapí občasné poobedie/podvečer/večer, keď mám pocit, že Kubo je pricucnutý niekoľko hodín bez prestávky (v skutočnosti tam prestávky sú, len veľmi malé a stáva sa to vtedy, keď má práve nejaké rastové obdobie a potrebuje zrazu viac mlieka – častejšia stimulácia naštartuje produkciu… dopyt a ponuka fungujú bezhybne – a podvečer mám objektívne najmenej mlieka z celých 24 hodín).
Aj predtým som vedela, že kojenie pre mňa nerovná sa celodenné sedenie doma, ale chvíľu trvalo, kým som sa "oťukala". Teraz už naozaj nemám problém rozbaliť bufet kdekoľvek a aj keď sme pomerne nenápadní, už dávno necítim potrebu sa nejako extra starať o to, aby náhodou niekto niečo nevidel (žiadne extra prikrývky alebo odoberanie sa niekam, kde "budeme mať súkromie").
Celkovo je to tentokrát akési pohodovejšie. Bez dumania nad tým, či mám dosť mlieka (zjavne hej, keď Kubo za mesiac pribral vyše kilo), či jedáva dosť často alebo príliš často (zjavne akurát, viď predchádzajúcu zátvorku). Bez pozorného sledovania, z ktorej strany pil naposledy (aj s Kikou aj s Kubom sme takmer od začiatku nabehli na systém jeden prsník=jedno kŕmenie… okrem tých súvislých poobedí… neviem, či je to tým, že mám inak príliš veľa mlieka, alebo tým, že moje deti preferujú jesť častejšie v menších dávkach, ale ani jeden z nich nemal veľmi záujem o obidve strany pri jednom jedle).
A tak si to viac užívam.