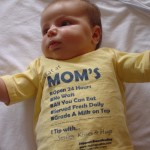 To mi povedal jeden chlapík, keď som kŕmila Kiku na lavičke pri obchode. (upozornenie: nasledujúce riadky popisujú telesné partie a to, čo z nich vyteká, takže, ak o takých veciach práve nechcete čítať, toto je vhodný moment prestať)
Normálne sa snažíme chodiť do nakupovať do potravín tak, že Kiku najeme, prebalíme, šup do kočíka a ide sa. Ona odtiaľ chvíľu ešte pozerá a časom zaspí. Ale jedného dňa to akosi nevyšlo a aj keď sme si mysleli, že potraviny ešte obehneme, kým na ňu príde hlad, prerátali sme sa a Kika s nami uprostred nákupu stratila trpezlivosť.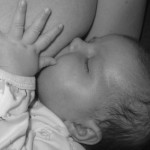 Tak som nechala drahého v obchode dokončiť, čo bolo treba, a ja som sa pobrala von. Tam sme sa s malou usadili na prvú lavičku a pustili sa do jedla. Sedeli sme decentne – zvonka to vyzerá akoby som len držala bábo na rukách (aj keď v štátoch majú zákon, že je dovolené odhaliť prsník pri kojení kdekoľvek, kde má matka legálny pristup, ale myslím si, že netreba zbytočne provokovať). Väčšina ľudí, čo prešla okolo, si ani nič nevšimla, ale jeden chlapík sa na nás usmial a povedal, že ďakuje, že kojím.
Neviem, či to bol čerstvý otecko alebo zdravotník alebo len taký chlap, ktorý vie, že aj keď sú umelé mlieka (po americky formule), čím ďalej tým sofistikovanejšie, na materské mlieko ešte stále nemajú. Sú fajn, keď kojenie z nejakých dôvodov nie je možné, ale americké mamičky sa o to často ani nepokúsia. A tak som sa usmiala naspäť a pokračovala v začatej činnosti.
Prečo sa o to nepokúsia? Možno sa im to zdá náročné (obzvlášť, ak sa musia skoro vrátiť do práce), možno sa im to zdá divné (ak v ich rodine nikto nekojil), možno sú veľmi emancipované (a chcú sa s partnerom podeliť o všetku bejby starostlivosť vrátane kŕmenia)… neviem. Mne bolo od začiatku jasné, že ak sa bude dať, tak bejby cucá u mňa. Veľa možností obzerať dojčiace mamičky v akcii som nemala a tak to bolo teoretické samoštúdium ešte pred pôrodom, v nemocnici inštruktáž od veľmi trpezlivej laktačnej konzultantky (áno, to je jej oficiálny popis práce a myslím, že zarába celkom dobre), nuž a potom sme sa už učili s Kikou metódou pokus-omyl.
A tu je pár veci, ktoré som o kojení predtým nevedela a buď prečítala v rámci prípravy, alebo zistila za pochodu:
Kojenie vraj nebolí, keď sa to robí správne. To určite písal chlap, ktorý prsia nikdy nemal. Lebo takéto niečo by bolo mne, keď mala Kika týždeň, asi na smiech, keby mi nebolo do plaču od bolesti. Prsia obrovské, citlivé na najmenší dotyk a zrazu ich začne ožužlávať bejby, ktoré sa po každých dvoch-troch hodinách na ne vrhá s vervou, akoby týždeň nejedlo. Prvý moment je, ako keby mi niekto bradavky rozrezával žiletkou, potom to trochu otupie a pomaly ustupuje – až do momentu, keď príde čas na druhú stranu.
Keď sme už pri veľkosti, áno, literatúra varuje, že prsia sa nalejú a zväčšia, ale keby chceli byť presní, tak by museli napísať, že to je niečo ako možnosť pozrieť si, ako by vaše prsia vyzerali po plastickej operácii. Na počudovanie – a nechápem ako to funguje – časom sa naspäť trochu zmenšia, napriek tomu, že mlieka je v nich viac. Nie je to síce predtehotenská veľkosť (malosť), ale aspoň to nevyzerá, že sa tá operácia nepodarila.
A aby som uviedla veci na pravú mieru – bolenie časom prejde (aj keď to skôr bude asi tým, že pravidelné ožužlávanie otupí nervové zakončenia), ale čo ostane je "letdown". To je to, keď asi po 10tich sekundách odvtedy, čo bejby začne cucať, sa mlieko "spustí". Je to skoro ako vlna, ktorá ide zvnútra a tlačí sa von. Z obidvoch strán. Na jednej strane sa bejby na chvíľu zakucká a na druhej mokré tričko.
A nespustí sa to len, keď bejby cucá. Niekedy aj v teplej sprche, niekedy aj pri puse od manžela, niekedy stačí, keď sa o Kike rozprávame, alebo keď na ňu myslím.
Ale na čo ma nikto nepripravil, je ten abslútny pokoj, keď už obidve vieme, ako na to, sedíme v kresle a mlieko tečie, až pri tom obidve zaspíme. Alebo keď nezaspíme a Kika opitá mliekom sa začne s prižmúrenými očami usmievať. Alebo to, ako z toho celá vonia (ak práve nemá nálož v plienke).