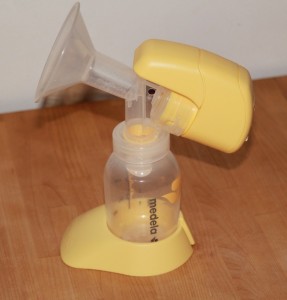 Keď som písala o tom, ako Kubo štrajkoval a nechcel piť odo mňa mlieko, tak som si myslela a dúfala, že najhoršie máme za sebou. Ale ukazuje sa, že došlo aj na "referendum".
Štvrtok bol síce trochu lepší ako streda, ale aj tak som večer pred spaním, keď sa hladný krútil odo mňa preč, mala toho plné zuby. A v piatok ráno som sa ešte po tme vybrala do drogérie kúpiť pumpu. Mali jednu. Slovom jednu. Nemenovanej značky, ktorú som si pred nejakým časom povedala, že už nebudem kupovať (predávajú aj iné výrobky ako odsávačky materského mlieka), pretože vypustili (a medzičasom zase aj stiahli) zopár veľmi nevhodných reklám.
A tak som kúpila, doma otvorila, zapla a nič. Ani kvapka mlieka. Bližšia inšpekcia ukázala, že okrem návodu na použitie, v samotnej pumpe chýbala gumová membrána, ktorá je potrebná na vytvorenie podtlaku. Jáj, a hovorila som vám, že na krabici bola "pečaťová nálepka" s nápisom, že tento produkt sa nedá vrátiť, keďže je určený len pre jedného používateľa a prichádza do kontaktu s telesnými tekutinami? Telefonát na zákaznícku linku výrobcu potvrdil moje zistenie, ale že mi pošlú dve náhradné membrány. Do troch pracovných dní. A ja v slzách, že to už mi budú nanič, lebo nebude čo pumpovať, som zase ručne odstriekávala do pohárika.
Potom dva výstrely do tmy a jeden do svetla – poslala som e-maily dvom neznámym poradkyniam pri dojčení tu lokálne a jednej známej na Slovensku.
Potlačila som nutkanie odmietnuť kamarátku, ktorá mala v ten deň prísť aj s malou dcérkou, čo sa ukázalo, ako záchranné koleso, lebo prišla, zobrala obe kočky von a vrátili sa až o kus neskôr. Za ten čas som telefonovala s jednou mamou z La Leche League (odpoveď na jeden z mojich ranných e-mailov), Kubo dostal svoju prvú "tuhú" stravu, veľa pozornosti a poobede sa po dlhej dobe zase odo mňa napil.
Keď potom prišiel (s frflaním, ale prišiel) predčasne drahý z práce, vrátila som nevrátiteľné – nefunkčnú pumpu. Je mi to trochu ľúto, lebo je to kus plastiku, ktorý oni už vyhodia, zatiaľčo pre mňa by z nej o tri pracovné dni bola funkčná pumpa, ale byť hrdou majiteľkou dvoch, keď nechcem používať ani jednu, sa mi tiež nezdalo. A v inom obchode som si kúpila takú, ako som mala pôvodne vybratú.
Prišli sme domov a Kubo sa druhýkrát napil odo mňa. V sobotu to bolo tak pol na pol a cucal iba, keď sme obidvaja ležali, v nedeľu som odsávala raz a mohla som si pri kojení aj sadnúť. Teraz sme už "v normále".
Neviem, čo to bolo. A pozerajúc dozadu mi to ani nepripadá, ako nejaká hrozná udalosť. Ale vtedy mi unavenej, nevyspatej, s plnými boľavými prsiami a hladným dieťaťom, ktoré sa aktívne snaží dostať preč, bolo zle. A to som si myslela, že po takmer dvoch rokoch s jedným bábom a pol roku s druhým som už v kojení profík a len tak ma niečo nezaskočí. Ako to nádherne a bezstarostne funguje, si človek uvedomí, až keď to fungovať prestane. A celé to len potvrdzuje, aké je dôležité mať v takom čase nablízku nápomocných ľudí, ktorí sú ochotní pomôcť.