Začiatok novembra je v tejto krajine spojený s voľbami a inak tomu nebolo ani tento utorok. Neboli to tie veľké prezidentské, ale také menšie lokálne. A okrem voľby kandidátov sa niekde konajú aj referendá o všeliakých otázkach. V Mississippi sa okrem iného spýtali:
Person defined. As used in this Article III of the state constitution, "The term 'person' or 'persons' shall include every human being from the moment of fertilization, cloning or the functional equivalent thereof."
Preklad:
Definícia osoby. Ako použitá v článku III štátnej ústavy: "Termín 'osoba' alebo 'osoby' zahŕňa každú ľudskú bytosť od momentu počatia, klonovania alebo funkčného ekvivalentu."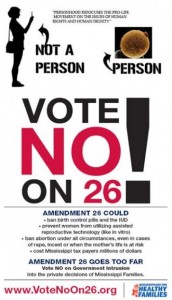 58% voličov bolo proti, 42% za (podrobnejšie informácie).
Iniciatíva bola hlavne namierená proti ukončeniu tehotenstva, ale keby tento návrh prešiel, tak by boli tým pádom nezákonné rôzne druhy antikoncepcie, kliniky umelého oplodnenia by mali viac obyvateľov ako niektoré mestá (štáty?). Ženy, ktoré spontánne potratia, by mohli byť súdené za vraždy, že sa o toho človeka vnútri dostatočne nepostarali (počkať, počkať, to sa už deje).
Väčšina ľudí (našťastie aj v Mississippi) povie, že oplodnené vajíčko nie je človek. Väčšina ľudí povie, že to, čo má matka v maternici v 40. týždni tehotenstva deň pred pôrodom, už človek je. Takže človekom sa to stalo niekde medzitým. Táto hranica je nejasná a pre rôznych ľudí sa nachádza inde. Aj každá matka má svoju a je jediná, ktorá ju môže určiť pre dieťa, ktoré nosí. Štát nemá právo nadefinovať jednu spoločnú pre všetky.
Ešte príklad z iného uhla. Vlastním dom. Nasťahuje sa doňho niekto, koho tam nechcem. Mám zákonné právo ho odtiaľ vysťahovať. Ak dokonca ohrozuje moje zdravie, mám právo na sebaobranu. Ako môžu vôbec uvažovať nad tým, že by sa niekto mohol nasťahovať do maternice a ostať tam proti vôli ženy, ktorá ju vlastní? Aj keď by to ohrozovalo jej zdravie/život, aj keď by to bolo počatie dôsledkom znásilnenia alebo incestu…
Nikto nie je za potraty. Ale nerozumiem, prečo tí, ktorí sú tak veľmi proti nim, že prichádzajú s takýmito návrhmi, radšej nevenujú čas, peniaze a energiu na to, aby sa počet potratov znižoval (a nie, cesta nevedie cez zákazy) a na pomoc už narodeným nechceným deťom.
Smutné je, že podobnými otázkami sa budú zrejme zaoberať na budúci rok voliči na Floride, v Ohiu, Montane, Californii, Oregone a Nevade.