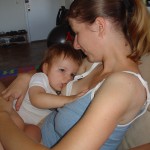 Keď Kiku vyzdvihujem z jaslí, tak ju tam ešte pred odchodom kojím. Väčšinou si sadnem na koberec, kde pobehujú/štvornožkujú ostatné deti a kŕmime sa tam. Kikina "spolužiačka" Leah si k nám vtedy často príde len tak sadnúť a to sa stalo aj tento štvrtok. Rozdiel bol v tom, že tam práve vtedy bola aj jej mama a miešala jej fľašu umelého mlieka. Keď zbadala, že mi Leah sedí na kolene, tak ju zavolala k sebe, ale keď potom chvíľu bola zaujatá, malá sa vrátila. Mne to vôbec nevadilo, ale keď si ju mama zase všimla, tak ju prišla zobrať, ospravedlňovala sa a hovorila, že to je asi preto, že Leah cíti moje mlieko. A potom dodala, že ona ju nikdy nekojila, lebo Leah to nechcela. A ja som si zahryzla do jazyka.
Nič, čo by som vtedy povedala by nikomu nepomohlo (jedine možno môjmu svrbeniu na jazyku), tak som bola radšej ticho. Ale myslím si, že každé bábo chce cucať mlieko od mamy. Nie každá mama však má dostatočnú podporu okolia či už v podobe skúsenej sestričky alebo laktačnej konzultantky (nie, nie je to to isté) hneď po pôrode, ktorá pomôže kojenie naštartovať, alebo v podobe rodiny a priateľov, pre ktorých je kojenie prirodzené a pri prvých ťažkostiach nebudú hneď "pomáhať" umelým mliekom (to vôbec nie je pomoc, lebo to mlieko, ktoré bábo vypije z prášku, nevypije od mamy, o to menej mlieka sa bude tvoriť, o to viac bude zase potrebovať z prášku… je asi jasné, kám táto špirála vedie) a podobne.
Kojenie často nie je také ľahké a prirodzené, ako to na prvý pohľad môže vyzerať (napríklad naša kamarátka Lucia by o tom vedela rozprávať!), ale to nie je dôvod sa naň vykašľať. Aby bolo jasné, Leahinu mamu z ničoho neobviňujem. Je mi len smutno, že sama pre seba si to zdôvodnila tým, že malá Leah o jej mlieko nemala záujem. Pravdepodobnejšie sa mi zdá, že možno ju nevedela správne "priložiť", malá nevedela ako cucať, nebol tam nikto, kto by im ukázal ako na to, z fľašky vždy bez námahy tieklo a bolo po kojení…
Krásne už pred pár mesiacmi o podobnej sabotáži napísala Gina z thefeministbreeder (Tento článok mal taký úspech, že jej "pokazil internet".):
Je to chyba systému, ktorý zrádza matky a bábätká a sabotuje dobré úmysly matiek. Niekto vám raz povedal, že nemáte mlieko a vy ste mu uverili, pretože vyrastáme v kultúre, ktorá hovorí ženám, že ich telá nie sú dosť dobré skoro na nič iné, iba na to, aby boli hračkami pre mužov. Je ľahké tvoriť mlieko? Nie, nie vždy – ale ani vytvoriť a priniesť dieťa na svet nie je ľahké a to ste zvládli. Zamyslite sa nad tým. Rozmýšľajte silno. Vaše telo vytvorilo celú ľudskú bytosť z dvoch buniek. Vaše telo vykonalo zázrak. Prečo si teda myslíte, že po tom, čo ste vytvorili toto nové stvorenie s orgánmi a tkanivom a tlčúcim srdcom, že zrazu by sa naň vykašľalo, keď príde čas ho nakŕmiť? Jadro problému je v tom, že niekto vo vašom živote pravdepodobne postavil svoju ignoranciu medzi vás a krátko aj dlhodobé zdravie vás a vášho dieťaťa a vy ste mu uverili, lebo ženy sú zvyknuté cítiť sa zahanbene.
Budúci týždeň je svetový týždeň kojenia. Bolo by krásne, keby sa tí, ktorí majú (po matkinom odhodlaní) najväčší vplyv na úspešnosť kojenia – pôrodnice – riadili odporúčaniami UNICEF/WHO, ktoré preukázateľne kojenie podporujú:
1. Mať písomný plán ako podporovať kojenie, s ktorým celý zdravotný personál rutinne prichádza do styku.
2. Školiť zdravotný personál, aby mohli implementovať tento plán.
3. Informovať všetky tehotné ženy o pozitívach kojenia a o tom, ako kojiť.
4. Pomôcť matkám začať kojiť do pol hodiny po pôrode.
5. Ukázať matkám ako kojiť a ako si udržať mlieko aj v prípade, že musia byť oddelené od novorodenca.
6. Nedávať novorodencom žiadnu inú potravu a pitie okrem materského mlieka pokiaľ to nie je nevyhnutné zo zdravotného hľadiska.
7. Praktizovať rooming-in – nechať matky a deti spolu 24 hodín denne.
8. Podporovať kojenie podľa záujmu dieťaťa.
9. Nedávať žiadne cumle.
10. Pomáhať vytvárať podporné skupiny pre dojčiace matky a povedať o nich matkám pri odchode.
(Slovensko malo v roku 2002 takýchto pôrodníc 5 – novšie čísla som nenašla.)