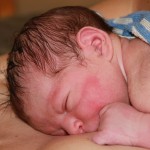 Opäť raz námet na článok, ktorý pochádza z diskusie s tehotnou kamarátkou. Voľne citujem: A čo je na tom, keď bábo hneď zoberú skontrolovať (prvoradé je uistiť sa, že je všetko ok) a potom mi ho časom vrátia okúpané a oblečené?
Telesný kontakt (skin-to-skin) hneď po pôrode odporúča Svetová zdravotnícka organizácia, Lamaze International, aj Cochrane Reviews. Uvádzajú nasledovné benefity:
bábätká menej plačú
majú nižšiu hladinu stresových hormónov a stabilnejšiu hladinu cukru
telesný kontakt má pozitívny vplyv na naštartovanie úspešného kojenia
pozitívny vplyv na citovú väzbu medzi matkou a dieťaťom
spoľahlivo udržuje telesnú teplotu bábätka
Adrenalín vyplavený počas pôrodu spôsobí, že dieťa je (zhruba) prvú hodinu po narodení hore, aktívne a sleduje, čo sa deje. Potom zaspáva. Pokiaľ nie je podozrenie na nejaký problém, je škoda rušiť tieto chvíle. Matke vtedy v krvi koluje najväčšia dávka oxytocínu, akú v živote dostane (áno, to je ten istý hormón, čo sa v menšej miere vyplavuje pri orgazme a nie, syntetický pitocín nemá na mozog rovnaký efekt), ktorý hrá úlohu v budovaní vzťahu k dieťaťu.
Samozrejme, aj matky, ktoré zo zdravotných alebo iných dôvodov o tento bezprostredný kontakt prídu, milujú svoje deti, ale nie je nezvyčajné od nich počuť, že si na dieťa musia najprv "zvyknúť". (Len pre zaujímavosť, opice, ktoré porodia cisárskym rezom často odmietajú svoje mláďatá. Je možné ich na mláďatá časom navyknúť, ale o niečo, čo sa za normálnych okolností udeje spontánne, prišli.)
Telesný kontakt nie je dôležitý len v prvú hodinu/hodiny ale aj dňoch po pôrode a aj neskôr. V dnešnej dobe sa už stáva samozrejmosťou byť na izbe v nemocnici spolu s bábätkom (rooming-in). Benefity*:
matky majú viac mlieka a začnú ho produkovať skôr
koja dlhšie a s väčšou pravdepodobnosťou bez prikrmovania umelým mliekom
bábätká menej plačú a rýchlejšie sa upokoja
viac času strávia pokojným spánkom
lepšie priberajú
sú menej náchylné na novorodeneckú žltačku
Ešte pár (nesúvislých) poznámok z osobnej skúsenosti:
Čerstvé bábätká nie sú špinavé, ani nesmrdia, stačí ich trochu poutierať a nie je nutné ich hneď kúpať. Kuba sme celého kúpali tuším až na tretí deň…
Keď som v nemocnici bola po pôrode ešte zhruba dve hodiny na pozorovaní v recovery room a Mišo s Kikou v nursery, cítila som sa neskutočne sama. Unavená, šťastná a úplne sama. Áno, "bála" som sa, či sa budeme o tohto nového človeka vedieť postarať, ale zároveň som ju chcela mať stále pri sebe a namiesto toho som tam ležala sama. Toto je jedna z najvýraznejších spomienok, ktoré na prvý pôrod mám a dosť ma to mrzí…
Aj v nemocnici, ktorá sa chváli tým, ako podporuje kojenie, sa stane, že vám vrátia bábo nakŕmené umelým mliekom. Aj keď ste predtým povedali, že chcete výlučne kojiť…
Keď som si potom zobrala Kiku v noci k sebe do postele a niekedy časom ma prišla skontrolovať sestrička, tak mi povedala, že buď "musím" mať zasvietené svetlo, alebo dať bábo do postieľky. Aby som ju nezadusila? A ako tomu to svetlo zabráni?. Kubo prežil prvých pár nocí s nami v posteli aj po tme…
Takže, aby som tieto úvahy o telesnom kontakte po pôrode zhrnula: nie, nie kritický, ale je prirodzený, prospešný pre matku aj pre dieťa a veľmi príjemný. Tak prečo to nerobiť?
*Ako vo všetkom, nájdu sa výnimky. Sú situácie, keď rooming-in nie je to najlepšie pre matku-a-dieťa.