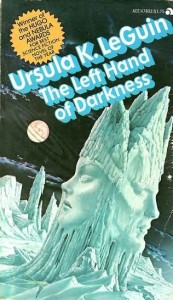 Upozornenie (spoiler alert): tento článok je o knihe The Left Hand of Darkness, ktorú napísala Ursula K. Le Guin, a ak sa na ňu chystáte a nechcete prísť o prekvapenie, tak bude lepšie, ak teraz prestanete čítať.
——————————————
Teraz neviem. Aj by som povedala, že som nevedela, čo nájdem v tejto knihe. Ale je možné, že som to vedela, len medzi tým, ako som si ju dala na zoznam a tým, ako som ju prečítala, som to aj zabudla. Tá druhá možnosť sa mi síce zdá pravdepodobnejšia (o chvíľu bude jasné, že prečo), ale na druhú stranu keď som to čítala, tak to vôbec nerezonovalo ako niečo, o čom by som už predtým počula. Preto neviem. Po tejto prepletenej úvahe poďme na vec.
Na planétu, ktorá predtým nemala kontakt s inou civilizáciou, príde vyslananec spoločenstva ostatných svetov, s pozvánkou do "únie". Ide o to, ako sa s tým domorodci vysporiadajú. Kniha je výborne napísaná. Vrelo odporúčam.
Čo je na tých domorodcoch zvláštne, je ich biológia. Nemajú dve pohlavia (ako vyše 80 členov "únie"), ale iba jedno, respektíve žiadne. Všetci jedinci majú svoj cyklus a periodicky sa dostávajú do stavu, ktorý volajú kemmer. Vtedy v nich prebehnú hormonálne zmeny a na pár dní sa z nich stanú pohlavné bytosti. Potiaľto to nie je nič iné ako plodné obdobie, ktoré poznáme z našej biológie. Zaujímavé však je, že každý môže nadobudnúť aj mužské aj ženské pohlavie – len jedno počas daného cyklu. Ale predtým, ako príde konkrétny kemmer, nevedia, akého pohlavia budú v tomto cykle a nemôžu si vedome vybrať. Tým pádom každý môže byť otcom niekoľkých detí a matkou niekoľkých ďalších. Zaujímavý myšlienkový experiment, nie?
Ako dôsledok, každý má raz do "mesiaca" prázdniny. Nie je tam deľba na slabšie/silnejšie pohlavie, "Každý je rešpektovaný a ohodnotený len ako ľudská bytosť. Je to hrozná skúsenosť." A prišelci z iných svetov špekulujú, či táto biologická zvláštnosť nejakým spôsobom súvisí s tým, že na tomto svete nie sú vojny.
Pri istej príležitosti sa jeden domorodec spýtal vyslanca – muža, či mu porozpráva o ženách. A ten odpovedal:
… ale ten rozdiel je veľmi dôležitý. Dokonca by som povedal, že najdôležitejšia vec, najdôležitejší faktor v živote je, či sa človek narodí ako muž alebo žena. Vo väčšine spoločností to určí očakávania, aktivity, vyhliadky, etiku, správanie – takmer všetko. Slovník. Symboliku. Odev. Dokonca aj jedlo. Ženy… ženy väčšinou jedia menej… Je extrémne náročné oddeliť vrodené rozdiely od tých naučených. Dokonca aj tam, kde sa ženy podieľajú rovnakým dielom na chode spoločnosti, stále musia zvládnuť celé plodenie detí a väčšinu starania sa o ne…"

"Takže rovnosť nie je pravidlom? Sú menej zdatné rozumovo?"

"Neviem. Nezaoberajú sa často matematikou, skladaním vážnej hudby, vynálezmi alebo rozmýšľaním nad abstrakciami. Ale nie je to tým, že by boli hlúpe. Fyzicky sú menej svalnaté ale vytrvalejšie ako muži. Psychologicky -"

Dlho pozeral na žiariaci varič a potom potriasol hlavou. "Harth," povedal, "nemôžem Ti povedať, aké ženy sú. Nikdy som o tom príliš nerozmýšľal v takejto teoretickej rovine a už si prakticky ani nepamätám… Už som tu dva roky… Nevieš, aké to je. Istým spôsobom, ženy sú pre mňa ešte väčšia neznáma ako Ty. S Tebou zdieľam aspoň jedno pohlavie…
Preto to moje rozjímanie na začiatku… feministické sci-fi?! Zdá sa mi ironické, že by som sa k takejto knihe dostala náhodou.