Po lietaní s bábätkom a lietaní s ročným bábätkom, prichádza ďalší článok do zbierky – lietanie s dvoma malými deťmi. Zatiaľ sme s nimi leteli 4-krát (6 lietadiel) a ukazuje sa, že sme už ako taká malá karavána.
Preč sú časy, keď sme sa vybrali na desať dní do Karibiku iba s príručnou batožinou… teraz berieme so sebou všetko okrem vysávača a telefónneho zoznamu (aj keď… ten telefónny zoznam… jeden nikdy nevie, kedy čo bude potrebovať…). Som veľkým zástancom cestovania naľahko, ale s dvoma trpaslíkmi to jednoducho nejde. Tá hŕba vecí, pri ktorej sedíme na obrázku vpravo, je len naša príručná batožina a nezahŕňa dva kufre, ktorých sme sa zbavili pri check-ine.
Tá príručná batožina bola jedna taška (laptop, foťák, zásoby pre prípad núdze, jedny dupačky pre Kuba, keby náhodou prišiel o to, čo má na sebe), moja kabelka (doklady, peňaženka, ipad, plienky a spol, večný optimista vo mne pribalil aj niečo na čítanie), Kikin malý batoh s hračkami, jedna autosedačka, jeden malý kočík a jedna taška s laptopom, ktorý nerátam, lebo ten nás iba sprevádzal jedným smerom a naspäť už nešiel.
Zišli by sa nejaké ťavy.
Ďalšie postrehy:
ipad – alebo niečo podobné. Pre dva a pol ročné dieťa, ktoré sa k nemu síce dostane pravidelne ale nie na príliš dlhú dobu, je to do lietadla výborný spoločník. Hry, rozprávky, kreslenie, možností je veľa.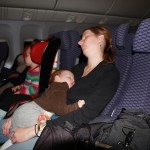 autosedačka – v ideálnom prípade máte dostatočný počet autosedačiek dohodnutý v mieste určenia. Nám sa podarilo všade dohodnúť si jednu a jednu sme brali so sebou. Dieťa má síce nárok na bezplatné podanie autosedačky pri vstupe do lietadla (tak ako sa dávajú kočíky), ale to sme nechceli, lebo sme sa báli, v akom stave by sme ju dostali naspať (čo sa čistoty a obitosti týka). Kika už teraz tak či tak potrebuje vlastné sedadlo, tak sme jej ju tam pripevnili. Ale zistili sme, že nič tak nevystresuje letuškov a letušky, ako pohľad na rodinku s malými deťmi a autosedačkou. Pri check-ine, pri bráne, aj priamo pri vstupe do lietadla nám najprv vysvetľovali, že je príliš veľká na to, aby sa zmestila do úložného priestoru na príručnú batožinu a keď vysvitlo, že ju chceme namontovať na sedadlo, tak sa nás pýtali, či je FAA schválená pre lietadlá. Je. (A ako dôkaz im stačila malá okrúhla nálepka na nej nalepená.) A vtipná bola jedna letuška, ktorá sa prišla počas letu spýtať, že či sa táto sedačka dá použiť aj v aute a koľko stojí, lebo že vyzerá dosť pohodlne…
pohyblivé schody/chodníky – na nezaplatenie. Nechodíme úplne nadoraz, kvôli premávke, prípadným radám na check-in a bezpečnostné kontroly, takže vždy máme aspoň pol hodinu, niekedy aj hodinu, rezervu predtým, ako začne nástup do lietadla. Osvedčilo sa nám ho využiť na "pohyb". Keďže krpcov čaká čas, kedy sa nebudú môcť príliš hýbať, tak sa prechádzame po termináloch (v Mníchove sme dokonca našli preliezačku-lietadlo), obdivujeme cez okná lietadlá a všetky druhy obslužných vozíkov a jazdíme hore-dolu po pohyblivých schodoch a chodníkoch. Kiku to baví celkom dlho. (Kuba sme občas nechali plaziť sa po zemi).
špeciálne rady pre rodiny s deťmi (family lines) – s radami počítame, ale pokiaľ je tá možnosť, snažíme sa im vyhnúť použitím tých špeciálnych pre rodiny (vo Viedni, aj v Mníchove boli). Neberiem to celkom ako predbiehanie, lebo to život spríjemní nielen nám (nemusíme zabávať unudené deti v rade) ale aj ostatným cestujúcim (nemusia počúvať naše stereo). Extrém bol túto sobotu cestou do USA, keď nám po pristátí kapitán oznámil, že nás nepustia z lietadla, lebo na imigračnej kontrole už čaká príliš veľa ľudí, takže si musíme počkať, kým sa to trochu vyprázdni. Po asi 15tich minútach nás vypustili a našli sme tam radu tak na 2-3 hodiny. Rada pre Američanov bola zhruba polovičná, ale strážená, aby sa do nej prešibaní turisti nepostavili. Tak som zamávala Kikiným a Kubovým pasom a išli sme do nej aj my, neameričania. Po asi 20tich minútach toho časovo posunutý Kubo začal mať dosť (Kika oťapene sedela v kočíku) a dával to pomerne hlasno najavo. A vtedy nás síce čakaním znechutení, ale s malými deťmi súcitiaci, spolustojaci pustili dopredu. Tu som sa aj cítila blbo, lebo iní ľudia s bábätkami takúto ponuku nedostali, ale nie natoľko, aby som odmietla. Takže aj bez rodinnej rady naše celkové čakanie bolo asi pol hodina (počas, ktorej som si v duchu opakovala mantru "posledný krát, toto je už posledný krát").
skenery – alebo mať malé deti sa oplatí. Mám výhrady voči full-body scanners, ktoré Američania postupne zavádzajú na svoje letiská (to sú tie, kde treba dať ruky nad hlavu a skener vás trochu ožiari a virtuálne vyzlečie), ale s malými deťmi cez ne nemusíte ísť (dôvod je, že malé dieťa sa tam na 5 sekúnd s rukami nad hlavou nepostaví a vy, keď ho máte na rukách, tiež nemôžete zaujať požadovanú pózu). Takže sme išli iba cez detektor kovov.
špeciálne jedlo v lietadle – to, čo kedysi bolo zvedavé skúšanie, je teraz skôr praktická záležitosť. Špeciálne jedlá (napríklad seafood) totiž roznášajú skôr ako tie "štandardné". Keď si dám to špeciálne, tak sa najem skôr, ako zvyšok našej delegácie dostane svoje jedlo. Takže vždy je niekto, kto práve nepotrebuje stolík a môže mať na kolenách toho najmenšieho a mohla som potom pomáhať Kike, kým Mišo jedol.