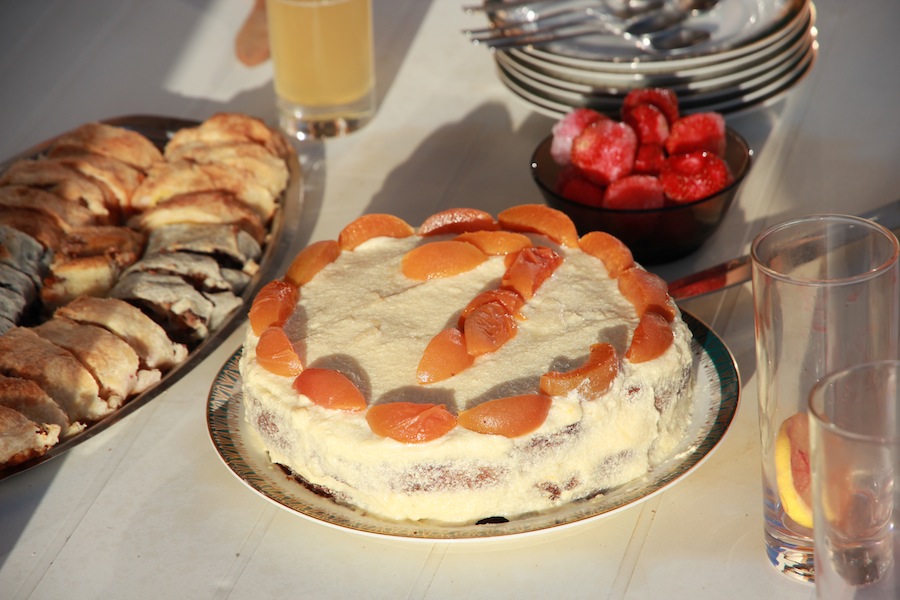 A ten rok v obrázkoch – keď sa narodil:
1 mesiac: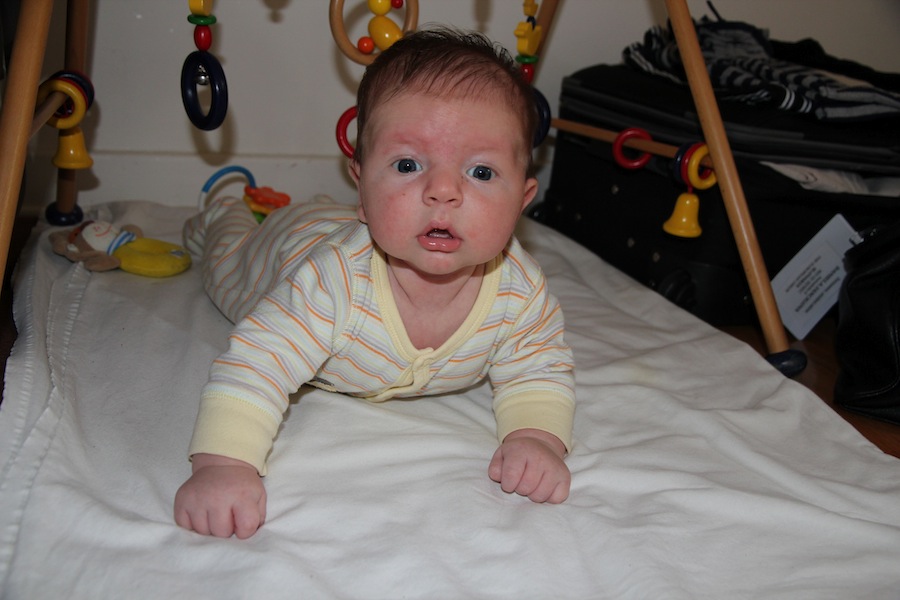 2 mesiace:
3 mesiace: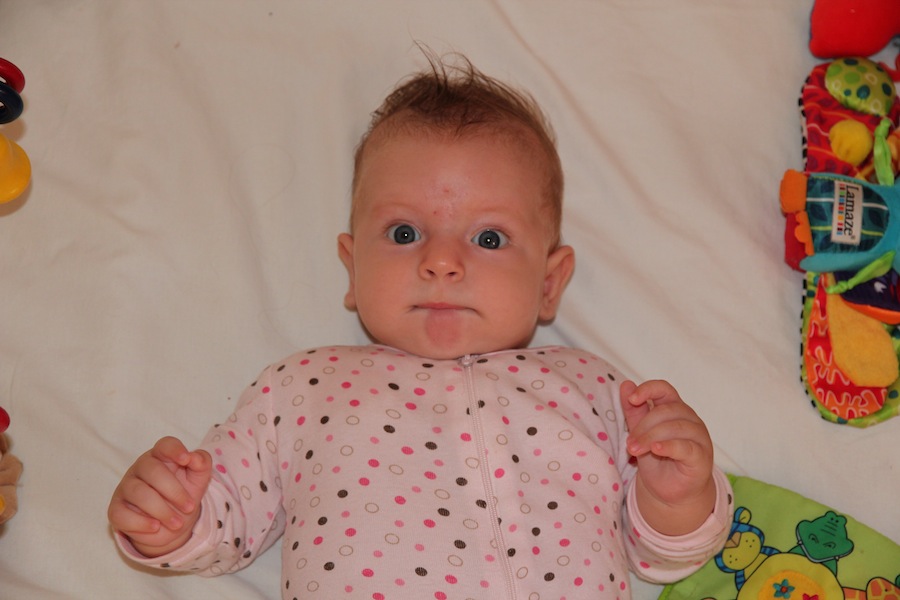 4 mesiace: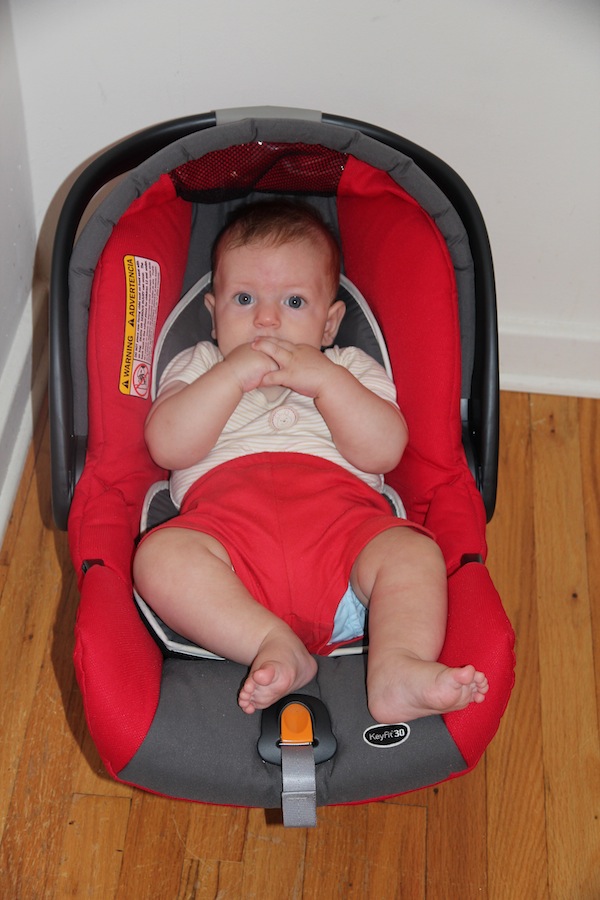 5 mesiacov: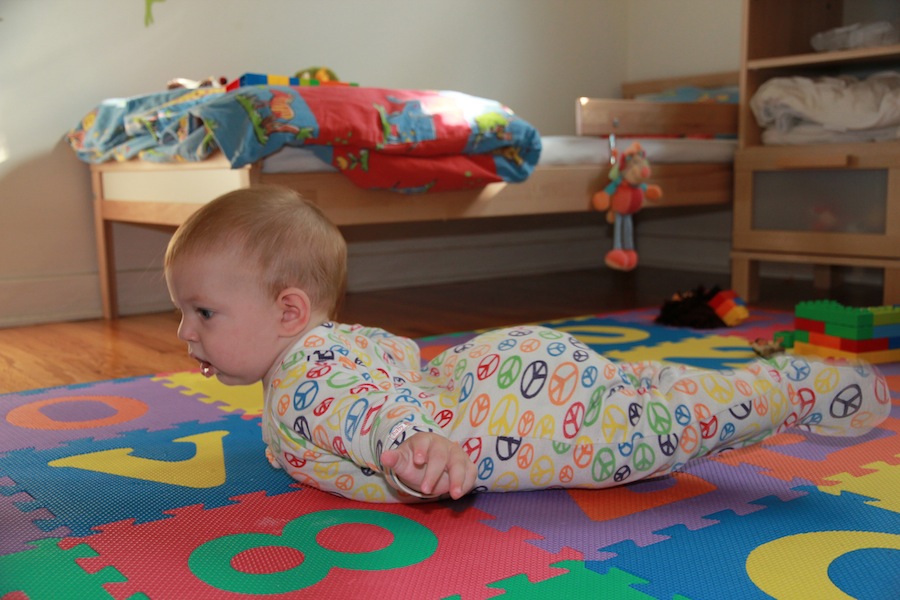 6 mesiacov: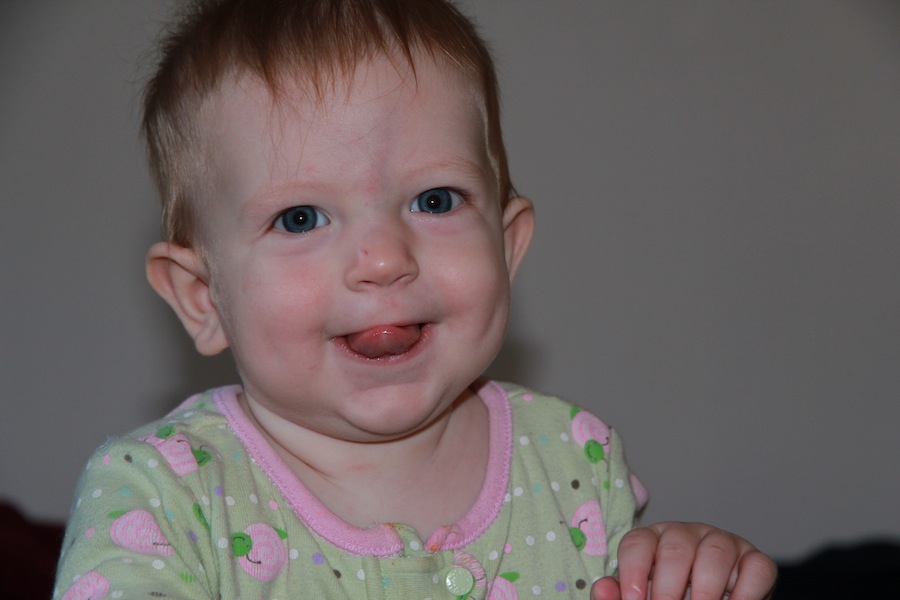 7 mesiacov: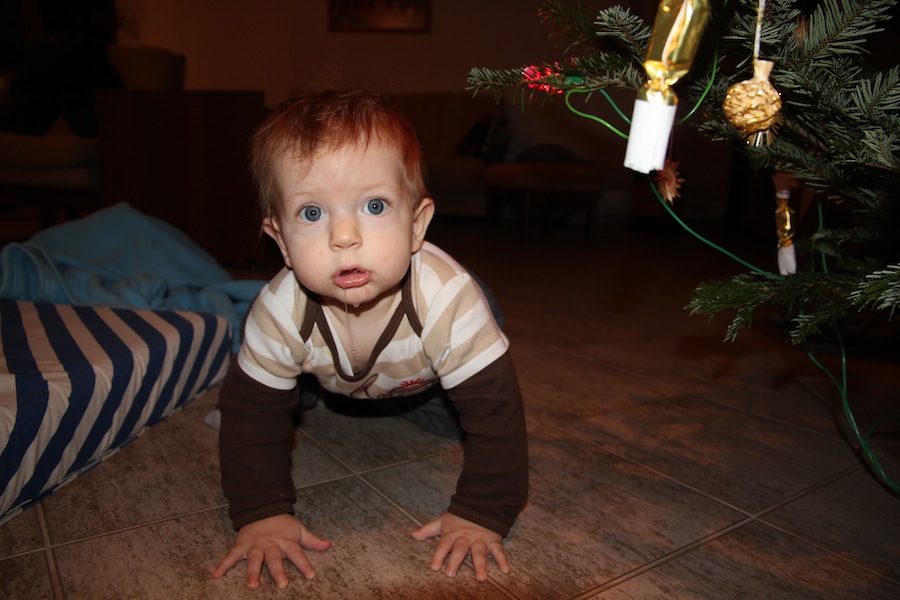 8 mesiacov: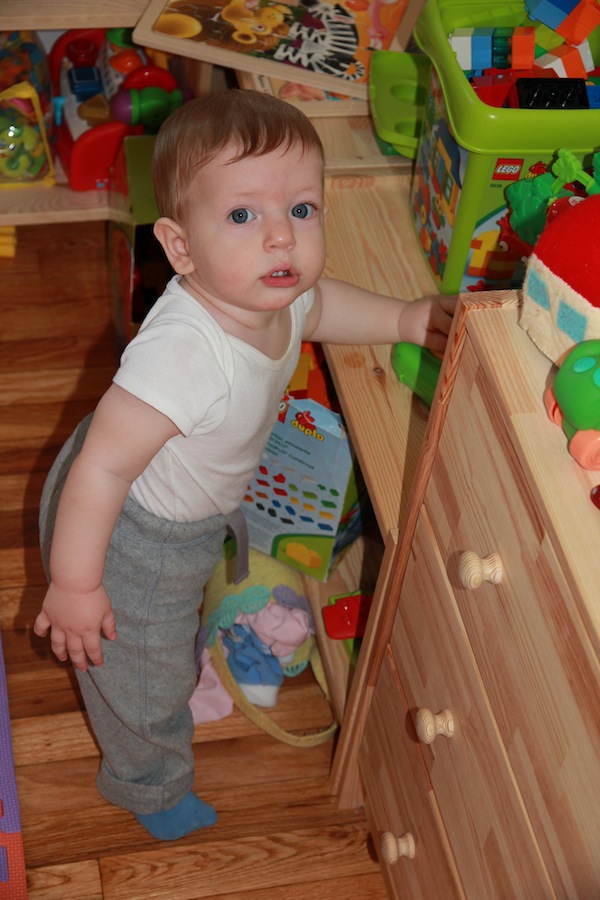 9 mesiacov:
10 mesiacov: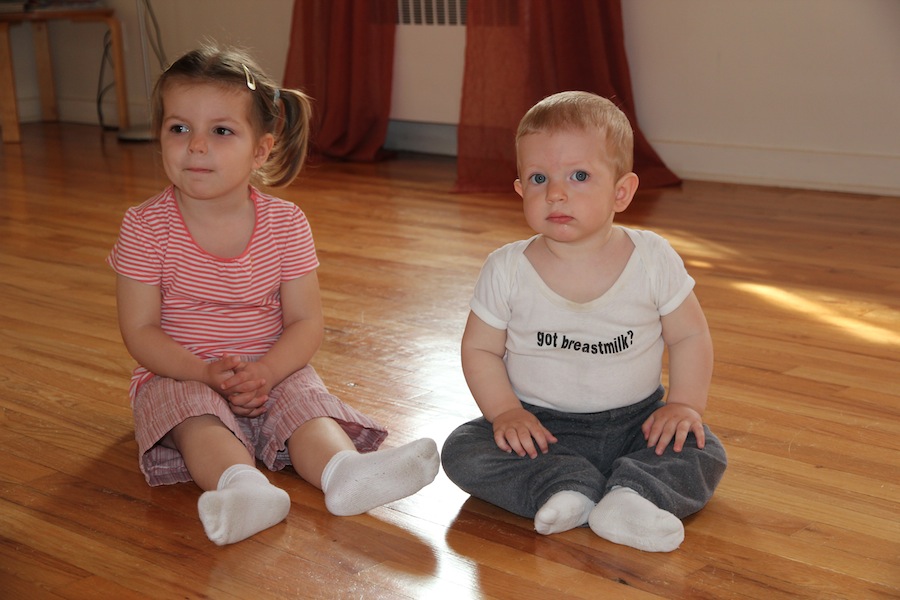 11 mesiacov: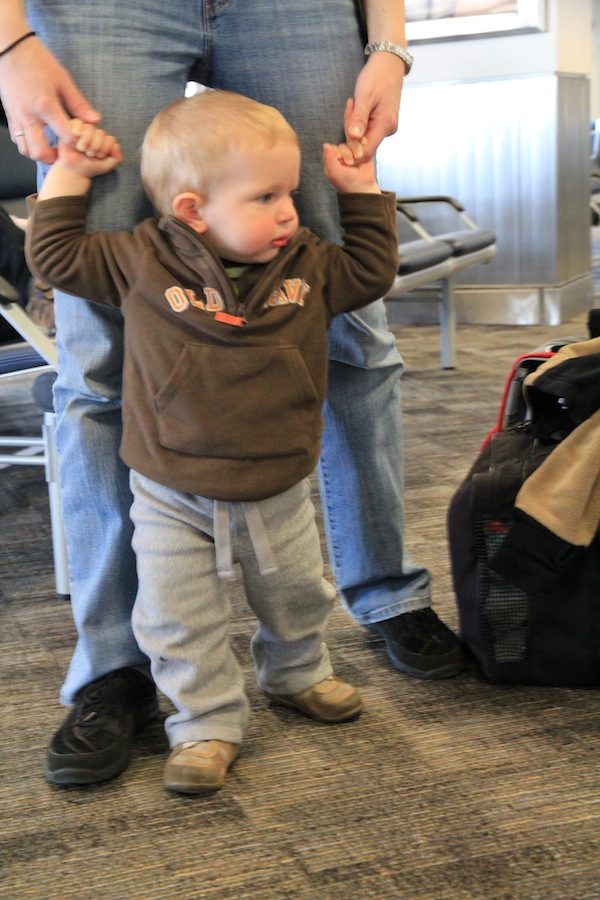 1 rok: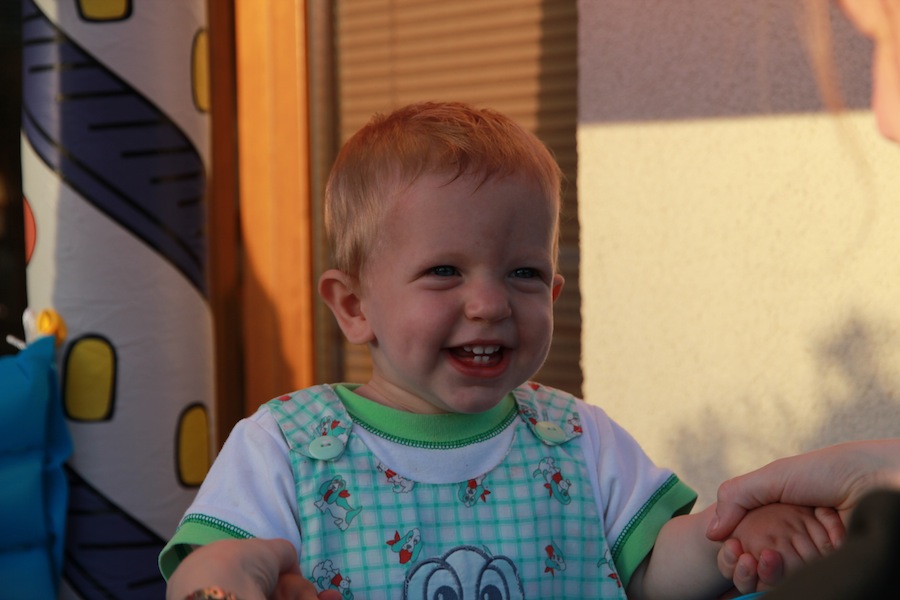 Ešte nechodí, ale už mu veľa nechýba. Chodí okolo nábytku, držiac sa niekoho za dve ruky, za jednu, občas sa len tak sám postaví, chvíľu postojí a potom si zase sadne. A už bolo také váhanie, či ísť do toho, alebo nie, keď by mal spraviť dva kroky sám, aby sa k niečomu dostal, ale zatiaľ sa vždy spustil na všetky štyri.
Naučil sa ukazovať prstom. Ukazuje na psov, na autobus, ale hlavne na jahody a paradajky (zbožňuje paradajky), ktoré zbadá na stole. A keď mu podáme niečo iné, tak sa neveriacky pozrie, povie nn a ďalej vytrvalo ukazuje.
Ešte toho veľa nenahovorí – mama, pápá, šiši (vláčik), ňam-ňam (keď sa ide jesť).
Vstáva o pol šiestej ráno. Ako som písala tú predchádzajúcu vetu, tak som sa automaticky pozrela na hodinky v rohu obrazovky a prepočítala, koľko spánku mi dnes ostáva, keby som zaľahla teraz hneď. (Výsledok bol menší, než by sa mi páčilo.) Okrem toho sa ešte zobudí každú noc aspoň raz.
Pred dvoma dňami sa mi zahryzol do chrbta. Ideme si vonku po lúke, mala som ho na chrbte v nosiči a zrazu, z ničoho nič, sa do mňa tými šiestimi zubami, čo má, zakúsol. Potvora jedna krpatá. (Na druhú stranu to asi znamená, že som na zjedenie.) Tých 6 zubov, čo má, má už celkom dlho a teraz sa tlačí siedmy, ale nejaký je hanblivý, lebo už na tom dva týždne pracuje a stále sa neobjavil.
Zistil, čo sú koláče. Vie ich spoľahlivo rozoznať od iného jedla. Dokonca aj také druhy, ktoré predtým nevidel. A prštekom si ich pýta.
Odkedy sme na Slovensku, začal jesť banány. Iné asi nie sú, rozdiel je však, že som mu ich prestala pučiť a hryzie si ich sám.
Naučil sa hrať futbal. Zatiaľ s tenisovou alebo melónovou (niekedy bude obrázok, tá je dobrá) loptičkou a držiac sa niekoho obidvoma rukami. Je to veľmi zlaté.
Ešte sa stále o mňa chodí občas obtierať hlavou. Vtedy je ešte pre mňa bejby, ale inak už začína byť taký veľký malý človek.