Zajtra máme deň matiek a New York Times a Time sa mamám už dopredu postarali o nepríjemné čítanie. Začali New York Times na konci apríla, keď sa opýtali niekoľkých žien na ich názory na materstvo vs feminizmus. Pre mňa je takto štylizovaná otázka podobne absurdná, ako keď sa niekedy začiatkom roka pýtali, či majú overovať pravdivosť informácií, ktoré publikujú. Tento blog je o materstve A feminizme, o tom, ako tieto dve veci spolu súvisia a miestami sú dokonca jedno a to isté, takže stavať to do polohy, že sa navzájom vylučujú, je pre mňa nepochopiteľné.
Jedna z odpovedí obsahovala túto perlu:
[Feminizmuz je] hnutie, ktoré síce oslobodilo ženy, takže mohli nasledovať svoje sny, ale zároveň znehodnotilo manželstvo, rodinné a spoločenské výhody starania sa o domácnosť a podporuje prílišné venovanie sa samej sebe.
Na druhú stranu, najviac ma oslovila táto, z ktorej vyberám:
Príliš často debata o rozhodnutiach žien (ostať doma, vrátiť sa do práce) ignoruje úlohu otcov. Na to aby sme dosiahli zmysluplnú rovnosť, potrebujeme zariadiť, aby si spoločnosť vážila otcov, ktorým záleži na rovnováhe medzi ich kariérou a rodinným životom. Ženy by sa nemali snažiť byť rovnako nezainteresovanými rodičmi, aby mohli dosiahnuť svoje ciele; mali by byť schopné požiadať svojich partnerov, aby sa viac pričinili.
Dáva to zmysel. Áno, treba sa snažiť, aby boli dostupné dobré jasle a škôlky, aby sa ženy mohli vrátiť do práce, ak chcú alebo potrebujú. Treba sa snažiť, aby bola dostatočne dlhá a zmysluplne platená materská dovolenka, aby mohli ostať s deťmi doma, ak je toto ich voľba. Na tom nie je nič zlé. Ale treba sa zároveň snažiť aj o to, aby si spoločnosť vážila rodinu, a to nie len vo formálnych vyjadreniach ale aj v praktických opatreniach, ktoré by brali otcov ako rovnocenných rodičov. Tým by matky neboli tie, kto má stále nejaké extra požiadavky a potrebuje extra prístup. Bolo by to jednoducho pre všetkých normálne. Toto je presne to miesto, kde materstvo=feminizmus.
Časopisu Time sa potom zrejme zdalo, že slovné vojny medzi mamičkami sú dobré pre čítanosť, tak sa rozhodli zapojiť sa do témy takouto obálkou: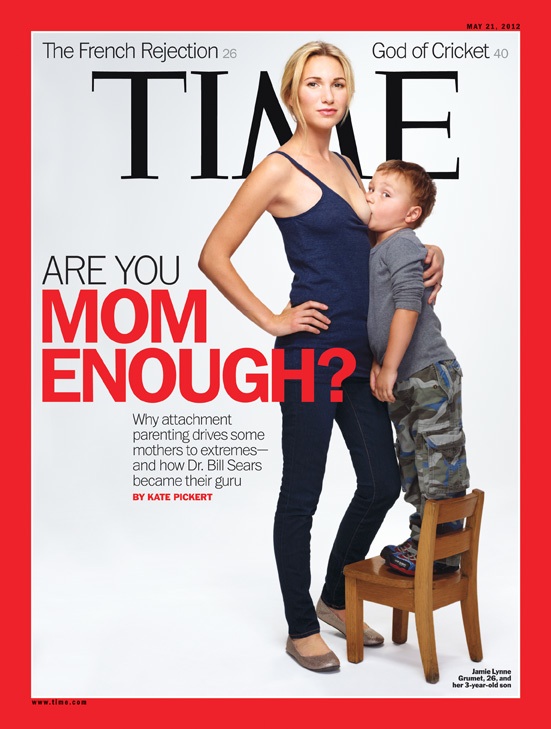 Jamie Lynne Grumet kojí svojho takmer 4ročného syna. K tomu titulka:
Si dostatočná matka? Prečo attachment parenting privádza niektoré matky do extrémov – a ako sa Dr. Bill Sears stal ich guru.
Toľko problémov, že ani neviem, kde začať. Začnem teda tým, čo sa mi páčilo. Páčilo sa mi, že časopis má na obálke matku kojacu dieťa a že to dieťa nie je pár týždňové bábätko. Takýchto obrázkov nikdy nie je dosť. Problematický je však kontext. Zjavne nešlo o podporu kojenia. Išlo o vyvolanie reakcie, podpichnutie, šokovanie. Pekných fotiek síce spravili viac, ale na obálku dali tú, ktorá má pôsobiť sexy a pohoršiť.
A nadpis priam kvapká znechutením. "Are you Mom enough?" je slovná hračka na "Are you man enough?" – si dostatočne mužný? – slovné spojenie, ktoré sa používa, keď je pochybnosť o chlapskosti daného pána. A teraz kojenie dlhšie ako pár týždňov/mesiacov má byť extrémom, do ktorého sú matky dohnané?
A opäť, kde sú otcovia? Parenting, people! Je to zodpovednosť obidvoch rodičov, nielen matiek. Ale nie, sú to matky, ktoré majú vraj nasledovať odporúčania svojho guru. Sú to matky, ktoré tu "súťažia" a sú pod mikroskopom. Z tohto nadpisu sme sa dozvedeli, že je to chlap-guru, kto povie, čo treba robiť, matky sa majú jeho odporúčaniami riadiť a my všetci čitatelia sa budeme prizerať a kritizovať.
Time hovorí, že tri základné princípy tejto výchovnej filozofie sú kojenie (niekedy aj niekoľkoročné), spoločné spanie (bábätká v rodičovskej posteli alebo v postieľke vedľa nich) a nosenie bábätiek v nosičoch. Pre porovnanie Attachment Parenting International hovorí, že ich princípy sú
príprava na tehotenstvo, pôrod a výchovu detí
kŕmenie s láskou a rešpektom
citlivá odozva
dotyky
bezpečný spánok, aj fyzicky aj emocionálne
konzistentná a láskavá starostlivosť
pozitívna disciplína
rovnováha medzi osobným a rodinným životom
To však je zjavne príliš komplikované a nie dostatočne reakcie vzbudzujúce, takže to bolo treba zjednodušiť a trošku okoreniť.
Čo na záver? Každá to robíme najlepšie, ako vieme (a sme určite "Mom enough").
ps Akurát, keď som písala poslednú vetu a rozmýšľala nad formuláciou typu "nájdete ma s mojimi deťmi, keď mi budete chcieť prísť povedať, že materstvo začína byť naozaj vážené", tak som spravila rýchle vyhľadávanie, či na túto tému niečo práve píše aj slovenský internet. A pozrime sa na tú náhodičku. Viete, aká je cena práce mamičiek v domácnosti?
Keďže práca žien v domácnosti nie je platená, nemá potrebnú spoločenskú prestíž a často ani uznanie. Chápe sa ako samozrejmosť. Nielen štát, ale ani naši muži veľmi neuľahčujú ženám matkám život. Skôr naopak. "Na rozdiel od začiatku deväťdesiatych rokov sa dnes na Slovensku rovnaké rozdelenie domácich prác pokladá za menej dôležitú podmienku šťastného manželstva," tvrdí Kusá.
A sme doma.