Viem, že bol film Girl, Interrupted s Angelinou Jolie a Winonou Ryder. Nie o tom, o čom idem písať (aspoň myslím, videla som iba trailer), ale názov je to pre moje momentálne rozpoloženie skoro úplne presný. Keby som mala vybrať jedno slovo, ktoré ma za posledné tri roky najviac vystihuje, bolo by to prerušovaná.
(A ani som sa nepokúsila spočítať, koľkokrát bolo prerušené písanie tohto tu.)
Ono je multitasking a potom je prerušovanosť.
Multitasking je fajn. Môžem ustieľať posteľ a popri tom dávať pozor na malé dieťa, ako sa na ňu neúnavne štverá hore a hneď zase dolu a popri tom ešte debatovať s 3ročnou kočkou o tom, čo budeme dnes robiť a popri tom rozmýšľať, kedy potrebujem začať variť dnešný obed, aby krpci stihli v rozumnej dobe zaľahnúť na poobedný odpočinok.
Je to ok ešte aj v takom priestorovom zmysle. Odkedy sme sa presťahovali do domu a výrazne sa nám zvýšilo pole pôsobnosti aj vnútri aj vonku, tak aj moja práca cez deň je roztrúsená kade-tade… niečo mám rozrobené v kuchyni, niečo v obývačke, niečo na poschodí, niečo na záhrade. A venujem sa tomu podľa toho, kde práve najviac treba, alebo kde sa hrajú malí.
Na toto sa dá zvyknúť.
Ale ani po troch rokoch si neviem zvyknúť na tú prerušovanosť. Pamätám si prázdniny, kedy som sa mohla ráno začítať do knihy a poobede zdvihnúť oči a začudovane pozerať, kam sa podeli tie hodiny. Alebo učenie sa na skúšky na výške, to boli niekedy maratóny ponorenia sa do témy. Alebo túry, ktorých sme pár spravili (na myseľ ako prvý prichádza Grand Canyon), plán na deň bol jednoducho ísť…
Ale keď sa starám o novorodenca, tak jediná činnosť, v ktorej sa môžem stratiť, je staranie sa o novorodenca, akýkoľvek pokus o niečo iné je veľmi rýchlo prerušený. Potom ten novorodenec trochu podrastie, ja to skúsim znovu a možno už nie som prerušená po 30tich sekundách, ale po 30tich minútach, ale stále skôr, než by som chcela. Možno to iným mamám nevadí tak veľmi ako mne. A možno sa im tiež zdá, že je to ako keby sa vás niekto pri čítaní knihy na každej strane pýtal, čo čítate a či je to dobré a o čom to je…
A ono to nie je len ten zriedkavý oddychový čas, ktorý je prerušovaný. Spánok? Prerušovaný. Jedlo? Prerušované. Sprcha? Áno, aj sprcha je niekedy prerušovaná. (Sex? Nie, nie, nie, do tejto témy sa dnes nejdem púšťať…) Rozhovory? Prerušované. Práca? Prerušovaná. Vzťahy? Prerušované. Myšlienky? Tie sú prerušované zo všetkého najviac.
Táto materská dovolenka je úžasná vec. Môžem si robiť úplne hocičo. Písať blog, čítať knihy, PhD, … akurát sa musím zmieriť s tým, že to budem robiť v 5-alebo-menej-minútových inkrementoch. A to je ťažké.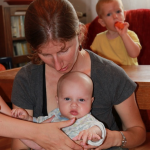 Áno, áno, všetci vieme, materstvo je ťažká práca (článok o tej reklame už mám párkrát prerušený, dúfam, že ho čoskoro dorazím), akurát že to nie je práca. Preto sa pýtame otázky typu "A dokedy budeš s malým doma? A kedy pôjdeš naspäť do práce?" A hovoríme o hľadaní rozumnej rovnováhy medzi prácou a rodinou, lebo keď hovoríme práca, tak tým nemyslíme výchovu detí. Tým myslíme niečo, za čo sú peniaze. Niečo, čo bude urobené a dokončené. A to výchova detí tak skoro nebude.
Na záver ešte dva postrehy.
Nie je zriedkavé, že nemám so sebou telefón, keď som s deťmi v pešej vzdialenosti od domu. Alebo, že ho mám zapatrošený niekde v taške a nepočujem zvoniť, keď sme doma. Zdalo by sa, že možno je to maličká výhra v súboji s prerušovanosťou. Ale to platí, iba keď som s krpcami. Keď s nimi nie som, tak telefón je zapnutý, dobitý a na dosah. Bez ohľadu na to, čo by mohol prerušiť.
Doma, po večeri, ešte je zavčasu ísť malých kúpať, ja sa zberám umývať riad. On hovorí: "Nechaj tak, ja poumývam." A ja na to "Nie, nie. Ty sa choď s nimi hrať." Čiastočne preto, že ich celý deň nevidel a ja potrebujem aj byť hore a zároveň na nich nedávať pozor. Ale aj preto, že konečne je tu práca, ktorú začnem, skončím a bude hotová.