book depository – niečo pre nás, čo máme absťáky od Amazonu – internetové kníhkupectvo, poštovné zadarmo do celého sveta (áno, aj na Slovensko)
perfektné video – Common Physics Misconceptions
ženský kondóm, ktorý má chrániť pred tehotenstvom, HIV, prípadne inými chorobami, a potom sa rozpustiť
The condoms can be woven out of medicines that prevent HIV infections, providing protection against disease while also stopping sperm in their tracks. The electrospun condoms can be designed to dissolve within minutes, or over a period of several days. Women can discreetly put them on before a sexual encounter — either directly, or on a diaphragm or ring — and protect against pregnancy, HIV, and potentially other sexually transmitted diseases as well.
Na Novom Zélande otvorili hobitiu krčmu Green Dragon Pub
zapálili by ste cigaretu dieťaťu? (od Didiho)
hračky na mieru – necháte dieťa nakresliť obrázok, pošlete a naspäť vám príde jedinečná hračka podľa toho obrázku: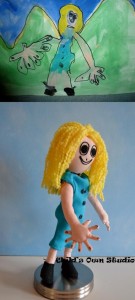 google ide minúť vyše milión dolárov na analýzu zobrazovania žien v médiách určených pre deti
The Geena Davis Institute's last study, led by USC's Smith, examined the 11,927 speaking characters in 129 family films, 275 primetime programs and 36 children's TV shows and still found that huge disparities. For example, only 28 percent of the speaking characters in family films studied were female, and 18 percent of women were shown wearing sexy attire in children's shows.
———————————————————–
A ešte k tomu strieľaniu na škole v Sandy Hook:
vlastníctvo strelných zbraní podľa krajín – USA ich má 89 na 100 obyvateľov (pre porovnanie, Slovensko 8.3)… a Republikáni majú skvelý nápad, ako zabrániť ďalším masovým strieľačkám na školách – ozbrojiť učiteľov  (a ja sa pýtam, koho ešte? nemocničný personál? zamestnancov obchodných centier?… toto je dobrý článok na danú tému)
zbraň, ktorou Adam Lanza strieľal a aké hrozné sú reklamy na ňu
o susedovi, ktorý sa postaral o 6 detí, čo zo školy ušli – najhorší bol koniec
A couple of hours after the last child left, a knock came on his door. It was a frantic mother who had heard that some children had taken refuge there. She was looking for her little boy.
"Her face looked frozen in terror," Rosen said, breaking down in tears.
She thought maybe a miracle from God would have the child at my house," he said. Later, "I looked at the casualty list … and his name was on it."
o jednom článku, ktorý sa bleskovo prešíril internetom po tejto udalosti
portréty vlastníkov zbraní aj s výrokmi, prečo ich majú – napríklad táto rodina… nechápem… pri tom ma napadla otázka, ktorú sme v Amerike nikdy neriešili (ale zase je pravda, že sme nemali až toľko známych Američanov s malými deťmi) – ale je normálne spýtať sa pri návšteve s malými deťmi, či a kde majú odložené zbrane (viď štatistiku vyššie)?