(sté v poradí)
reakcia na reláciu "Moderné pôrody"
Od verejnoprávnej televízie ako divák očakávam, že ma bude informovať nezaujato a čo možno najviac pravdivo. Moderátor nebude zavázdať a pretláčať svoje ničím nepodložené pocity (keď si už nedal tú námahu naštudovať si problematiku). Pri sledovaní Vašej relácie by som ako neinformovaný laik nadobudla pocit, že podstatou moderného pôrodníctva je cisársky rez, epidurálna analgézia, otecko pri pôrode a nástrihy. Naopak, nič by som sa nedozvedela o potrebe pocitu bezpečia pri pôrode pre jeho zdarný priebeh, o prirodzených možnostiach tlmenia bolesti alebo o tom, že nástrih je vždy poranenie druhého stupňa (z trojstupňovej stupnice, niektoré zdroje uvádzajú až 4 stupne) a že podľa najnovších vedeckých poznatkov a štúdií je hlavným rizikovým faktorom vzniku poranenia tretieho stupňa (t.j. keď sa žene hrádza natrhne až po konečník, čo sa pri obyčajnom natrhnutí bez nástrihu stáva veľmi zriedka) a vzniku inkontinencie vo vyššom veku. Rovnako by som nadobudla pocit, že o tom, či porodím s nástrihom alebo bez, rozhoduje pôrodník a nie ja, ako svojprávny človek, ktorý má právo rozhodovať o svojom tele. No a určite by som chcela rodiť s epidurálnou analgéziou, keď je to také úžasné a bez akýchkoľvek rizík. Našťastie v takýchto dôležitých veciach si nevytváram názor na základe podobných relácií ako ste odvysielali v pondelok večer.
diskriminačné body z novely zákona o matrikách vypustené a čo viac:
Rada vlády súčasne odporučila ministerstvu zdravotníctva (MZ SR), aby komplexne a v súlade s medzinárodnými ľudskoprávnymi štandardmi regulovalo právo žien na domáci pôrod, a to za aktívnej účasti všetkých zainteresovaných strán, vrátane odborníkov a odborníčok z praxe a občianskej verejnosti…

Európsky súd pre ľudské práva v prípade Ternovszky proti Maďarsku potvrdil, že ženy majú právo zvoliť si pôrod doma ako rovnocennú možnosť k pôrodnici a štát má povinnosť im túto voľbu prakticky zabezpečiť. "Domáce pôrody na Slovensku však nie sú nijako regulované a hoci štát priznáva ženám právo zvoliť si domáci pôrod, odmieta túto voľbu aj reálne podporiť. Ženy nemôžu rodiť s odbornou pomocou, vyriešená nie je ani starostlivosť po pôrode či zápis do matriky. ," hovorí Zuzana Krišková z občianskeho združenia Ženské kruhy. "Švédsko, Nórsko, Dánsko, Rakúsko, Nemecko, Holandsko – v krajinách s vyspelým zdravotníctvom už stanovili náročné a presné štandardy pre pôrody mimo zdravotníckeho zariadenia. Domáce pôrody tak pre mnohé ženy žijúce v zahraničí predstavujú reálnu a legitímnu voľbu. Keď to ide v iných krajinách, niet dôvodu, prečo by sme to nemali zvládnuť aj na Slovensku," dodáva Krišková.
od Didiho toto video o zaujímavej škole
Môj komentár bol, že sa mi to páči, akurát
a) neviem, nakoľko je to spraviteľné vo veľkej mierke (že by sa takto malo vzdelávať veľa detí)
b) decká získajú veľa takých hands-on zručností, ale je podľa mna otázne, nakoľko sa venujú aj abstraktnému mysleniu (že napr, či by človek takto vzdelávaný do 18 rokov mohol ísť študovať na matfyz)
c) money money money – toto nebude lacný špás
Didiho odpoveď:
Inšpiráciou pre tieto školy je Semlerova skola a je pravda, že bez jeho peňazí by ani nemala šancu vzniknúť. Neviem, ako by to vyzeralo vo veľkej mierke, ale myslím, že sa tam dostaneme. Tá skupina ľudí, ktorým sa zdá, že po 100 rokoch to treba vylepšiť narastá a od istého momentu sa to môže začať šíriť veľmi rýchlo…

Ja si to b) predstavujem tak, že v tej škole individuálnym prístupom buď ty, alebo učitelia zistia, že ti to ide/ťa to baví (napr. talent na "matematiku") a umožnia ti to rozvíjať ďalej – dajme tomu viac ako niekomu, kto chce sadiť rastliny a sledovať prírodu…

Ono, 18-ročných ľudí, ktorí môžu ísť študovať na matfyz vďaka! škole veľa nepoznám… aspoň nie  v tomto čase, kedy tá kvalita nás, študentov, ide podľa mňa prudko dolu. To, že môže niekto ísť na matfyz, je vďaka ďalším aktivitám, ktoré takisto, alebo skôr, alebo kvalitnejšie, môže získať aj vďaka! takej škole.
ešte raz na podobnú tému: radšej sedieť v base ako v škole
vtipné reklamy a zaujímavé reklamy (mňa najviac zaujala tá na linku pomoci pre zneužívané deti)
I am wondering why pictures of women stay up if it is visually stimulating to men, but a cartoon drawing that will help women empower themselves and gain knowledge is considered pornographic, and gets removed?…  It's another example of sexualized women being acceptable, but women's anatomical/biological bodies being shamed and censored. At the very least, follow your own rules.
Keď Disney prerobí aj Meridu, dopadne to takto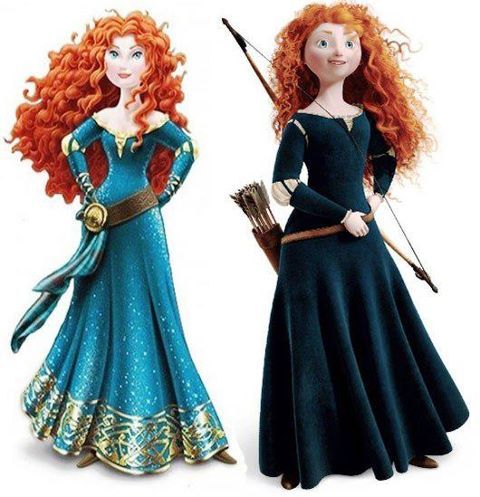 Here are the [differences] that I see:

Sleeker, longer hair with more body
Larger eyes and more arched eyebrows
Plumper lips
A thinner waist
More obvious breasts
An overall more adult and less adolescent appearance
Lighter colored and more ornate gown
A lower cut neckline that also shows more shoulder
Perhaps most symbolically, her bow and arrows have disappeared in favor of a fashionable belt
kto by to bol povedal? (hint: každý, kto by sa nad tým aspoň na chvíľočku zamyslel; prečo je to v rubrike Surprising Science??) otcovia rozpoznávajú plač svojich detí rovnako ako matky
When the researchers split the data along gender lines, they found something interesting. The factor that best predicted which parents were best at identifying their child's cries was the amount of time the parent spent with their babies, regardless of if they were the mother or father.