Cesta do Kodane viedla cez tento 18km dlhý most menom Storebælt.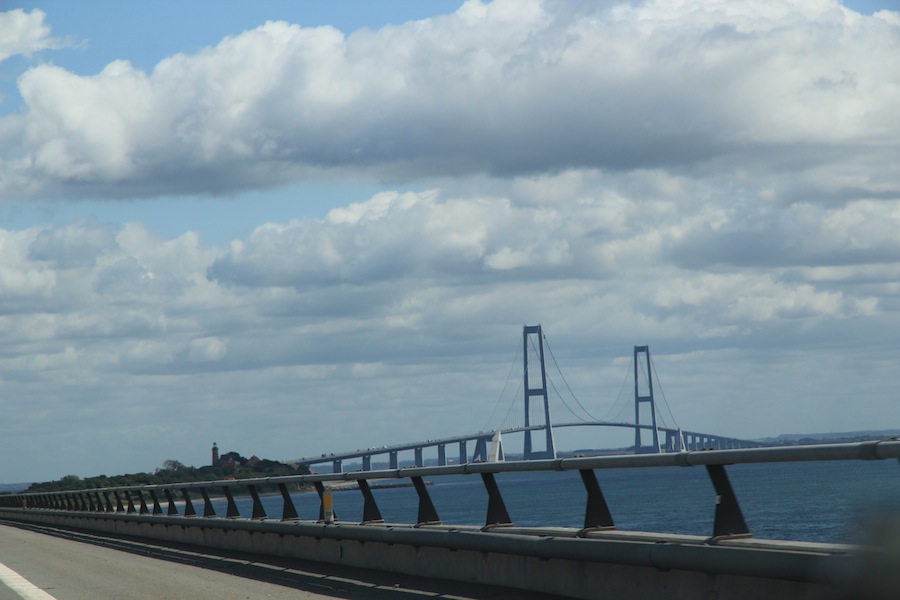 V Kodani všade, kam sme sa pozreli, samé bicykle – vrátane tých na dne kanálov: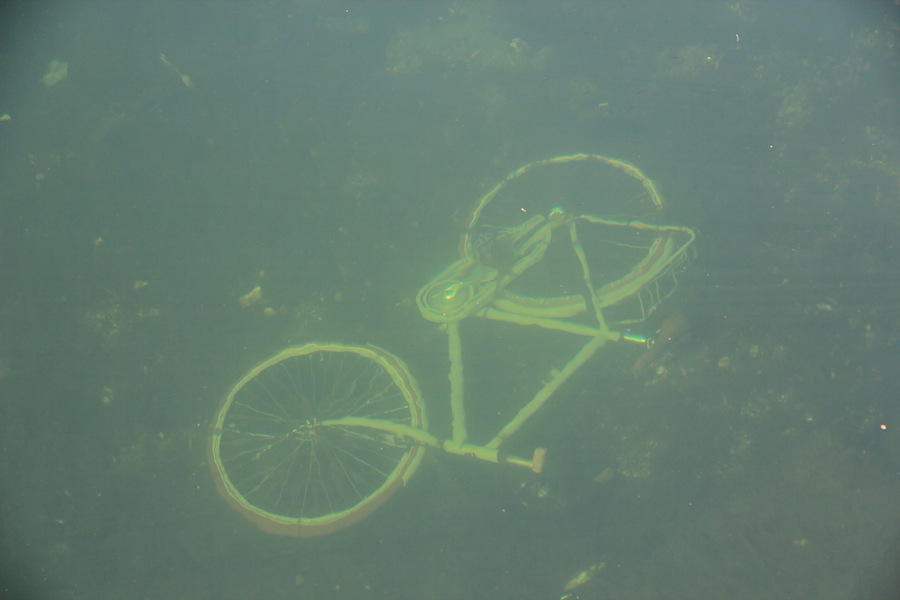 Loďky a farebné domčeky v Nyhavn:
Malú morskú vílu fotili všetci. Kým ju fotil Mišo, ja a deti sme sa v parku delili s vrabcami o jablká.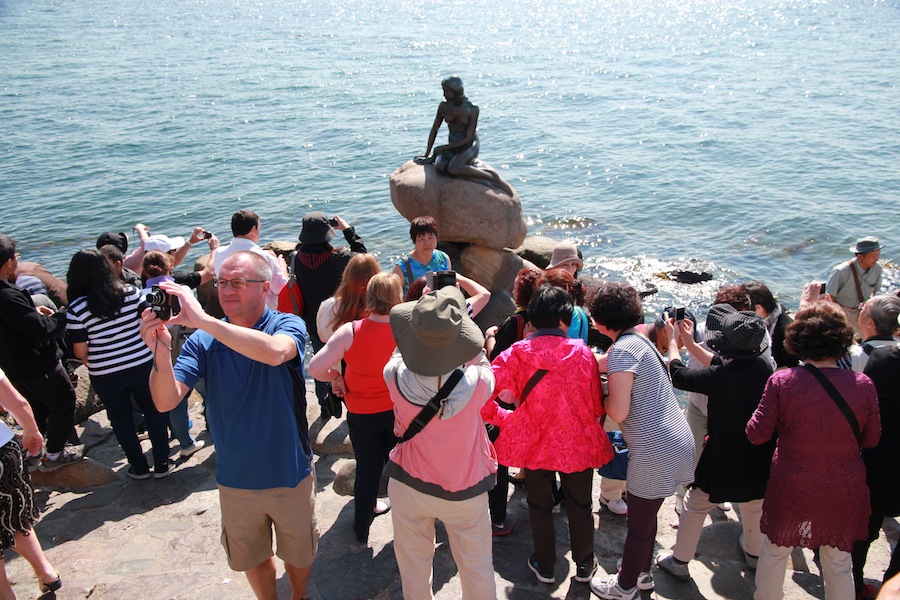 Pri fontáne v Amaliehaven – parku pred kráľovským zámkom. Tam Kiku fascinovala výmena stráží.
"A prečo sa tí panáci, čo strážia kráľovnú, musia vymeniť?"
"No tí, čo sú tu, sú už asi unavení, tak pôjdu domov a teraz budú chvíľu strážiť títo noví, čo prišli."
"Unavení? Pôjdu sa domov vycikať a búvať?"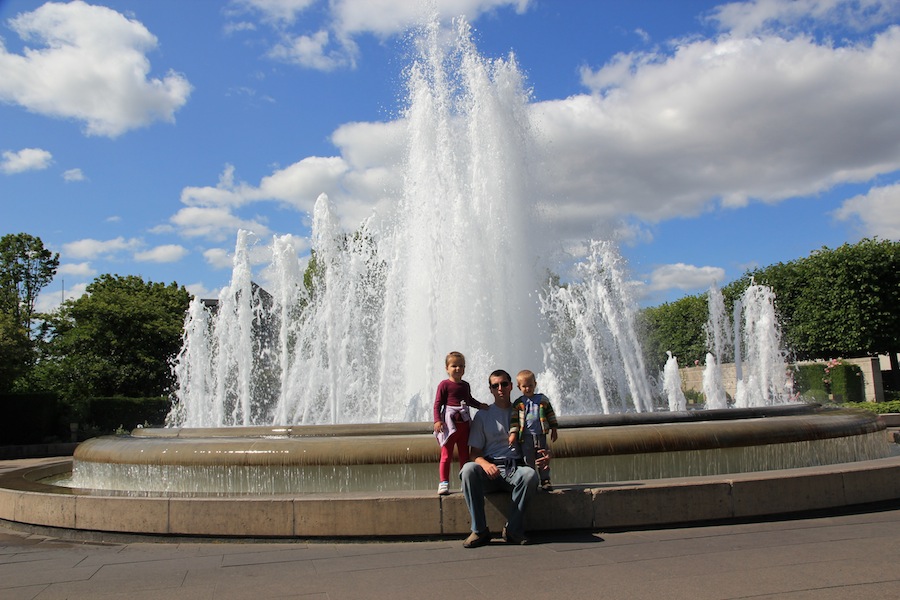 Všetci, vrátane internetu, nás varovali, ako je v Kodani draho, že kto chce cestovať lacno, nech sa jej radšej vyhne, že ak nebudeme chcieť hot-dog zo stánku na ulici, tak pod 20€ na osobu sa v centre nenajeme… A tak keď prišiel čas obeda, začali sme s malou dušičkou nakúkať pod slnečníky, ktoré sme stretávali na našej náhodnej prechádzke. Netrvalo to dlho a zakotvili sme v Rizraz. All-you-can-eat reštaurácia, po 10€ dospelí, 5€ Kika, Kubo zadarmo. Nespĺňala akurát moje optional kritérium – chcela som vyskúšať niečo miestne… toto bola zmes skôr z južných krajov – pita, hummus, tzatziky, rôzne šaláty, falafel, lasagne… Potom ešte fantastická domáca zmrzlina, na ktorú sme natrafili tiež náhodne… celkovo naše stravovanie v Kodani hodnotím veľmi pozitívne.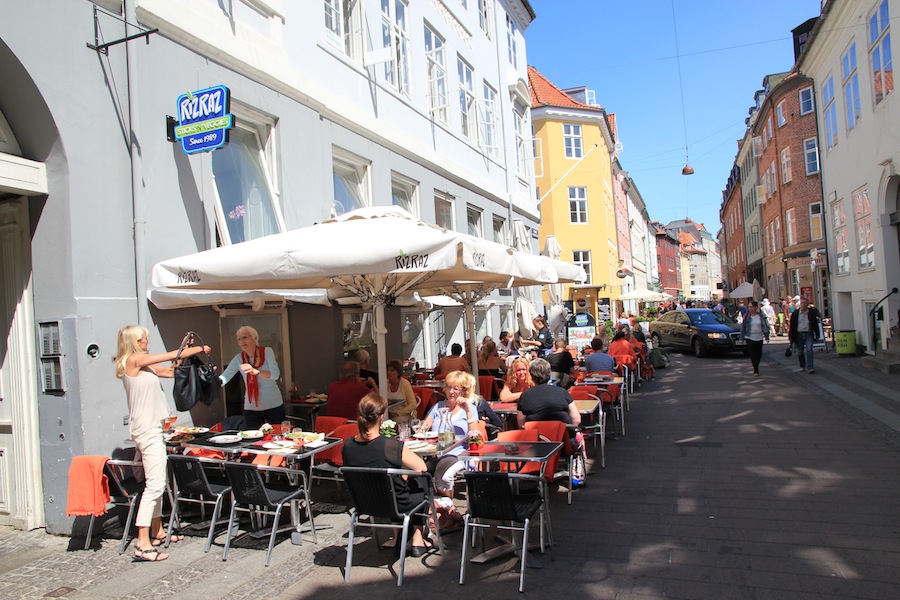 Kika a Hans Christian Andersen. Vľavo radnica, vpravo Tivoli, ktoré sme si nechali na nejakú ďalšiu návštevu.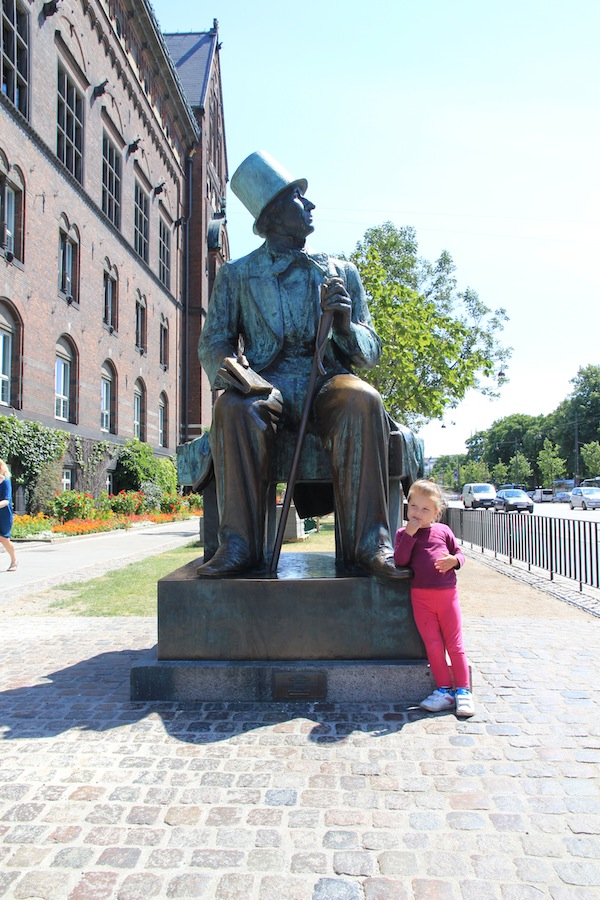 Tu bývajú lego panáčikovia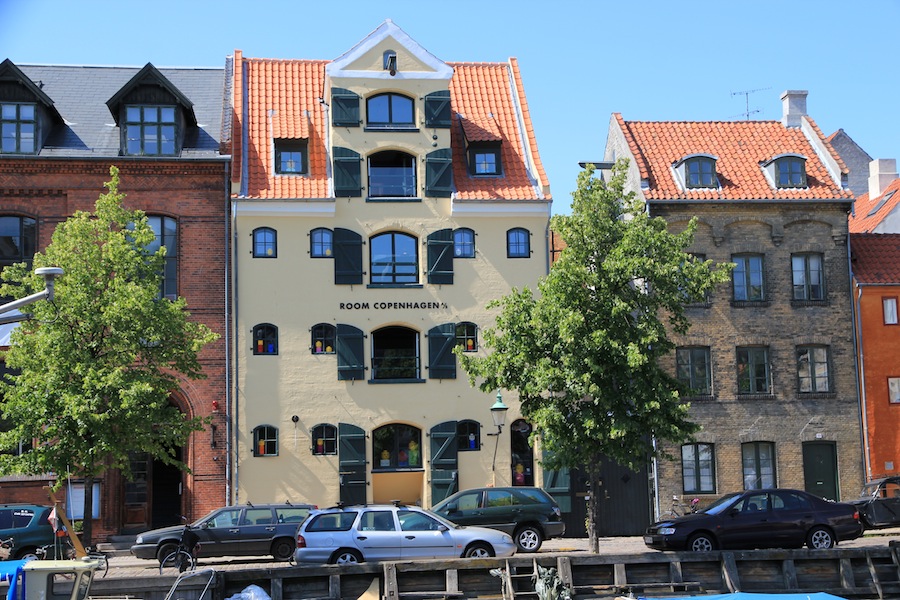 Takúto značku si zo slovenskej autoškoly nepamätám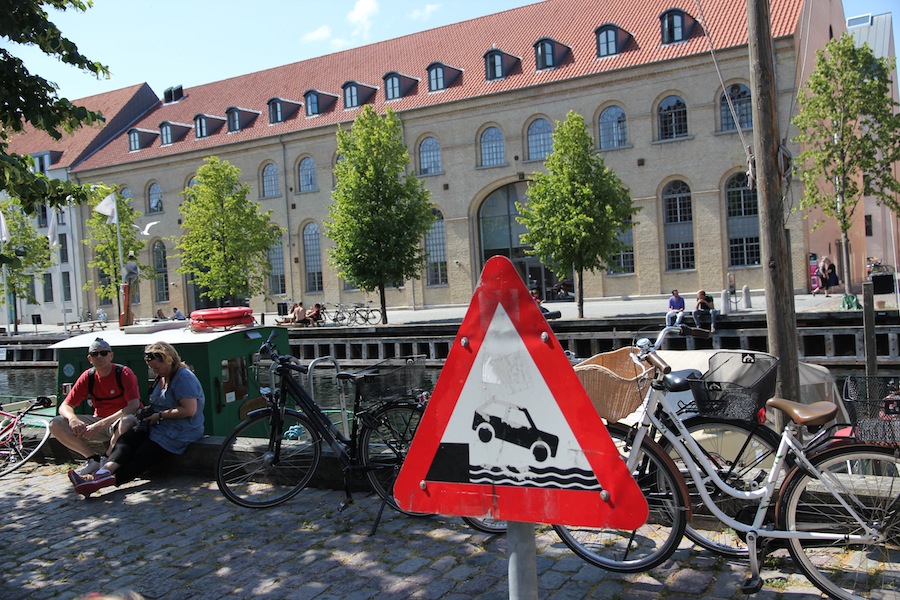 Do Christianie sme už nedošli, lebo krpci začali mať toho dosť, ale v Christianshavn sme aspoň na chvíľu vystúpili z vláčika.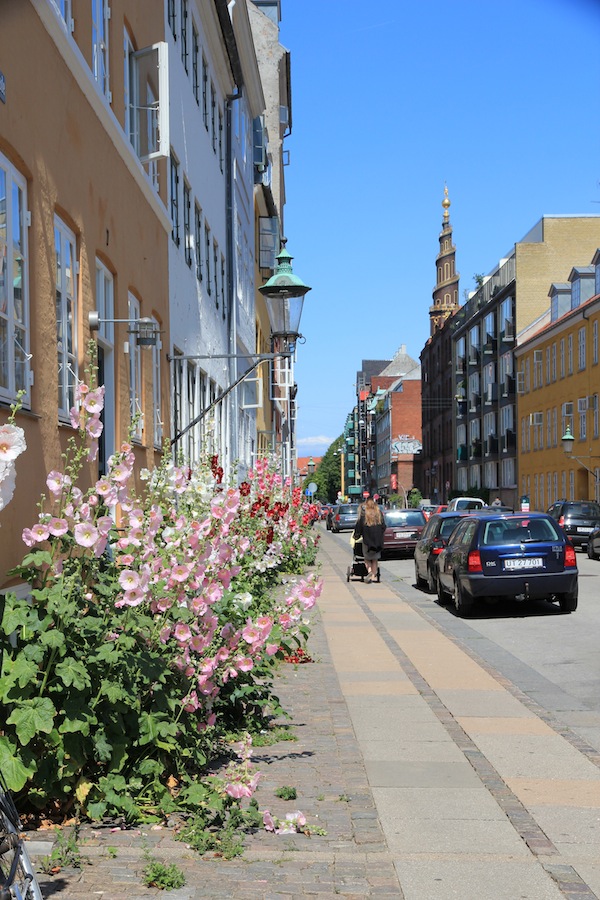 A tu sme bývali my. Pod oknami nákladiaky, bagre, zbíjačky, stavia sa tam nejaký ďalší výškový barák. Nebolo to až také hrozné, ako to na prvý pohľad vyzeralo, lebo rámus robili vpodstate presne v tom istom čase, keď sme my boli preč. Malí ich s nadšením pozorovali z výšky chvíľku ráno a chvíľku podvečer.
Sedem hodín večer, Kodaň ich zmohla. King-size posteľ plus detská postieľka sú nám tak akurát. Inak ale, musím povedať, ja som vedela, že ideme na sever a letný slnovrat ešte nie je ďaleko za nami, ale aj tak som ostala prekvapená, ako o siedmej ešte vôbec nevyzerá, že by sa deň chýlil ku koncu, o desiatej vonku normálne vidno, o polnoci ešte trošku šero, o tretej nad ránom začína svitať. Divné je to, divné.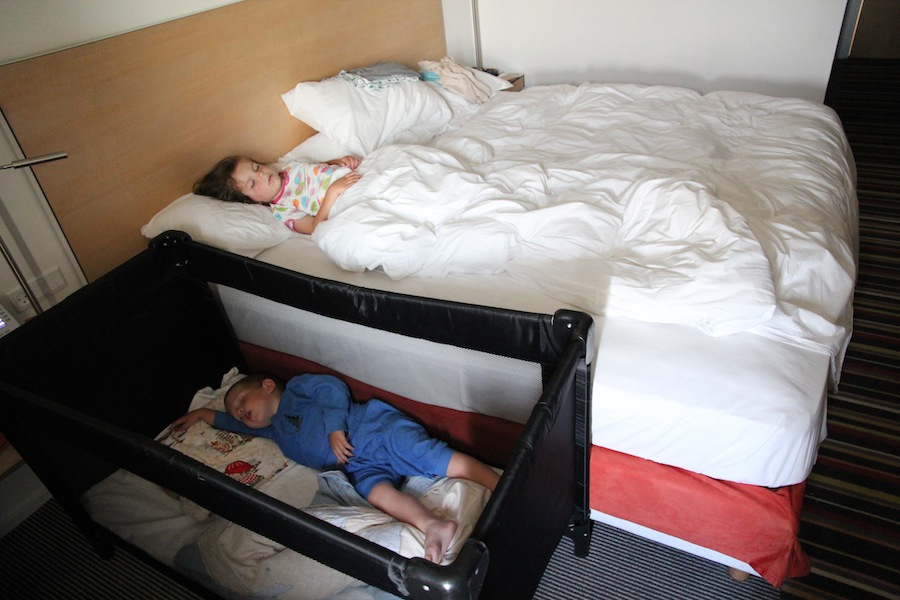 A toto už je ďalší deň a kompa z Dánska do Nemecka. Auto sme nechali na jednej z dvoch nákladných palúb, presnorili obidve, ktoré boli pre ľudí, a po krátkom pobyte na veternej otvorenej palube sme si to neomylne namierili do detského kútika.
Ako Kika hovorí – to je ten čajník:
Dnes nebolo detské ihrisko (ak nerátam detský kútik na kompe), ale zato sme poobede našli jedno veľké pieskovisko na brehu Baltického mora.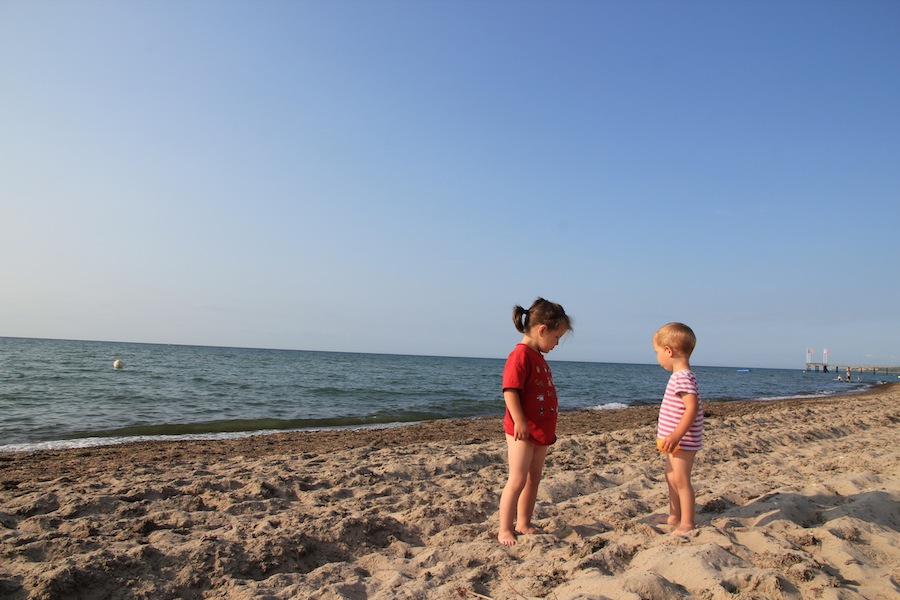 Ale tá voda. Ja som pôvodne myslela, že sa aj okúpem. Odchovaná na Štiavnických jazerách, dokonca aj do studeného jazera v Dánsku, pri Billunde, kam nás zobral Mišov kamarát, u ktorého sme bývali, som vliezla. Ale toto nie. Iba po členky.
A teraz už smer domov.