Kate Middleton určite tušila, do čoho ide, keď sa dala dokopy s princom. Ale aj tak. Mať pred pôrodnicou zástup ľudí a ďalšie milióny po svete, ktorí čakajú na výsledok, je veľký zásah do súkromia. "Obyčajní" rodičia môžu oznámiť narodenie bábätka, až keď je už na tejto strane sveta, ale ani tí sa často nevyhnú dobromyseľným otázkam všetkých, ktorí vedia aspoň orientačne termín pôrodu, a už dva týždne pred ním sa začínajú pýtať, či už ste mali bábätko. Jedna možnosť je poslať ich na túto rozkošnú stránku. Iná, spolu s termínom im povedať aj, že ich budete kontaktovať, keď sa nový člen rodiny dostaví. Alebo na začiatku pôrodu, ak vám to nevadí. Pointa je, že vojvodkyňa z Cambridge asi toto veľmi ovplyvniť nemohla.
Okrem takejto straty súkromia sú tu kopy ľudí, ktorí namiesto toho, aby správy o narodení buď ignorovali, alebo jednoducho popriali malému všetko najlepšie k narodeninám (alebo keď nie malému, tak nech zagratulujú jeho mame… ale ruský prezident Vladimir Putin vraj napísal priamo kráľovnej Alžbete II… iný problém, iný článok), budú plniť diskusie negatívnymi komentármi alebo poznámkami na adresu popôrodného bruška. Áno, Kate podobne ako drvivá väčšina žien, ktoré práve porodili, odchádzala z nemocnice s bruškom ako v šiestom mesiaci tehotentva a nijako ho neskrývala.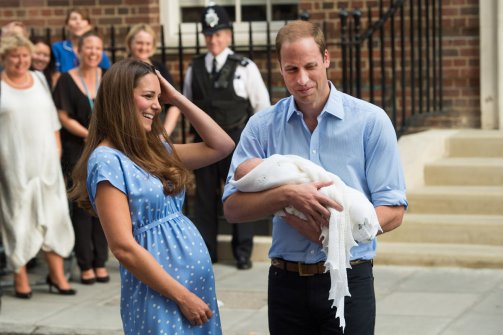 Bolo by úžasné, keby toto bol tak normálny, obyčajný fakt, že by nestál za komentovanie. Hovorilo by sa, ako spokojne rodinka vyzerala. Dnes je ešte aj toto "statement" a "agenda".
Kate Middleton stood up for new mums everywhere when she walked out of hospital yesterday, completely unembarrassed by her post-partum tummy.
alebo tu
So was Kate brave to show her belly yesterday? Perhaps. There's no doubt it was intentional. Everything she wears is always carefully considered, and the dress was custom-made for her. But Kate's public role is that of wife and mother. While her identity is certainly tied to her physical appearance, she has nothing to gain by hiding her maternal features. If only more women felt this way.
Tak, týmto som sa pridala k tým všetkým, čo o narodení princa Georga tlachajú, a som jedným z nepozvaných zvedavcov, ktorí sa oňho posledný týždeň zaujímali. Anyway…
Aj dvom mojim známym sa v tomto týždni narodili bábätká. Takže Brankovi a Zuzke všetko najlepšie k narodeninám a rodičom veľa radosti z nového člena rodiny.