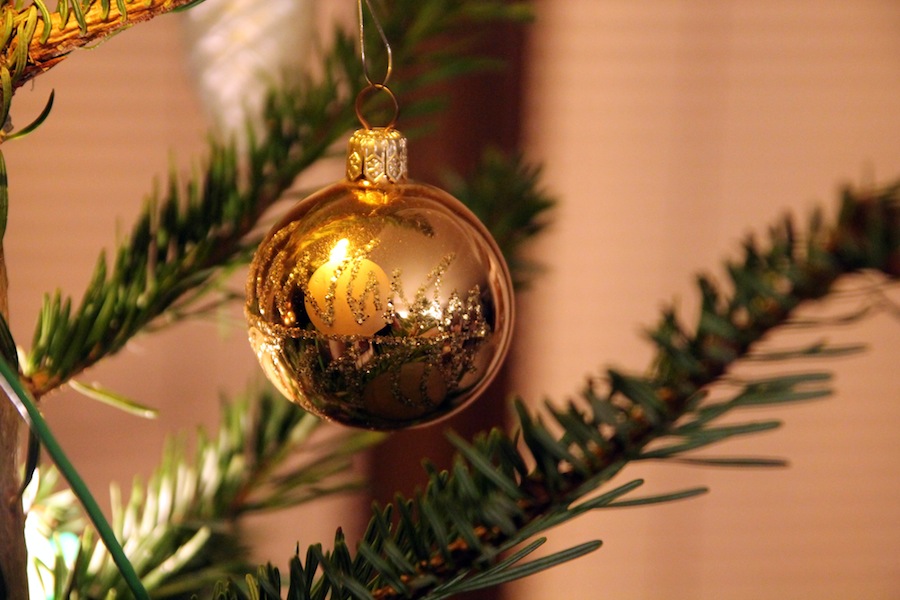 Naše plány ohľadom vianočného stromčeka akosi nevyšli. Bola som ešte v októbri alebo v novembri niečo hľadať v Baumaxe. Nenašla som síce, ale zato mali akciu na malé stromčeky. Tak som jeden zobrala. Bol pri nich síce lístok, že nezaručujú, že stromček bude ďalej rásť, ale povedala som si, že to risknem. Presadila som ho. A myslela som si, že to bude taký viacročný živý stromček. Cez leto na balkóne, v zime vnútri a na vianoce ozdobený. A keď už bude príliš veľký, že ho zasadíme niekde vonku. Ale on to zabalil, celý opršal. To už začali byť drobci ustarostení – ako budeme na taký uschnutý stromček vešať ozdoby? A tak v rámci tesne predvianočného nákupu v Metre, som kúpila ešte menší stromček vo výpredaji (3e). Experiment s kvetináčovým skúsim zopakovať tento rok znovu, akurát si poň asi pôjdem do záhradkárstva.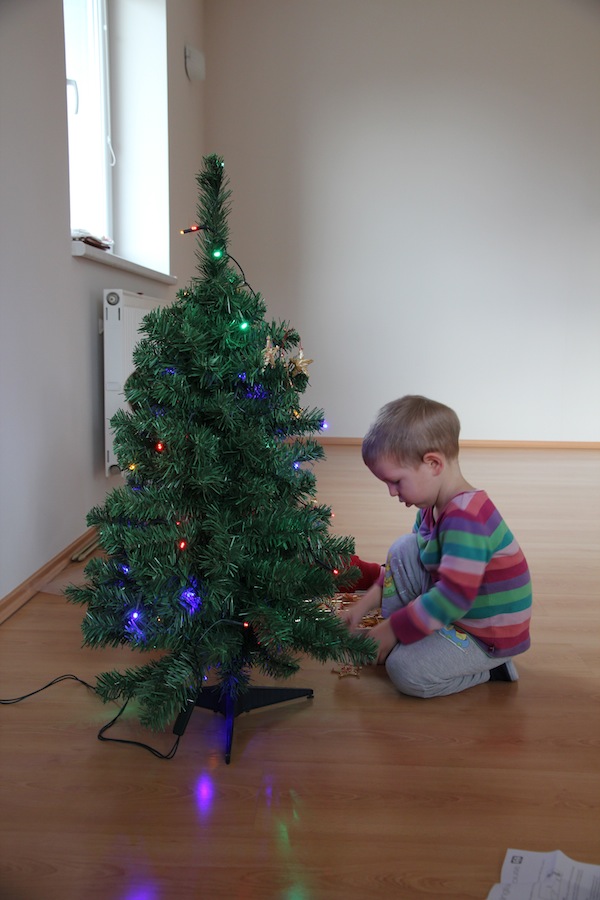 To bol náš stromček domáci, ale na Vianove sme neboli doma. Boli sme v Rosine a bolo nás tam veľa:
Vo vani plával kapor: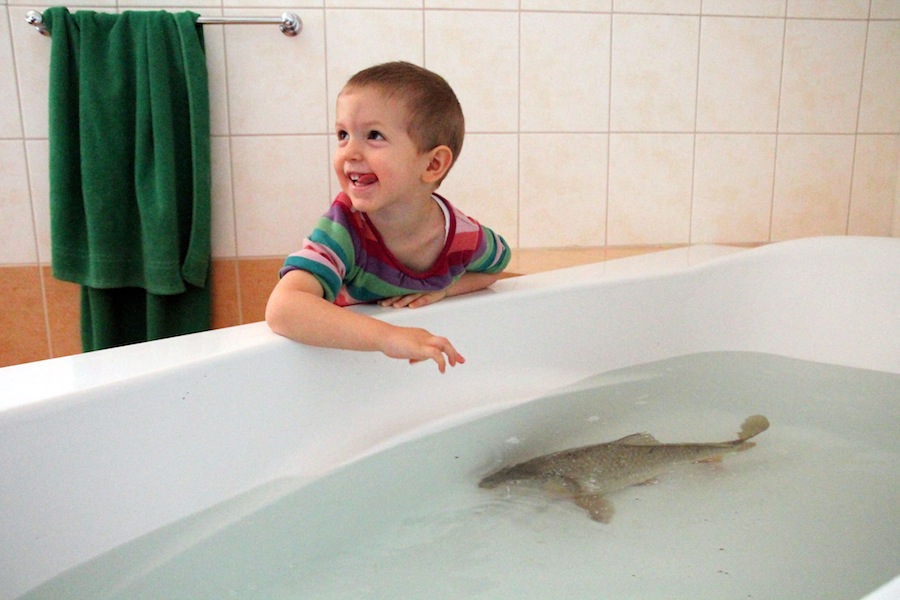 Ale toho sme nezjedli. Namiesto toho som dostala zadanie upiecť v kuse tohto krásavca. Ktorý sa samozrejme vystretý do rúry nezmestil:

Kika čítala menovky na darčekoch: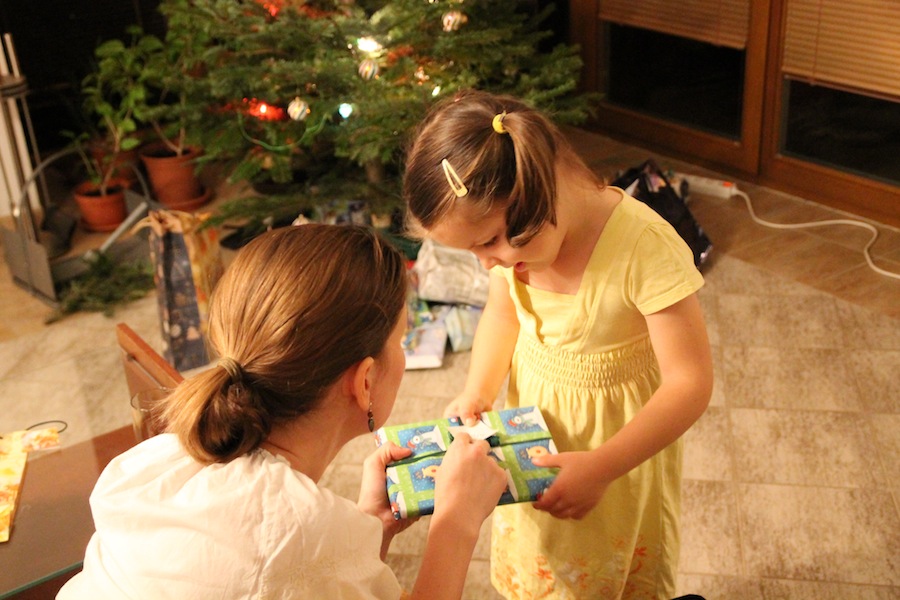 Kubo sa skoro celý večer prebavil s jednou hračkou: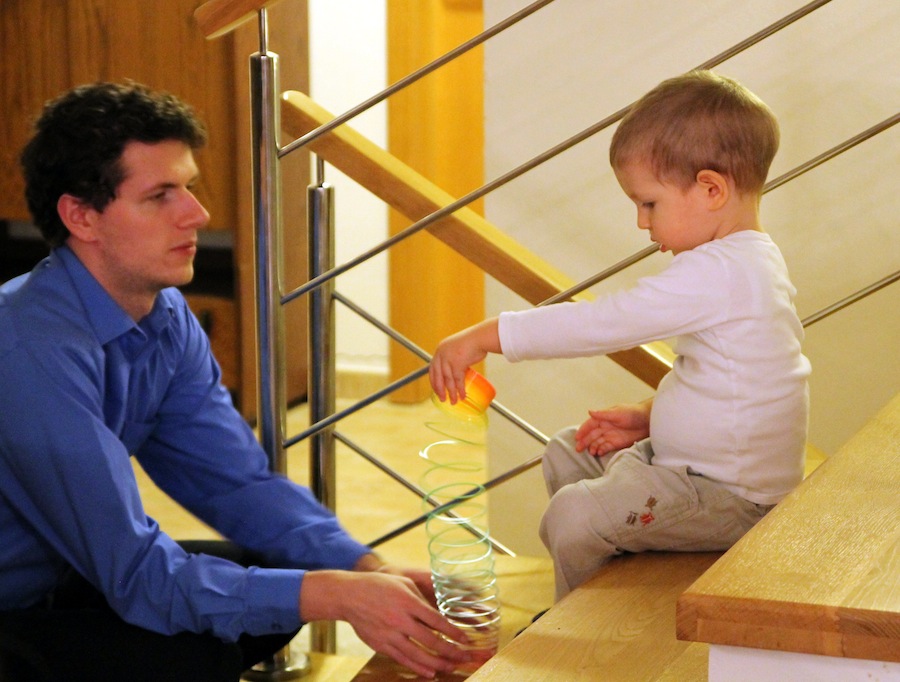 Okrem knižiek boli opakujúce sa darčeky kladivá a pexeso. Kladivá dostali deti (jedno plyšové, ktoré robí celkom dobrý rachot a dve v stavebnici). Pexeso bolo tiez jedno detské (s rodinnými obrázkami) a druhé dostal môj brat. Netradičné bolo v tom, že v ňom nebol jediný pár. Zadanie bolo, že ak nájde dve rovnaké hokejky, tak takú jednu dostane. Ak nie, tak si musí jednu dokresliť: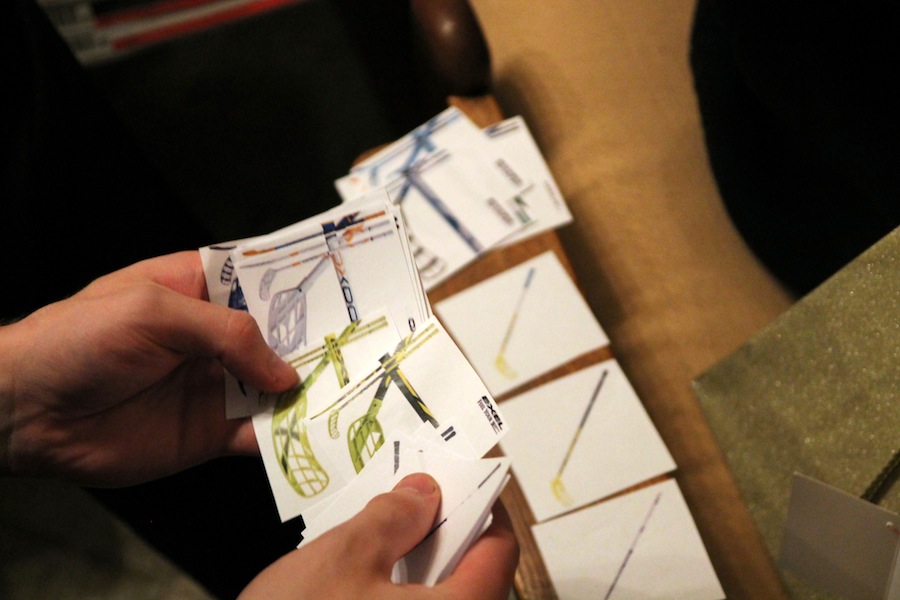 Koláčiky sme boli vypochodovať na hrádzi. Kika si hneď odchytila ochotného poslucháča a mlela celú cestu:
Kubo striedavo utekal a lietal a vyšťavil sa tak, že nakoniec sme ho museli niesť.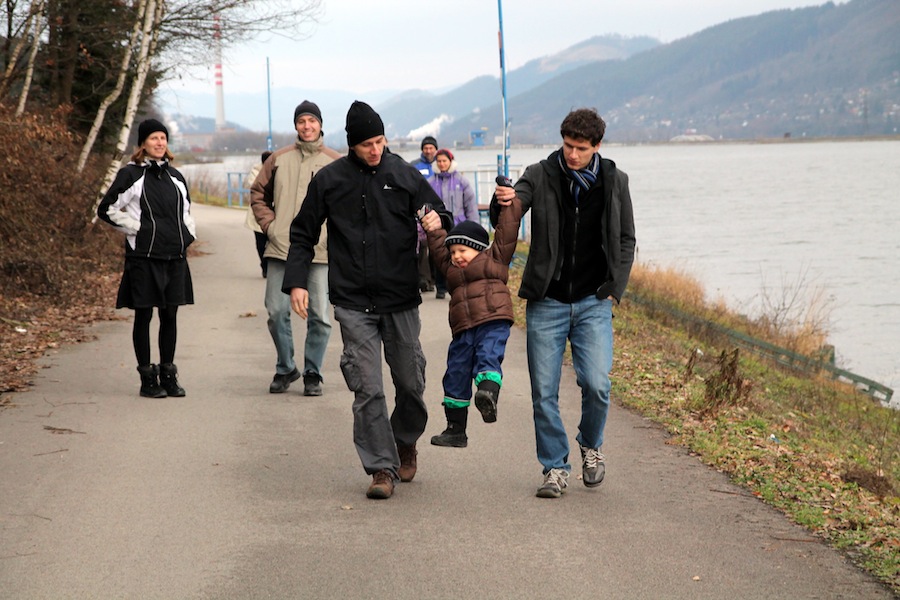 Fajn Vianoce (ale tie budúcoročné si už asi spravíme doma a trochu komornejšie).
Na Silvestra sme boli v Senci. Kika ohňostroje prespala, Kuba zobudili, tak sme spolu pri okne pozerali "tie farebné sprchy hore". Ešte o nich pár dní potom rozprával a občas sa spýta, že kedy budú zas.